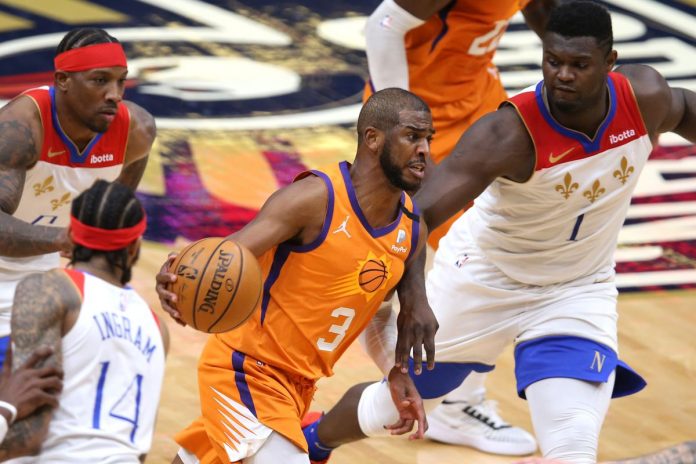 The records in the NBA have become so vulnerable in this generation that even the youngsters have made their impact on the All-Time lists. Some of the veterans of the game have out done the legends and climbed to greater scales. Chris Paul, one of NBA's greatest point guard and happens to be one such player. Not only Chris Paul is the greatest point guard, but he has constantly proved that he has a lot of gas left in his 16th NBA season. His recent transfer to the Phoenix Suns is one major reason why the team has climbed up to #2 in the Western Conference. Now the veteran player inched closer towards Michael Jordan in the NBA records.
Chris Paul has had a very long career in the NBA. However, he has not tasted the success of Championship till now. Despite that, he has never stopped to give his 100% efforts. Starting from Oklahoma City Thunder to Houston Rockets, he strove single handed without any back up. Recently his move to the Phoenix Suns has added a whole new complexion to Paul's career. This might just be the season where he can contest for his maiden ring.
Chris Paul 5th on All-Time record
The Phoenix Suns recently thrashed over Miami Heat with 20 huge points. This game was of importance for Chris Paul as well. He is no 5th on the All-Time steals record in the NBA. Chris is behind John Stockton, Jason Kidd, Michael Jordan and Gary Payton. Paul inched past Maurice Cheeks to dethrone him from the 5th spot. Since his NBA debut, Chris Paul has been a revered point guard.  In his rookie season, he averaged 16.1 points, 7.8 assists and 5.1 rebounds. Being short in height, Chris Paul has overcome many taller players to register numerous records against his name. His intent was very well furnished from his rookie year itself. The potential player has now become one of the most hyped player in the league.
One of the most debated topics every season is the MVP of the regular season trophy. According to Kendrick Perkins and other analysts Chris Paul deserves to be crowned as the 2020-21 regular season MVP. He is one of the reason Suns are placed so high and are undergoing their best possible season so far. His MVP considerations are based on subtle facts and figures that the analysts have put forward. Can the Suns' guard be the steering force and sail the team towards championship this year?
Also Read: Philadelphia 76ers, Joel Embiid top undermanned Brooklyn Nets 123-117 to grab…