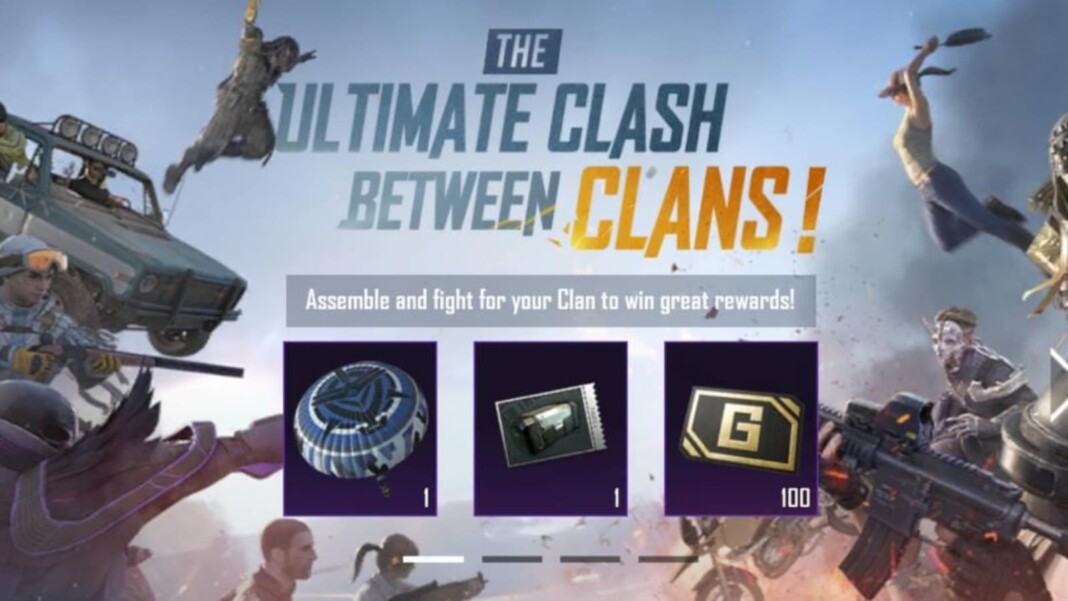 After Krafton had released the patch notes for 1.5 update of BGMI, it had given us a hint on Clan PK mode where clans with similar activity can compete with each other, today Krafton has announced Clan Battle Event BGMI where clan leaders or co-leaders can register to compete with another clan and get free rewards.
The Clan Battle Event BGMI allows the clans of same type and similar activity, compete with each other by completing daily missions and earn battle points to redeem them for different rewards including a free parachute skin. Each member of the clan has to contribute towards the clan to increase the points of their clan. The clan who ends with the highest number of points will be given exciting rewards!
The missions of the Clan Battle Event BGMI has not been revealed yet, however, the registrations of the event has been opened and clan leaders can register on behalf of their clan.
Clan Battle Event BGMI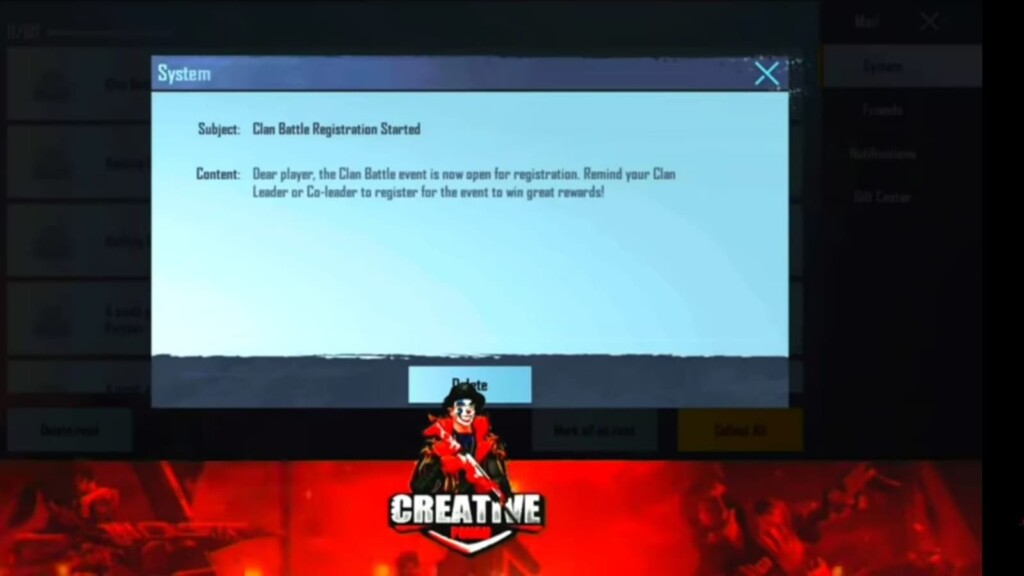 As BGMI has crossed 50 million downloads for Android devices, players were provided a permanent Galaxy Messenger Set in BGMI. Players were also given coupon scraps in the previous phases of downloads such as 48 million and 49 million. Krafton had another surprised stored in for us as players received an in-game mail which read as-
"Dear player, the Clan Battle Event is now open for registrations. Remind your clan Leader or co-leader to register for the event to win great rewards." 
Related: BGMI Freedom Face-Off: Team Encore crowned as the winner of the tournament
If you aren't the leader of your clan then inform your leader to register for the clan battle as soon as they can. The registration process is very simple. Players need to head over to the clan section and select Clan Battle. After that, players just need to click on Register Now and they'll be registered for the clan battle. Upon registering, players will be able to see that your clan's opponent will appear as 'matching' and the clan battle will start in 4 days.
Missions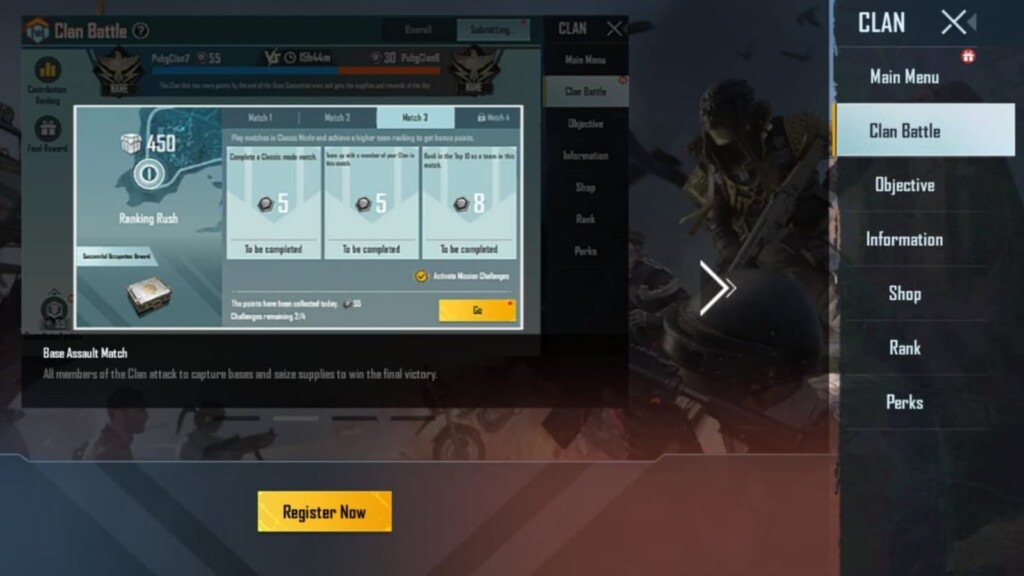 The Clan Battle Event BGMI is not an ordinary battle where clan members have to fight in the battlegrounds to win the event. Both the clans need to complete a set of daily missions to earn battle points and contribute towards the clan to earn rewards. Although the missions aren't revealed, according to the screenshot provided in the event, following missions are expected to come for the event.
Complete a classic mode match
Team up with a member of your clan in the same match
Rank in Top 10 as a team in the same match.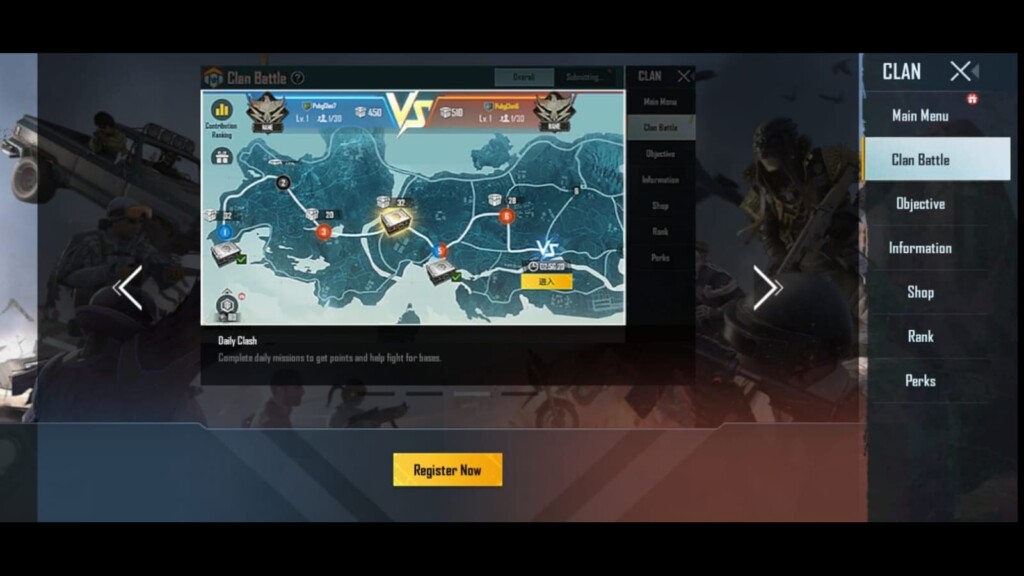 Players have to complete the daily missions to get points and fight for bases. A total of 30 members can participate for the clan battle event so clan leaders should select the players wisely as every player will be crucial to contribute individual points.
Rewards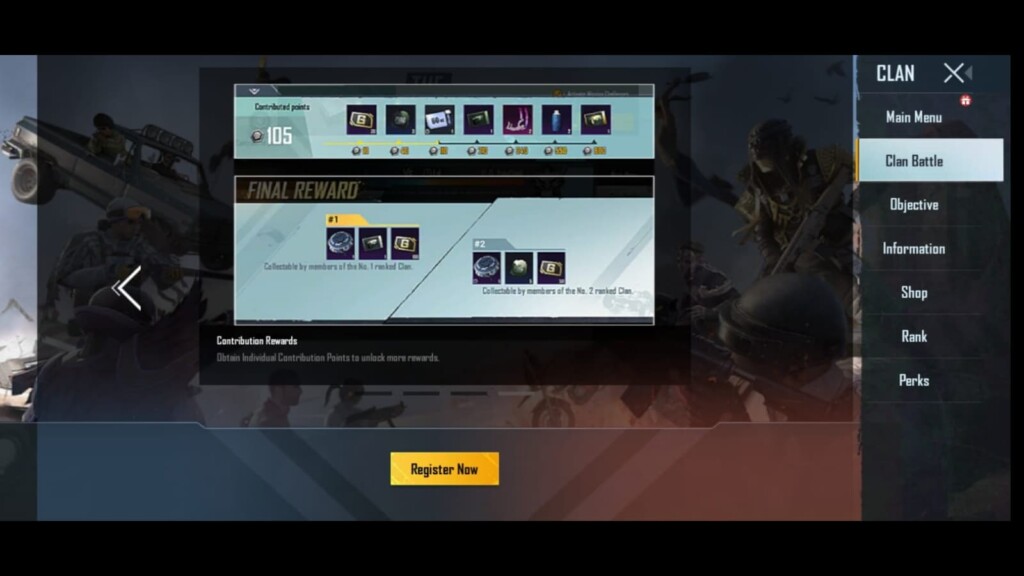 Individual Rewards:
10 points – 20 AG cash
40 points – 3 supply crate coupon scrap
110 points – 60 UC voucher
210 points – 1 supply crate coupon
340 points – Parachute Trail (Rainbow)
550 points – Spray can
800 points – 1 Premium Crate coupon
Clan Rewards:
First position – Permanent parachute skin, 1 classic crate coupon & 100 AG cash
Second Position – Time-limited parachute skin, classic crate coupon scrap & 50 AG cash
Moreover, we recommend the players to collect the Galaxy Messenger Set soon as the 50 million downloads rewards will only be available for a month.
Also Read: BGMI crosses 50 million downloads: Claim your in-game reward now!