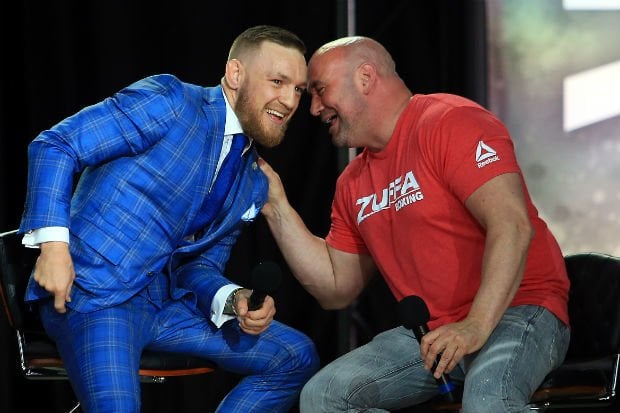 UFC President Dana White opened up about 'that' incident, last year with Conor McGregor, which put a spoke in the wheel of their relationship. During the month of September, last year, Conor McGregor leaked screenshots of private Instagram conversations he had had with the UFC boss, where Conor can be seen asking Dana to book him a fight against Diego Sanchez.
Speaking in an interview with Brett Okamoto of ESPN MMA, Dana White revealed what really upset him about that incident and how it affected their relationship. He also revealed that the 'fiasco' has been put behind and that he has buried the hatchet with the Irishman.
'Then I was really, really upset with Conor' – Dana White
Dana White was quoted as saying, "We were in a really bad place then. I was really upset. It wasn't because he put out private messages. It was (because) we were talking about another fighter. I like Diego Sanchez a lot and I have a lot of respect for Diego Sanchez. I care about Diego Sanchez. I was very upset about that. I talked to Diego face-to-face about it. Being the great human being that he is, we're all good. Then I was really, really upset with Conor." [via MMA Mania]
Telling that it was all good now, Dana revealed, "Conor and I fixed that and we talked and we got through it. We're in a good place now. … Me and everybody are always in a good place as far as business goes." [via MMA Mania]
Conor McGregor is hardly a fortnight away from his octagon return against Dustin Poirier, at UFC 257. It looks like people will get to see a 'motivated Conor' this time!
Also Read : 'He's not juicing anymore and he's going to have to fight…I think I'm the guy to welcome him back' – Rob Font, to the incoming T.J. Dillashaw