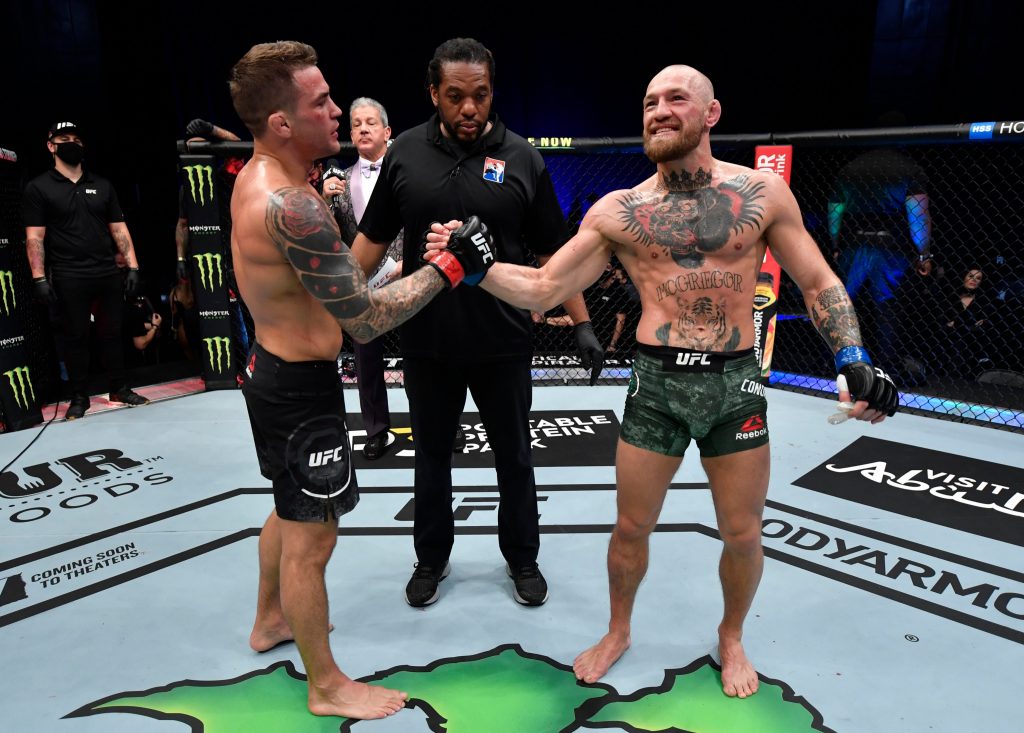 Conor McGregor was knocked out in his professional MMA career for the first time at UFC 257, against a rampant Dustin Poirier. Many felt that it was the leg kicks from Dustin Poirier that did the job, as Conor failed to check any of those kicks, which eventually weakened him. Conor later, did acknowledge the fact that he should have been more careful about the leg kicks.
Ever since Conor's defeat, a possibility of a trilogy bout between Conor and Dustin has always been looming, and today's recent Twitter banter has taken it a step further.
'Where's the trilogy…What's up Mckenzie'
It all started when Conor replied to Michael Bisping's post where the Englishman had posted a video of himself catching up with old friends notably, Luke Rockhold. The Notorious replied, "Where's the trilogy. What's up Mckenzie."
One fan replied to Conor asking him to check the leg kicks. Conor responded, saying, "I spell it cheques."
And just a minute later, he came up with a tweet of his own, tweeting, "Guys I'm gonna cheque the leg kick." This clearly implies that the Irishman is ready for the trilogy bout and wants to emerge victorious.
However, one fan notified Dustin Poirier about Conor's tweet, and Dustin replied, "I'm not throwing kicks, just headbutts next time out."
Both the fighters seem ready for the trilogy bout. It's all up to the UFC to make it happen ASAP. The fight is a very important one for Conor McGregor since the Irishman might lose his relevance if he fails to beat Dustin Poirier, as he is already ranked out of the top 5 in the lightweight rankings. Dustin, on the other hand, will be looking forward to getting done with the trilogy bout and striking lightweight gold.
Also Read : Daniel Cormier heaps praise on Islam Makachev