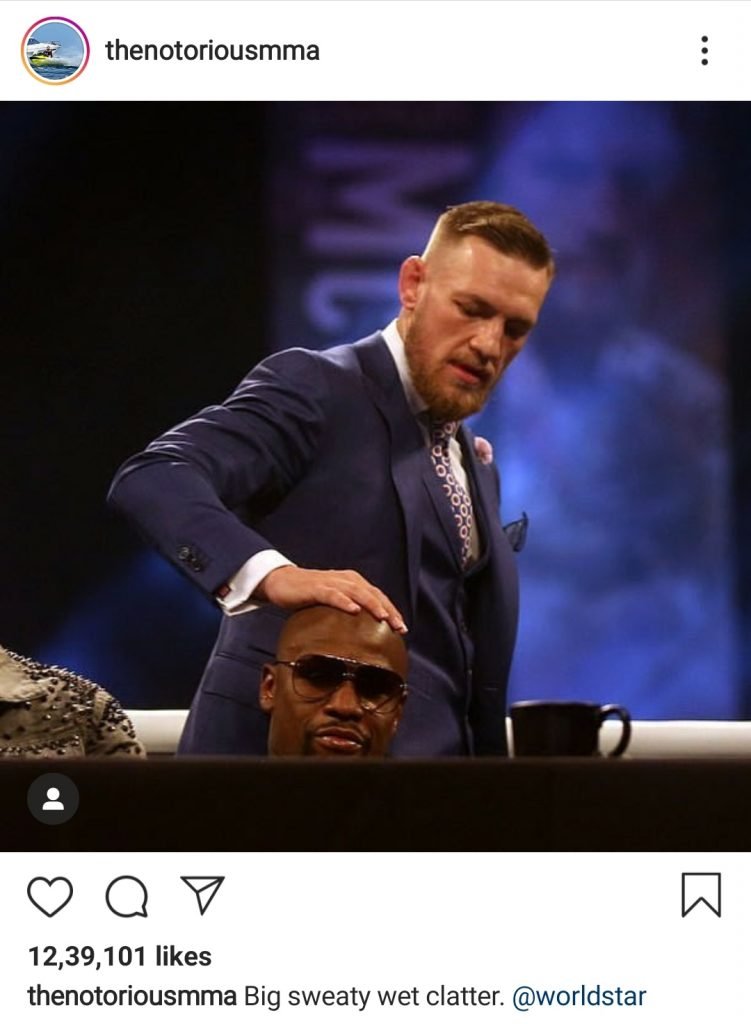 Conor McGregor recalls the moment when he insulted Floyd Mayweather by touching his head.
Conor McGregor, the ex-UFC champ recalls the day when he sauntered behind Floyd Mayweather in between a hot-tempered press conference. McGregor sauntered behind Floyd Mayweather and insulted him by touching the unbeaten boxer's head.
The duo insulted and mocked eachother during the tour in 2017 which finally led to their boxing match in August 2017. A month before the fight, the two had boasted about their looks, wealth and talent. These animosities between the two led to the most lucrative fight of all time.
One insulting moment that is remembered by all was when McGregor wandered around the boxing ring. He went behind Mayweather and his team, before rubbing a hand over veteran's head.
However, the UFC President Dana White looked nervous and immediately tried to cool off things. He gestured McGregor to stop and called the smiling Mayweather. He said, "I'm so happy you took that hat off." He further added, "What the f*ck were you hiding under that thing? That little f*cking peanut head?"
Conor McGregor fondly recalled this moment and shared a photo of the moment on Instagram. Tagging Mayweather, he wrote in the caption, "Big sweaty wet clatter"
The former two-weight UFC champion McGregor has announced his retirement last month but several people are claiming that this is just a ploy to increase his earning power for a return.
When the duo, Mayweather and McGregor met in Las Vegas they made $700 Million in revenue. However, Mayweather won the match via 10th-round knockout.
On the other hand, video creator Jack Denmo has asked McGregor to fight anyway and with anyone. He said, "I respect your decision to retire and chase money fights but we all just want to see you fight anybody."
Also Read : "Winner will go down as the best UFC heavyweight of all time" – Dana White on Stipe Miocic vs. Daniel Cormier trilogy fight