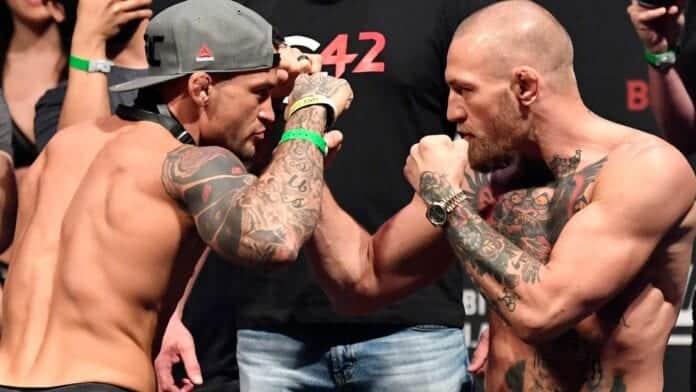 Conor McGregor is gearing up for his trilogy bout against Dustin Poirier. The pair will fight it out on the 10th of July at UFC 264 in Las Vegas. We're at this point because Poirier knocked out McGregor at UFC 257 in their rematch. Poirier thereby made it 1-1 in the rivalry after McGregor had gone 1-0 up after knocking out Poirier in the first round at UFC 178.
McGregor wasn't his usual self during UFC 257, he looked like a mere shadow of his original self. There was no trash talking, no intense staredowns, instead he was being totally nice to his opponent Dustin.
'No problem, see you in there' – Conor McGregor
Once he lost the bout at UFC 257; in a few weeks time he claimed that he will no more be the nice guy and that he was back to his old 'Notorious' version. And more recently, it looks like he has unleashed it. Taking to Twitter, the Irishman warned Poirier that he has awoken a beast, and asked him to say his prayers.
McGregor tweeted, "July 10th I will do this absolutely flawlessly. We have these clowns sussed and fully! They wanna play a game of tactics? No problem, see you in there. You've awoken a beast. A beast with the backing of a much higher power! Say your prayers."
There is bad blood this time around!
McGregor wouldn't be holding back himself this time. After Dustin accused him of not paying the stipulated amount to his charity, McGregor is an animal on the loose. He will do whatever it takes to stop Dustin.
He has been actively training in Dubai for his trilogy bout, after being spotted often by the fans running along the roadside under the hot sun. He even stopped to pose for a lot of them.
Also Read : Chris Weidman details his horrifying experience at UFC 261
Also Read : Michael Bisping weighs in on the Luana Pinheiro vs Randa Markos controversy