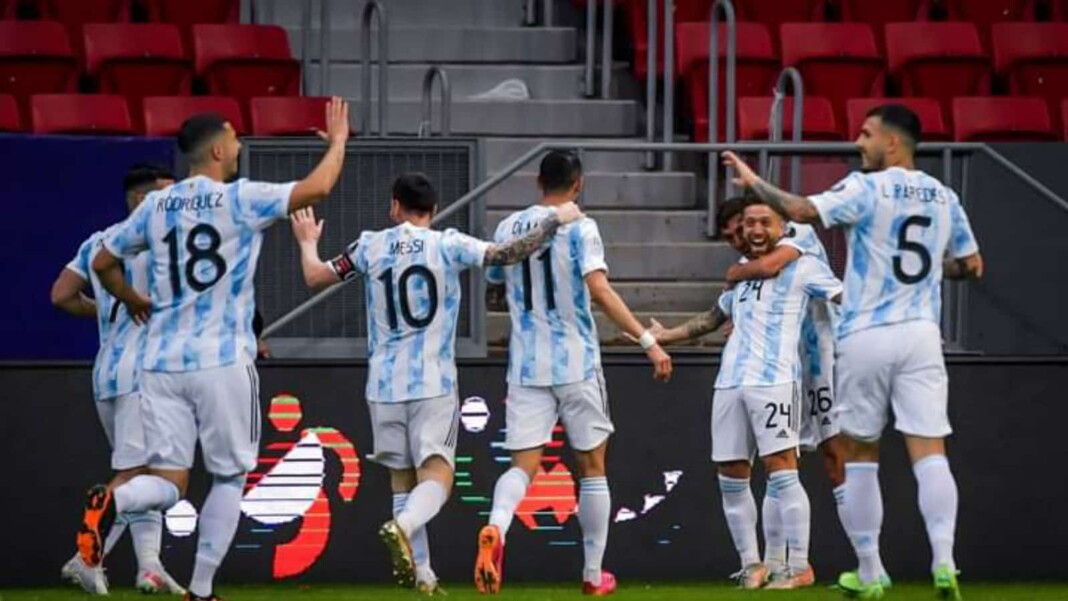 Argentina escaped with a 1-0 victory over Paraguay who were surprisingly good on the ball. The Paraguay team tried hard to break down the Argentina defense but the back-line did his job well and emerged as the winners. Angel di Maria, Lionel Messi, and Papu Gomez were the main players for Argentina and the combination of the three produced a brilliant goal for The Albiceleste. Papu Gomez took his goal confidently and showed his worth to the coach.
Argentina now are sitting on top of Group A with 7 points while Paraguay only have 3 from the two games they have featured in. But this Paraguayan side showed promise with some posession based football and a strong defence which could be a sign of good things to come.
Argentina Player Ratings
Emiliano Martinez – 7/10 – Was not tested by Paraguay but guarded his goal well when required.
Nahuel Molina – 8/10 – Was fast in his recoveries and also made some good forward runs helping Angel Di Maria.
German Pezzella – 7/10 – Made some crucial challenges throughout the match helping his team regain posession.
Cristian Romero – 8/10 – Once again the main man in defence and was a rock at the back.
Nicolas Tagliafico – 5/10 – Did not perform upto his calibre and made quite a few errors which could have been costly.
Guido Rodriguez – 6.5/10 – Held the ball well for Argentina and was crucial in breaking down Paraguay's play.
Leandro Paredes – 7/10 – Excellent with his diagonals and kept the ball moving for Argentina.
Angel Di Maria – 8.5/10 – The best player on the pitch yesterday and the architect of the goal scored by Argentina.
Lionel Messi – 8/10 – Made some terrific runs and was also heavily involved in the build up play of the first goal.
Alejandro Gomez – 7.5/10 – Scored the all important goal and took some nice turns fooling the Praguayan defence.
Sergio Aguero – 5.5/10 – Missed a sitter but looked positive in his approach and is getting fitter.
Rodrigo De Paul – 6/10 – Was energetic after coming off the bench and tried to create chances.
Joaquin Correa – 7/10 – Was high on energy and helped both offensively and defensively.
Nicolas Dominguez – 5/10 Came on in the dying stages and did the job well.
Angel Correa – 5/10 Drew some crucial fouls of Praguay to help Argentina keep the ball in the dying moments of the game.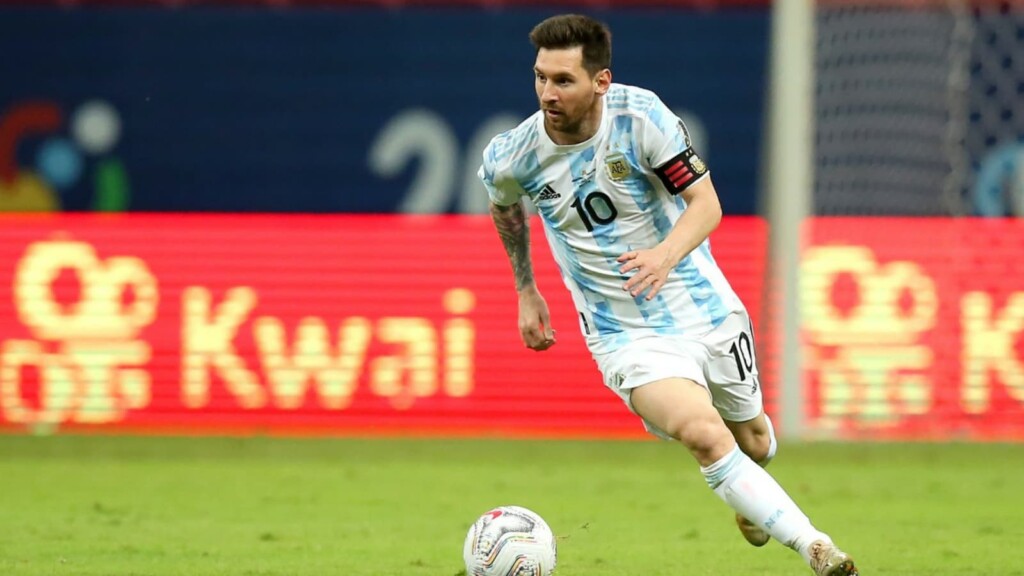 Paraguay Player Ratings
Antony Silva – 6/10 – Made some crucial blocks including one super strike from Angel Di Maria
Alberto Espínola – 6/10 Made some good runs and was solid defensively for his team.
Gustavo Gómez – 5/10 – Was tight to the strikers but not good enough to organise his defense to prevent the goal.
Júnior Alonso – 4/10 – Was not upto the mark with his defending and could do nothing about the goal.
Santiago Arzamendia – 4/10 – Had a tough time keeping up with the pace of Angel Di Maria.
Andrés Cubas – 6/10 Was instrumental in keeping posession for Paraguay.
Robert Piris – 6/10 Was good with his passes and kept the ball moving for Paraguay.
Angel Romero – 7/10 Gave tough time to Tagliafico on the right wing.
Alejandro Romero – 5/10 – Could not play those creative passes being the central midfielder.
Miguel Almirón – 7.5/10 – Was the player of the match for Paraguay with his pace and skills.
Gabriel Avalos – 4/10 – Being a striker could not do anything and was outclassed by the Argentina defence.
Carlos Espinola – 5/10 – Did his job well after coming on.
Richard Sanchez – 4/10 – Could not do much after coming on.
Angel Lucena – 4/10 – Could not break down the Argentina defence with his passes.
Braian Samudio – 4/10- Was not at all influencal after thrown on the pitch.
Oscar Romero – 5/10 – Tried to create chances for Paraguay in the dying stages.
Alsp Read: Copa America 2021 – Argentina vs Paraguay Prediction: Who will win Today's match