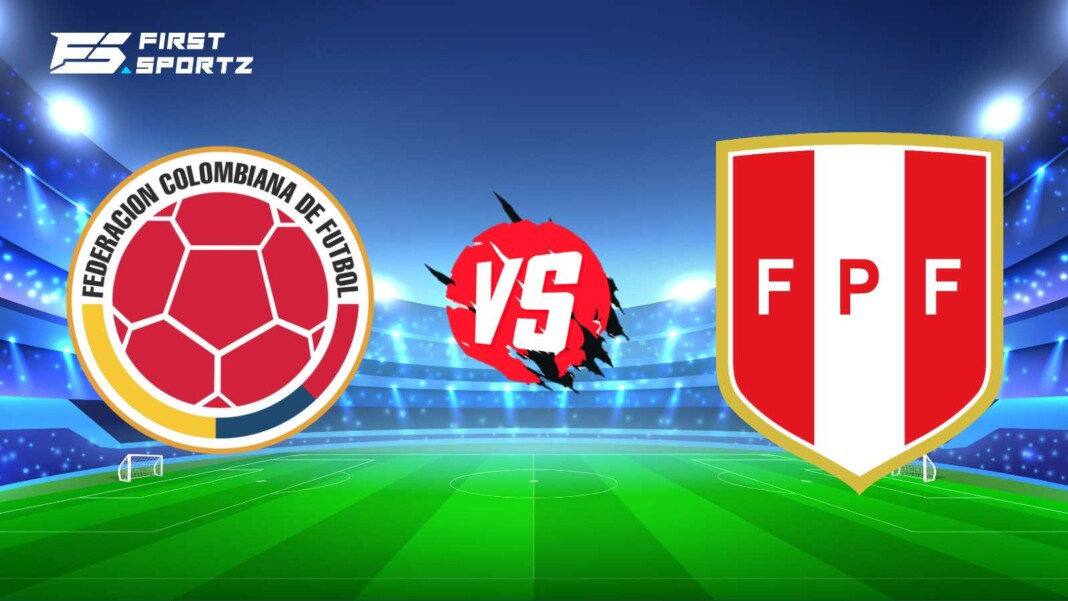 Colombia will take on Peru in the Group A match of Copa America 2021 on 20th June/ 21st June (India), at Olímpico Pedro Ludovico, Goiânia. Colombia has four points from its first two games, whereas Peru have just played one game and were crushed 4-0 by Brazil.
COL VS PER: Team Preview
Colombia
Colombia won a tight match against Ecuador to start their Copa America campaign. They faced a weak Venezuelan team in their second match, but they were unable to break the impasse with the game ending in a goalless draw.
While the result was disappointing, they have yet to find their stride. With four of the five teams in the group through to the next stage, a win on Monday would give Colombia a seven-point advantage over Peru, securing a berth in the quarter-finals.
Peru
Peru were thrashed 4-0 in their opening match in Rio de Janeiro when they faced host country Brazil. Despite the fact that their confidence would have taken a knock as a result of the beating, they have little time to linger as they return to play and have a chance to bounce back with an important win.
Peru still have a chance to finish in the top four, however, they may need to win an additional point over their opponents to compensate for their lower goal difference.
Head to Head
Colombia and Peru have faced each other in 20 matches with Colombia having a clear edge winning 10 games to Peru's sole victory. They recently encountered last month with Colombia crushing Peru 2-0.
Recent Form
Colombia: LWDWD
Peru: LLLWL
Match Details
Match Name: Colombia vs Peru
Date: 20th June/ 21st June (India)
Timings: 8:00 pm ET/ 5:30 am IST
Venue: Olímpico Pedro Ludovico
Squads to choose from
Colombia
David Ospina, Camilo Vargas, Aldair Quintana, Stefan Medina, Óscar Murillo, Carlos Cuesta, William Tesillo, Yerry Mina, Daniel Muñoz, Davinson Sánchez, Jhon Lucumí, Wílmar Barrios, Gustavo Cuéllar, Edwin Cardona, Juan Cuadrado, Mateus Uribe, Yairo Moreno, Leandro Campaz, Sebastián Pérez, Baldomero Perlaza, Duván Zapata, Luis Muriel, Luis Díaz, Rafael Santos Borré, Miguel Borja, Alfredo Morelos, Yimmi Chará
Peru
Renato Tapia, Santiago Ormeño, Anderson Santamaría, Gerald Távara, Carlos Lora, Renzo Garcés, Gianluca Lapadula, Marcos Johan López, Christian Cueva, Luis Iberico, Raziel García, Miguel Araujo, Alex Valera, Alexis Martín Arias, Alexander Callens, Yoshimar Yotún, José Carvallo, Luis Abram, Wilder Cartagena, André Carrillo, Pedro Gallese, Sergio Peña, Carlos Cáceda, Aldo Corzo, Christian Ramos, Miguel Trauco
Probable Playing XI
Colombia
David Ospina; William Tesillo, Davinson Sanchez, Yerry Mina, Daniel Munoz; Edwin Cardona, Jaminton Campaz, Wilmar Barrios, Juan Cuadrado; Luis Muriel, Duvan Zapata
Peru
Pedro Gallese; Marcos Lopez, Luis Abram, Christian Ramos, Aldo Corzo; Yoshimar Yotun, Renato Tapia; Christian Cueva, Sergio Pena, Andre Carillo; Gianluca Lapadula
Key Players
Colombia: Edwin Cardona, Yerry Mina, Daniel Munoz
Peru: Renato Tapia, Christian Cueva, Sergio Pena
Dream11 Team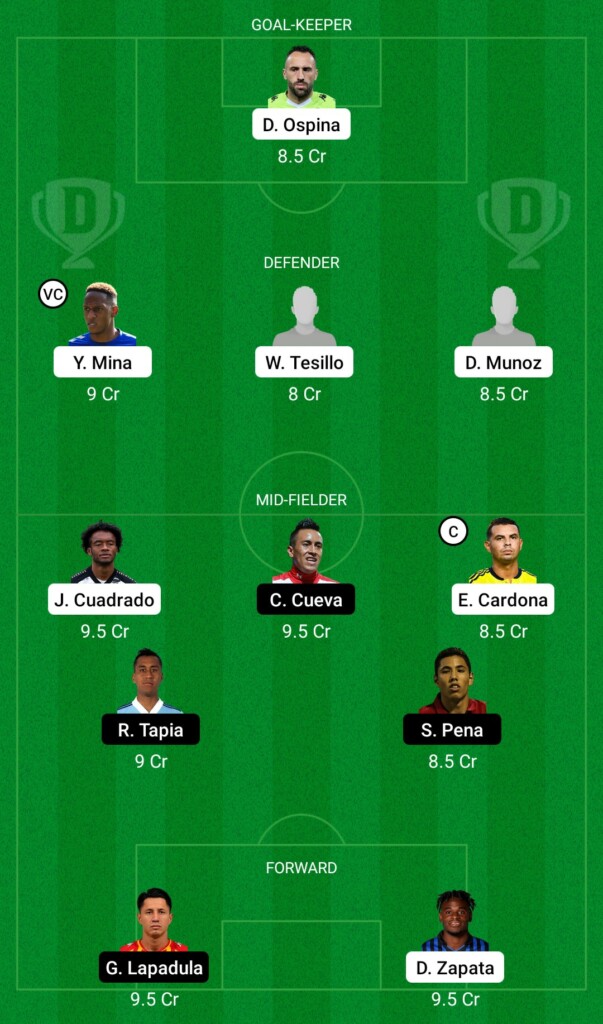 David Ospina, Yerry Mina (VC), Daniel Munoz, William Tesillo, Edwin Cardona (C), Juan Cuadrado, Renato Tapia, Christian Cueva, Sergio Pena, Duvan Zapata, Gianluca Lapadula
Final Prediction
Colombia start as favorites to win this matching owing to the strength and balance in their squad. They have a great head-to-head record against Peru and would be eyeing to maintain that record.
Please Note
The aforementioned COL vs PER Copa America 2021 Dream 11 Prediction, COL vs PER Copa America 2021 Final Prediction, COL vs PER Copa America 2021 Top Picks are based on our in-house analysis. However, this does not guarantee a positive result.