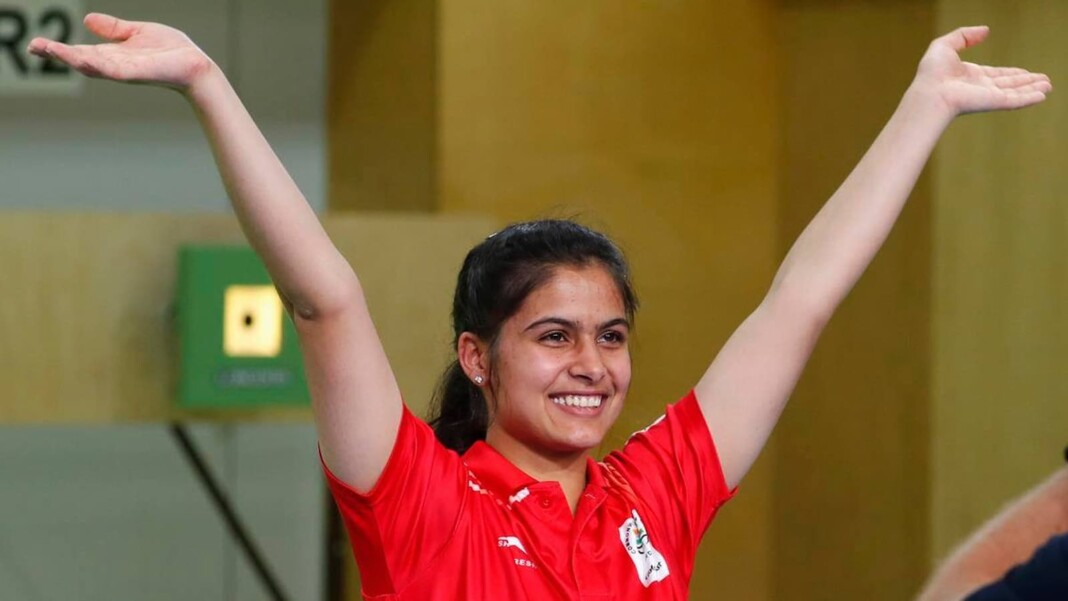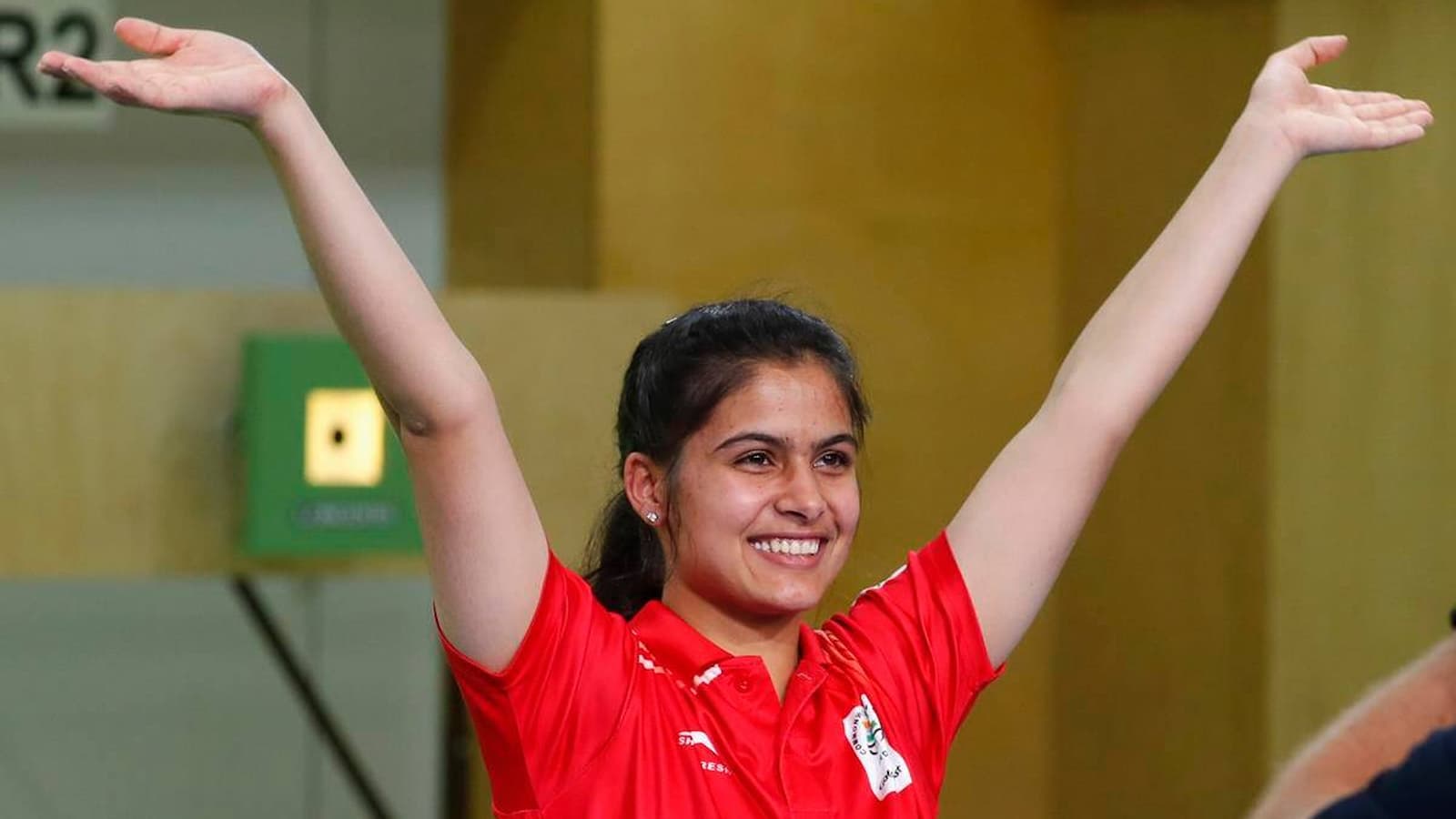 Name
Manu Bhaker
Date of Birth
18 February 2002
Birth Place
Jhajjar, Haryana
Sport/Event(s)
Women's 10m Air Pistol
Women's 25m Pistol
Current World Ranking
2 (10m AP)
7 (25m Pistol)
Major achievements
Mixed AP Golds at 6 ISSF World Cups (2018-2021)
Gold at 2019 ISSF World Cup Finals
Gold at 2018 Guadalajara ISSF World Cup
Silver at 2021 Delhi ISSF World Cup
Bronze at 2021 Delhi ISSF World Cup (25m Pistol)
Gold at 2018 Commonwealth Games
Gold at 2019 Doha Asian Championships (Individual and Mixed)
Gold at 2019 Asian Airgun Championships (Individual and Mixed)
2018 Youth Olympic Champion
Golds at 2 ISSF Junior World Cups (Individual and Mixed)
Current junior finals World Record (244.7) in Women's 10m AP
Current junior qualifications World Record (593) in Women's 25m Pistol

On 4th March 2018, Manu Bhaker created a sensation in shooting circles by winning gold in her ISSF World Cup debut. The Women's 10m Air Pistol finals at Guadalajara boasted of experienced Olympians such as Alejandra Zavala Vazquez, Celine Goberville and Anna Korakaki; yet the event was won by an unknown Indian teenager.
Manu Bhaker's feat made it to the front page of newspapers the next day, a rarity for non-cricket sports news. It also heralded the revival of Indian shooting on the international stage – India was the top nation at the Guadalajara World Cup; the country's shooters continued the good run throughout 2018 culminating in a landmark 2019 season. The majority of India's top shooters were aged 20 or younger, and it all started with a 16-year old creating history in Mexico.
Manu Bhaker career in Women's 10m AP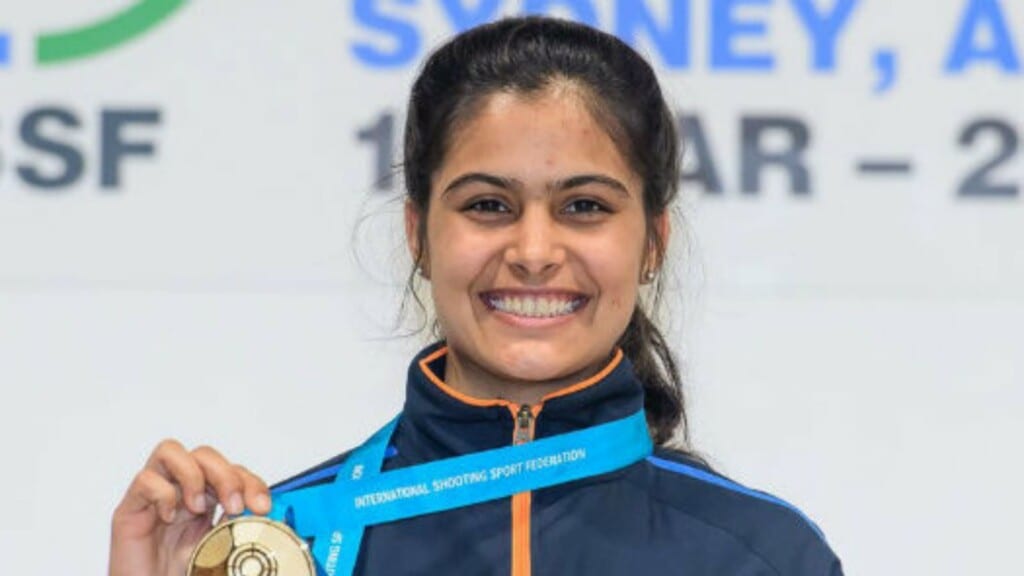 While Manu has had her moments in Women's 25m Pistol, it's in Women's 10m Air Pistol where she has had the most success. Soon after her Guadalajara heroics, she came into national prominence again after winning gold at the 2018 Commonwealth Games and beating the experienced Heena Sidhu in the process.
The rest of 2018 was a learning process for Manu. Dealing with raised expectations now, she found it impossible to match the highs of Mexico and Gold Coast at senior competitions.
At the junior level though, she was a class apart. Golds at the ISSF Junior World Cups at Sydney and Suhl followed, as did the chance to become India's flagbearer at the 2018 Youth Olympics. At Buenos Aires 2018, she became India's first female gold medalist at an Olympic competition.
2019 saw the advent of Manu's Mixed AP partnership with Saurabh Chaudhary. To say the team has been a success would be an understatement. Starting from their senior debut at the 2019 ISSF World Cup at New Delhi, the duo has won all possible golds at ISSF WC competitions since then.
Manu's biggest medal till date has been the gold at the 2019 edition of the prestigious ISSF World Cup Final. Despite barely making it past the qualification round with 578, she stunned everyone by shooting 244.7 in the finals. The score was nearly 3 points ahead of 2nd placed Zorana Arunovic and was a new World Record in Women's junior 10m AP finals.
Manu Bhaker career in Women's 25m Pistol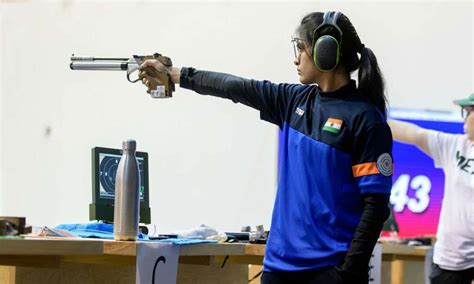 Manu's career in Women's 25m Pistol so far has been a Jekyll and Hyde story. She is the best Indian shooter in this discipline when it comes to qualifications, case in point being her junior World Record equaling score of 593 at the 2018 Asian Games or her frequent 582+ scores at ISSF World Cups.
When it comes to finals in this event though she inevitably suffers from bad luck or a sudden loss of form. Till the Delhi World Cup this year, she had not won a medal at an international competition. At Munich 2019, she had a pistol malfunction while in the lead. She even has had struggles in the domestic selection trials.
Despite these issues, she was chosen ahead of quota winner Chinki Yadav on the back of her qualification performances and 10m AP success.
Manu's chances at Tokyo 2020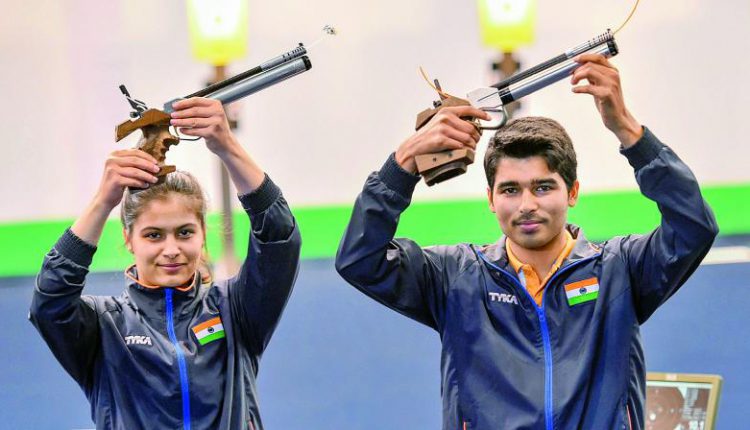 Manu is the only Indian shooter slated to compete in 3 events at Tokyo 2020. This will certainly add to the pressure of competing at one's debut Olympics.
However, Manu if anything, has been an all-rounder since childhood. Good at both academics and sports, she has competed in martial arts, boxing, skating, and tennis before deciding to take up shooting at age 14. She is also pursuing a BA from Delhi University.
At the Olympics, her best chance for a medal will definitely be in 10m AP Mixed alongside Saurabh Chaudhary. She has a good chance of making it to the finals of her two individual events, though a medal will depend on luck.
To get to see Manu take a shot at history, Indian fans should mark their calendars for 25th, 27th, 29th and 30th July which are the dates for Women's 10m AP, Mixed AP and Women's 25m Pistol qualifications and finals respectively.
Also Read: Countdown to Tokyo Olympics: Know your Olympian – Vinesh Phogat