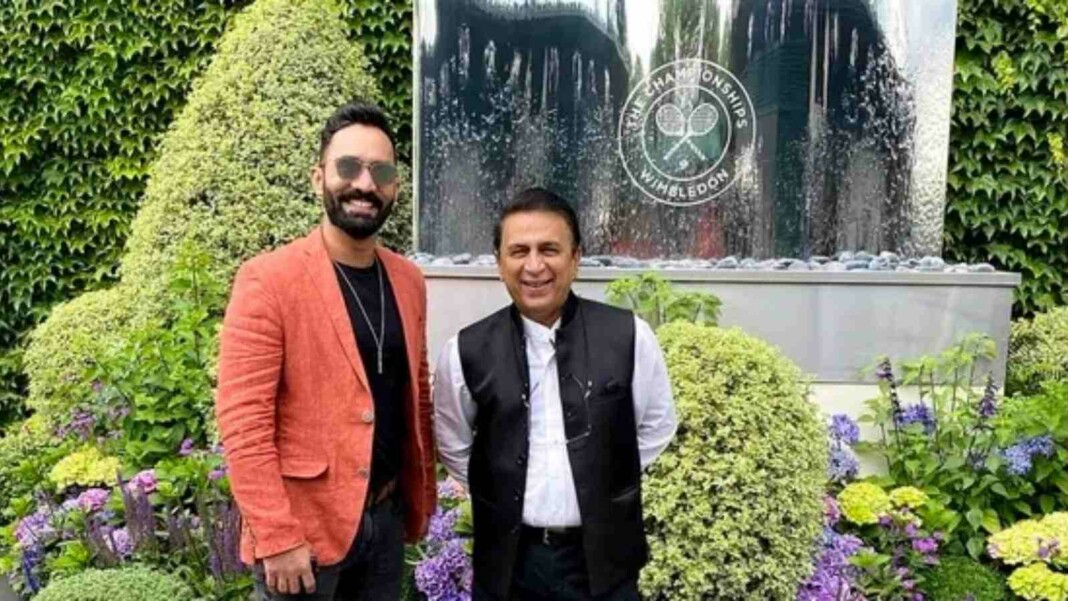 Former Indian Wicket-Keeper and Batsman Dinesh Karthik has posted a image with Indian Legend Sunil Gavaskar watching Wimbledon together. Both Karthik and Gavaskar are in UK for their respective Commentary jobs. Earlier Sunil Gavaskar praised Karthik for his communicating skills in the commentary box of WTC Final. Both are doing commentary together from then and had become good friends.
On Friday, Tennis legend Novak Djokovic beats Denis Shapovalov and reach Wimbledon final for the 7th time. This was the match in which Karthik and Gavaskar were enjoying and Karthik posts a image from the same on twitter. Let's look at his tweet.
Rohan Gavaskar: Dinesh Karthik took my spot in playing Xl and now in Wimbledon also
Reacting to Dinesh Karthik's photo alongside Sunil Gavaskar from Wimbledon, Rohan Gavaskar recalled how the wicketkeeper-batsman once "took his spot" in India's playing XI and has now done it again at the tennis tournament. Let's look at the tweet of him.
With his sharp analysis, Dinesh Karthik became famous for his communication skills and simple talks in the commentary box when he made his debut in the World Test Championship final between India and New Zealand last month. Karthik says talking on the microphone is much easier than playing the game but it comes with its own set of challenges.
Dinesh Karthik has revealed that he want to play one more world cup for India and want to win the tournament. Karthik is unlucky to be in the game at the time of MS Dhoni, because he never got proper chance to showcase his talent due to Indian captain MS Dhoni's finishing skills and batting talent. Always Dhoni was preferred in the selection process ahead of Karthik due to which he got very less chances to play for his country.
Also Read: Suresh Raina: "If MS Dhoni doesn't play the IPL next year, I will also not play"| IND vs SL: "Hardik Pandya can walk into the team as a pure batter in white-ball cricket" – Sanjay Manjrekar