There was a point in the T20 World Cup game against New Zealand when Virat Kohli hustled in at the bowler's end to collect a throw, only for the ball to hit his shin instead and induce a grimace which eventually led to a puckered lip expression of disappointment accompanied by a look towards the heavens.
On the night, captain Kohli must have been wishing for the heavens, or indeed the ground, to open up and take him in. It had all gone awry. Oftentimes, a sports team is an embodiment of the captain. At their best, India is a feisty street fighting team, refusing to give in at any point. Cue up Gabba, Lord's and those of the ilk.
And on Sunday, along similar lines, Team India wore a dejected, tired, burdened and almost scared look as they submitted their favourites tag at the bare mention of any choke hold from the opposition. It seems as though Virat Kohli, a proud captain who burnt with such shining brightness, is seeing the final lap of his T20 leadership stumble in darkness as that lamp is quickly emptying itself of combustion oil.
A tired Team India and a tired captain Kohli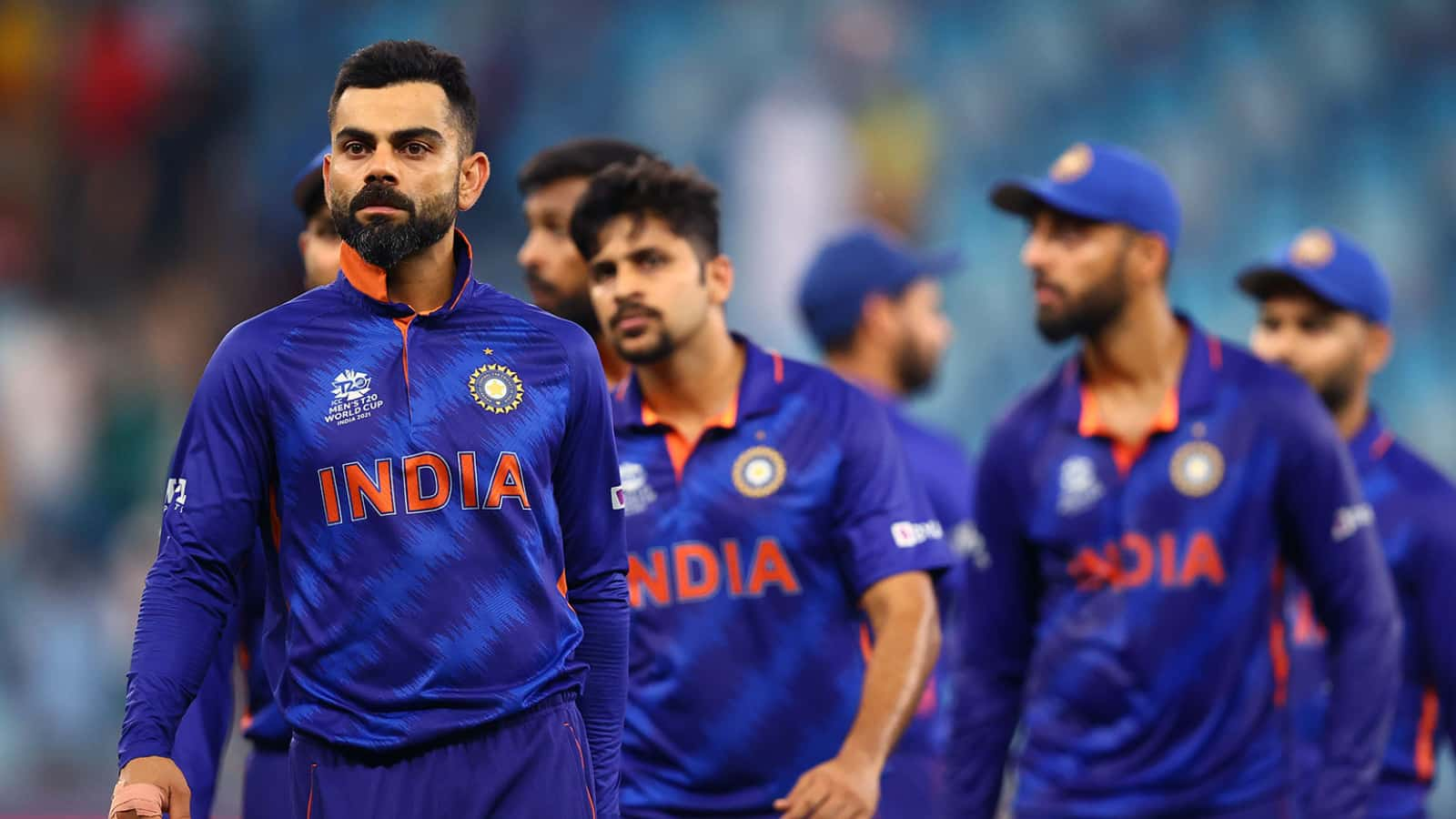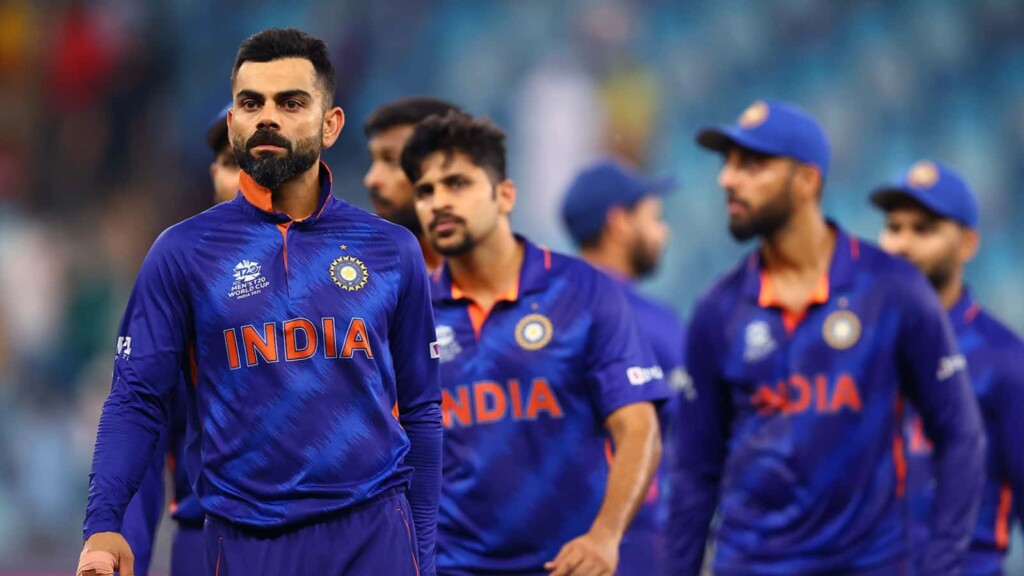 It is slightly unfair on Kohli too, man of the tournament in the previous two editions of the T20 World Cup, to be copping the criticism he has. All the discord around Virat Kohli failing as a player on the big stage is extremely reactionary.
However, that he is not the same player as he was in the previous two editions was evident in the manner he was dismissed against New Zealand. Virat Kohli, with 70 international centuries and the indisputable king of modern day white ball batting in style and effectiveness, was caught at long on trying to hack a spinner over cow corner. That is not supposed to happen to Virat Kohli – craftsman and connoisseur of beauty in batsmanship falling to a move so out of character that one begins to question character itself.
But there was the man himself. We lacked bravery and our body language was not correct is what the captain opined at the end of the game with resignation writ large across his face and tone. Kohli was representative of everyone else in that team. Each member looking so desolate that one must have felt like sympathising with them. And sympathy is the last thing any elite athlete, or a human being, would want as gift from onlookers.
These are proud individuals but eventually, they are flesh and blood. Richly rewarded as they may be, perhaps now the harsh and unforgiving bubble life is becoming a mental hurdle far too strong to tackle. And it is a vicious cycle, worsened by every small battle that the opposition wins – every dot ball with the bat and every single conceded with the ball.
One must thus, in their assessment of the ICC T20 World Cup going terribly wrong for Team India, cut the players some slack – all of whom have entertained every viewer and naysayer for the better part of the last year. And that is not easy – just ask Ben Stokes.
India lacked bravado and looked scared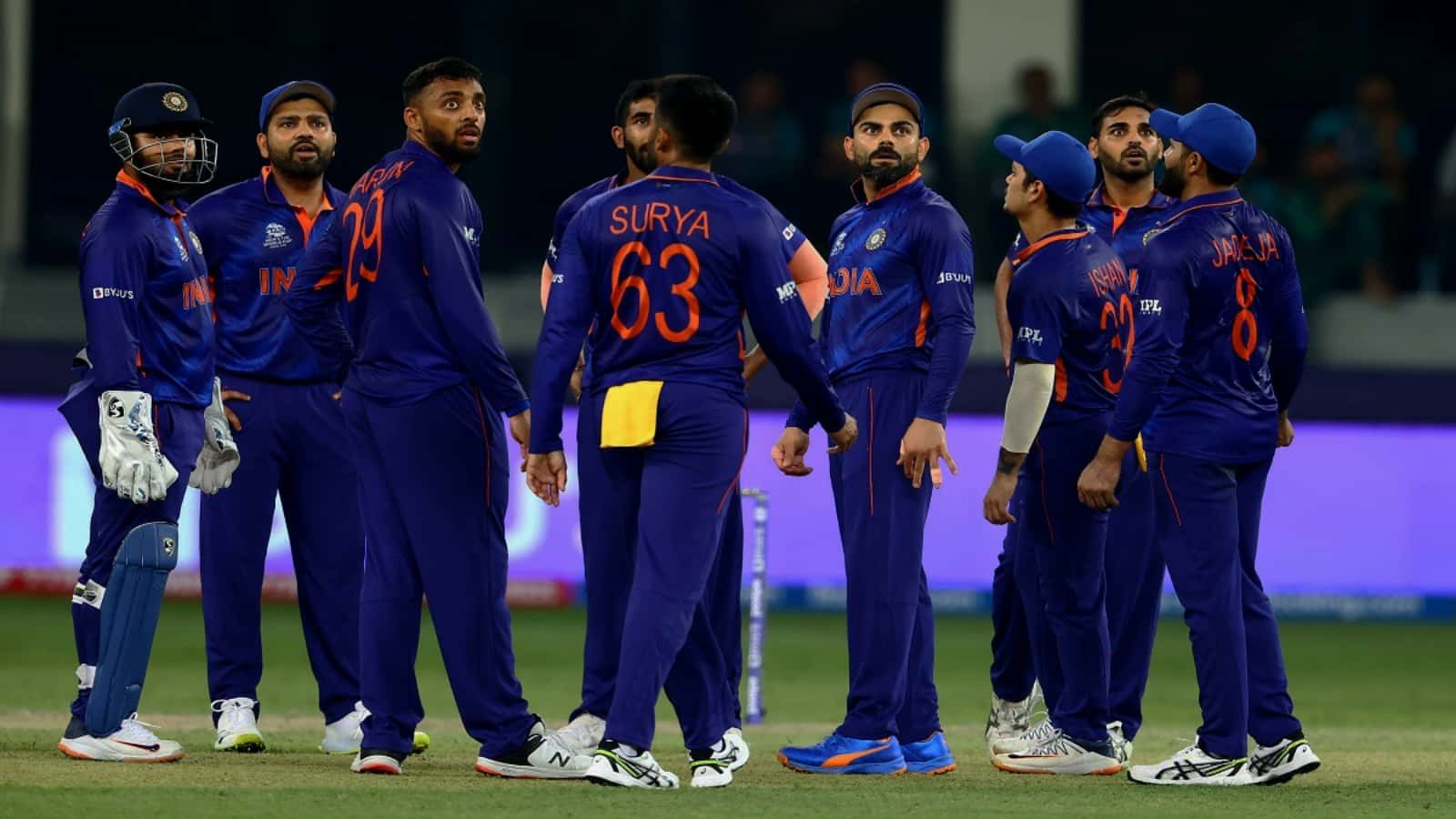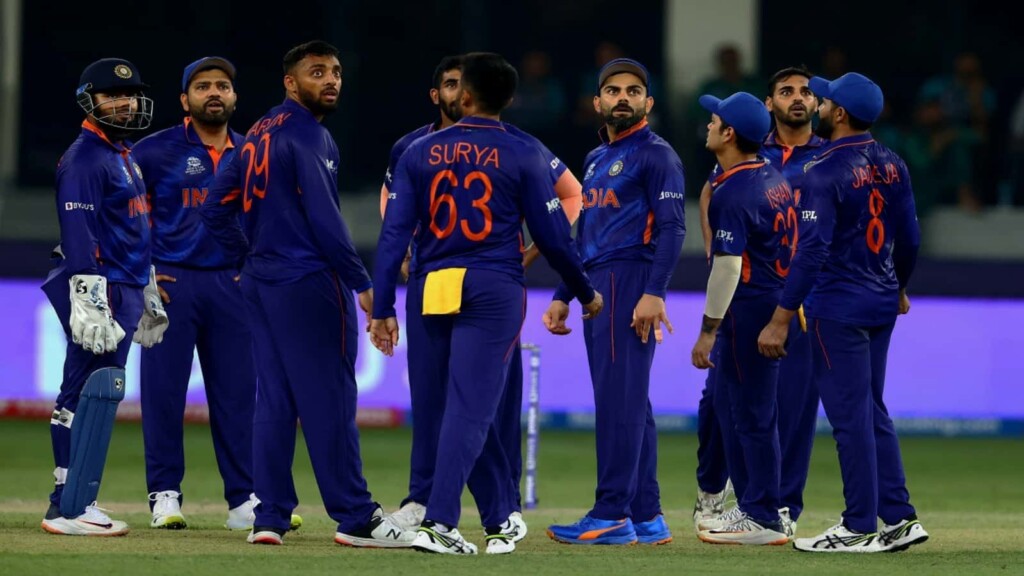 What is difficult to fathom however is the lack of bravery from a team full of players who have been known to set stages on fire with their free flowing stroke play. There seemed to be doubt ingrained in the minds of the players who looked almost scared to express themselves on a stage and in a format that is tailor made for expression.
As aforementioned, the captain citing lack of bravery and hesitation as reasons for defeat is a damning depiction of a team playing in a World Cup. This is an Indian team packed with world class talent who have the ability to blow the cover off the ball and yet make proceedings look aesthetic.
Therein begs the question of philosophy. How does Team India play their cricket and one might be shattered to discover that their T20 game is stuck in the stone age. The innings building to launch at the end – a template made so famous by MS Dhoni, the team's now mentor – is no more the success pattern in this format. The game has evolved a decade since then.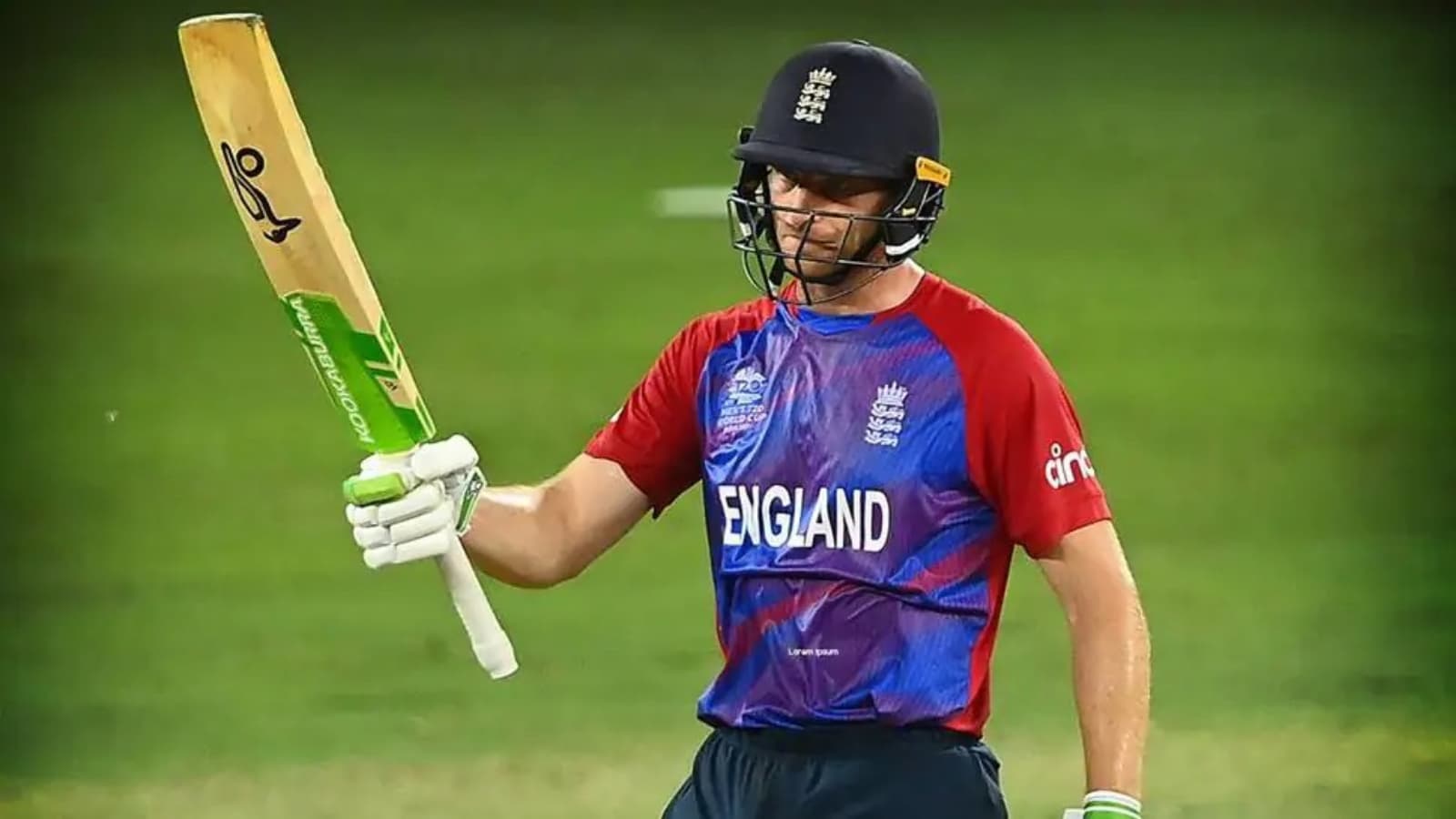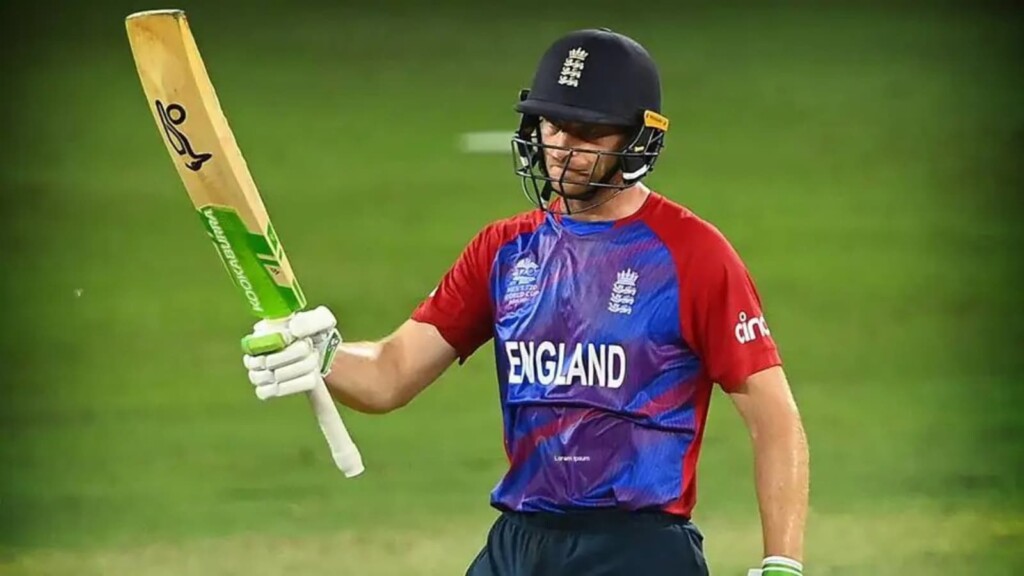 England have shown exactly how to play cricket. And it is no surprise that they love their captain Eoin Morgan so much, who has breathed this philosophy by backing the process, failure included. This is the same captain who took KKR to the final by sheer virtue of a philosophy that unshackled the players from the fear of failure.
There is no guarantee of success through bravery and lack of fear in playing a gung-ho brand of cricket. However, failing with 110 runs in 20 overs courtesy of being scared of getting out is worse than being bundled for 80 runs in 8 overs by virtue of sticking to an attacking game. The way India is failing today is downright the worst way to go down!
India seems burdened in the T20 World Cup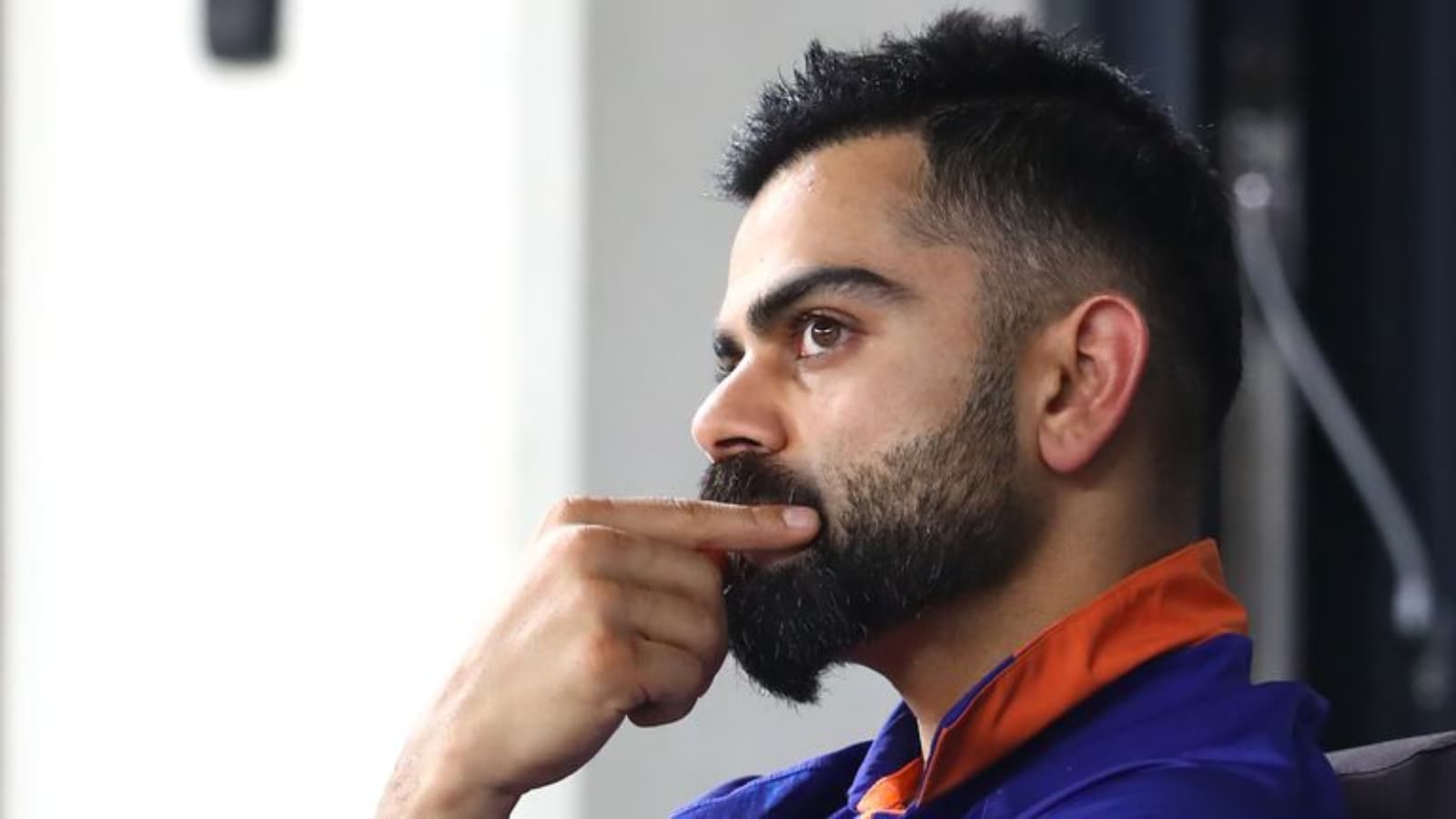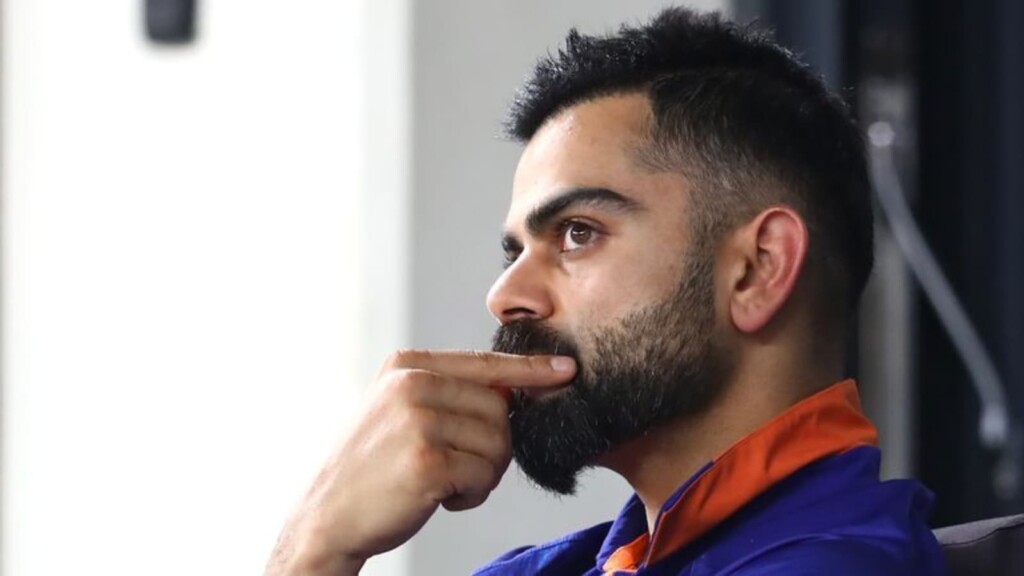 And this very manner of defeat, one entrenched with the putrid smell of hesitation, fear and lack of gusto digs up a past sin that the leader was never really absolved of. That is, of course, backing players. There are many examples of players who have felt wronged by the current management and some others left confused.
Yuvraj Singh had very publicly mentioned how captain and coach led him on before former skipper Dhoni giving him clarity on selection. There are many others who, leading into the ICC World Cup in 2019, were given short runs before being dropped. Dinesh Karthik, who was thrust into facing the swinging ball in a World Cup semi final, had till then been publicly hailed as being groomed and looked at solely for the finisher's role.
KL Rahul himself was dropped after three poor games against England at home earlier this year. There is also Yuzvendra Chahal who has not been given the fairest possible end of the bargain. All these things burden players with insecurity and the fear of failure becomes a very natural outcome of the same.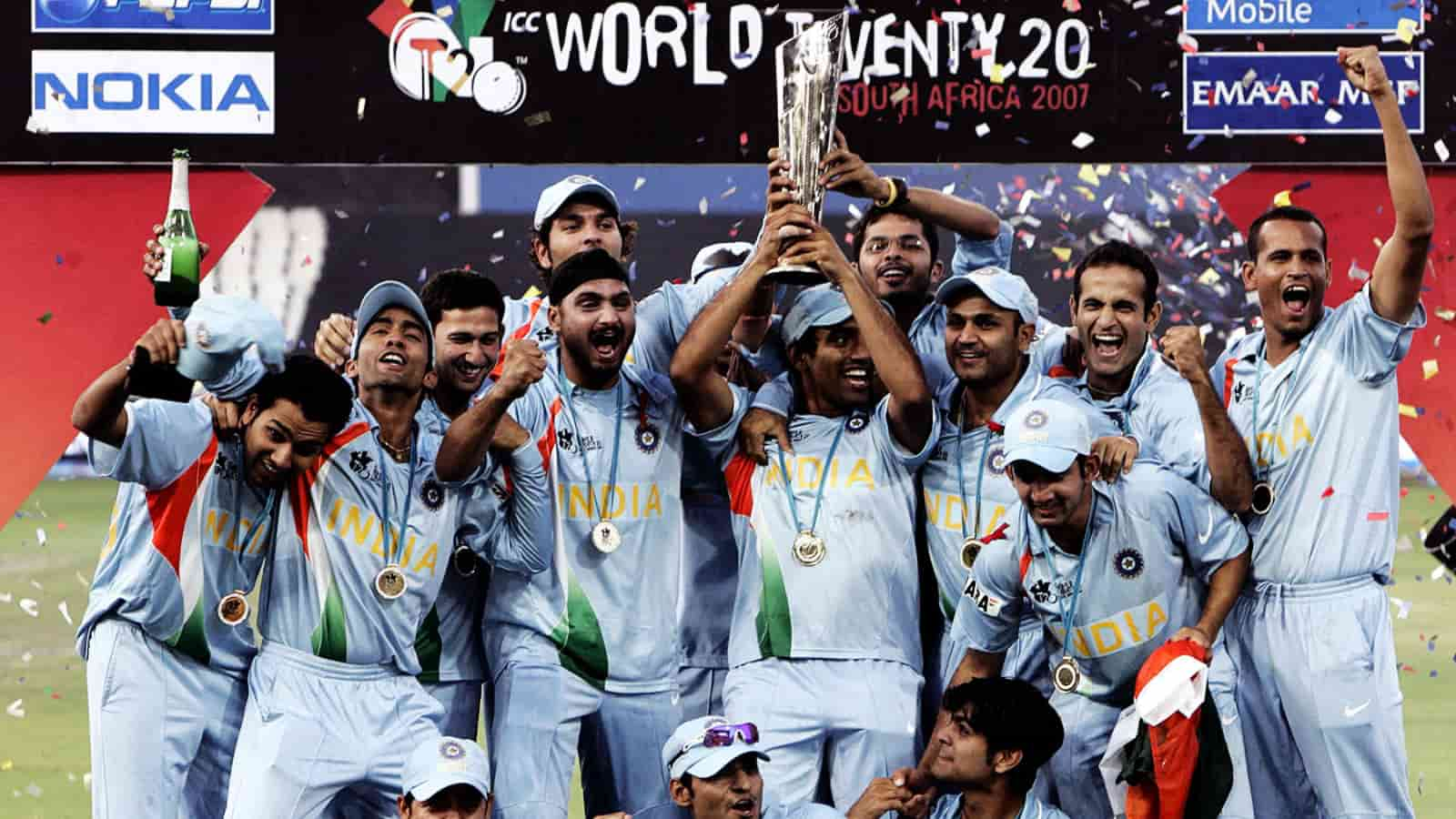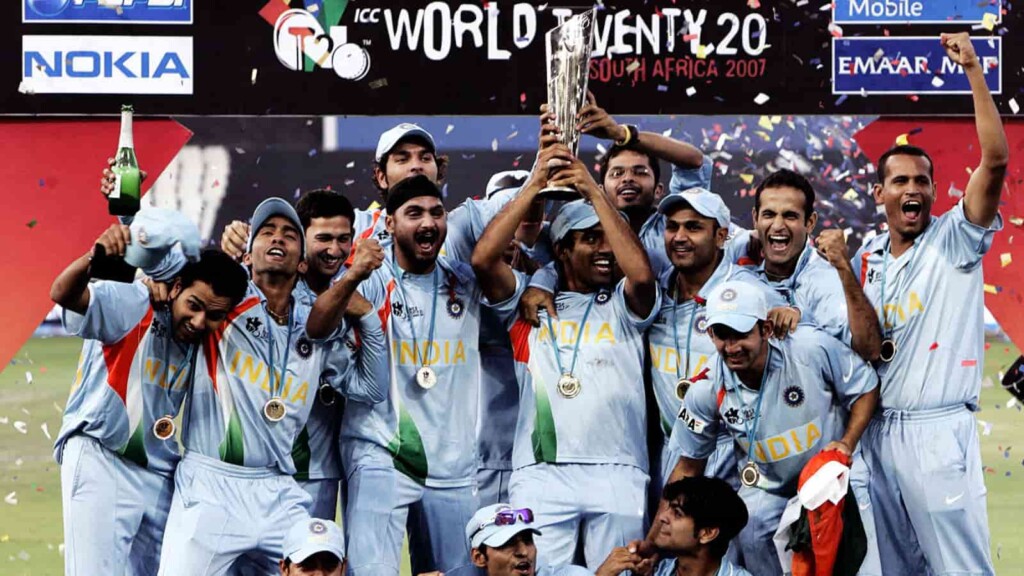 Liberation in action is a function of a liberated mind. And for reasons varied, Team India has seemed like a chained animal. Burden also comes from previous failures. The core group of this Indian team is a wounded one from losing ICC knockouts, carrying the ever increasing baggage of past failures only augmenting the load of expectations, which slowing masquerades into the web of forlorn longing. And it is a path that is extremely difficult to traverse.
Burden also results from wanting something too much to the extent that pressure gets the better of oneself. India have famously won two World Cups on the back of being relaxed on the inside and relying more on skills than heavy team meetings. And perhaps of what is left in this T20 World Cup and Kohli's T20 captaincy, he can borrow a page from his mentor's book and disconnect in the mind in order to connect with the willow. Who knows, in that process, his team might stay back in the UAE for a game or two more than what looks likely today.