Tennis legend Roger Federer played the final match of his tennis career in a doubles match along with Rafael Nadal in the Laver Cup 2022 on Friday in London. Emotions were high when the 41-year-old bid adieu to his 24 years of illustrious career. After the match, the tennis fraternity paid tribute to the Swiss maestro and his eternal rival Nadal was seen crying alongside him. The two fiercest rivals dominated the sport for the last two decades.
In his final farewell speech, he said: "We'll certainly get through this. It's been a wonderful day. I told the guys I'm happy, not sad. It feels great to be here. I enjoyed tying my shoelaces once more, everything was the last time. I didn't feel the stress so much even though I thought maybe something was going to go, like a calf, but the match was great. Playing with Rafa and having all the greats here, all the legends, thank you."
ALSO READ | "What a man…what a match!"- Twiter erupts as Rohit Sharma's 46*, Dinesh Karthik's finish help India thrash Australia by 6 wickets
"Nothing but respect for these 2"- Virat Kohli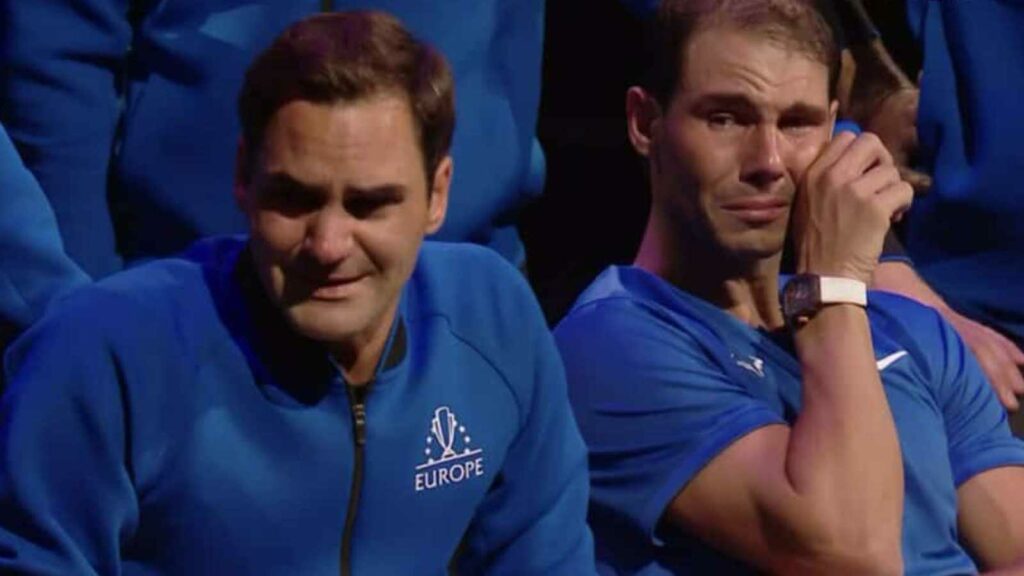 The picture of Nadal crying with Federer is making the fans emotional. It has gone viral and indeed it was something fans will cherish forever. Not only fans, former India captain Virat Kohli called this picture "beautiful picture ever for me". He took to Twitter and reacted to it by saying:
"Who thought rivals can feel like this towards each other. That's the beauty of sport. This is the most beautiful sporting picture ever for me. When your companions cry for you, you know you've been able to do with your God-given talent. Nothing but respect for these 2, Roger Federer and Rafael Nadal."
Check his post below:
In that match, the pair of Federer and Nadal represented Team Europe and lost the double's tie against Frances Tiafoe and Jack Sock who represented Team World.
ALSO READ | Following stampede incident, Hyderabad police files case against Hyderabad Cricket Association for cheating, black marketing
ALSO READ | "Are we in 1998?"- Sachin Tendulkar dances down the track to smash vintage sixes, India legends cruise to 40-run win