Suryakumar Yadav ensured that the fans in Thiruvananthapuram do not miss their local star Sanju Samson when Team India arrived in Kerala's capital city to play the first of the three T20Is against South Africa from Wednesday, September 28. Fans flocked around in large numbers to greet the Men in Blue.
The fans were chanting Samson's name so Suryakumar showed Samson's photo on his mobile phone to them and they had gone simply beserk. In the video, Suryakumar was sitting in the team bus and he immediately showed Samson's picture the fans. He pointed his finger towards the picture and gave it a thumbs up. Sanju was not picked to represent the team for the series.
Watch the viral video below:
ALSO READ | "Run out kisi aur tareeqa se bhi kar sakta tha"- Sohaib Maqsood thinks Pakistan bowlers should have Mankaded English batters
Sanju Samson is currently leading India A for an unofficial ODI series vs New Zealand A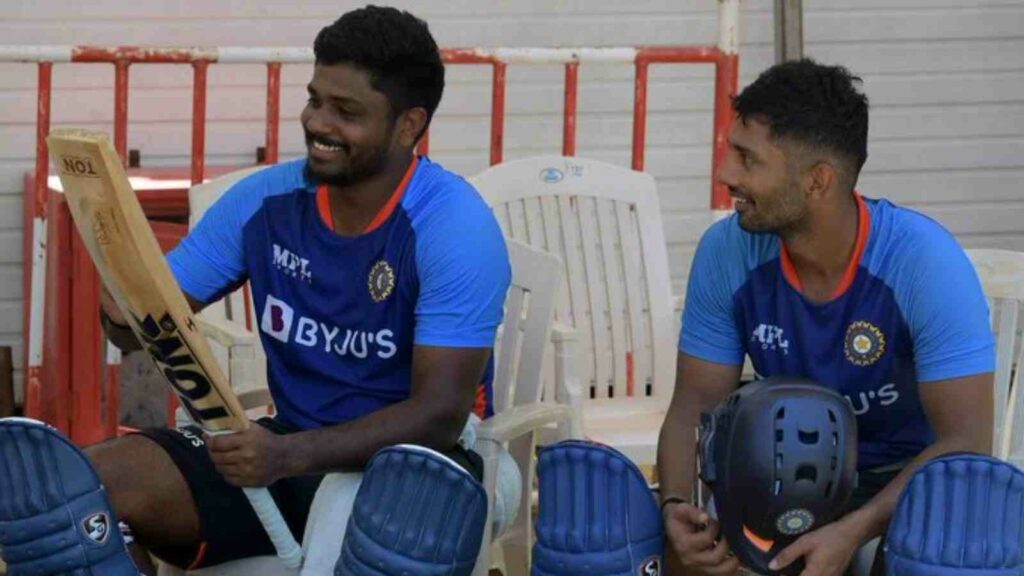 Sanju Samson has been given limited opportunities this year. He missed the Asia Cup 2022 and will miss the T20 World Cup 2022 as well.
"It really does get challenging. Finding a place in the Indian team is really challenging. There's a lot of competition around, even among players who are in the team now. When these things happen, it is important to focus on myself," Samson had said, as quoted by PTI.
Samson played an instrumental role as Rajasthan Royals' captain in this year's Indian Premier League. He led the side to the final of the tournament before losing to Hardik Pandya-led Gujarat Titans.
Samson is currently leading India A against Zew Zealand A in the three-match ODI series in Chennai. India A have the advantage of a 2-0 lead. The third ODI is scheduled to take place on Tuesday, September 27.
ALSO READ | "Give me any medicine, injection…"- A determined Suryakumar Yadav on playing 3rd T20I vs Australia despite stomach ache and fever
ALSO READ | "We had warned her repeatedly"- Deepti Sharma opens up about Mankading Charlie Dean