Prasidh Krishna, the right arm medium fast bowler made his international debut against England in the ODI series in March 23, 2021. The 25 year old became the record holder of most wickets by an Indian fast bowler on debut with his bowling figures reading 4/54 which was instrumental for India 66-run victory over England. Krishna made his IPL debut in the year 2018 representing the Kolkata Knight riders Franchise and has been successful in providing initial breakthroughs which had paved his way for the National team.
He is a key component in the KKR pace battery and will be looking to sharing pace bowling duties with Australia pacer Pat Cummins. Krishna was impressive in his debut season scalping 10 wickets of the 7 matches he played but the next two years wasn't good for him as he found it difficult to get his rhythm. But this season he was showing good form getting 8 wickets of the matches he played in the 2021 edition of IPL which was postponed by BCCI amidst COVID-19 pandemic.
Question and Answer session for Prasidh Krishna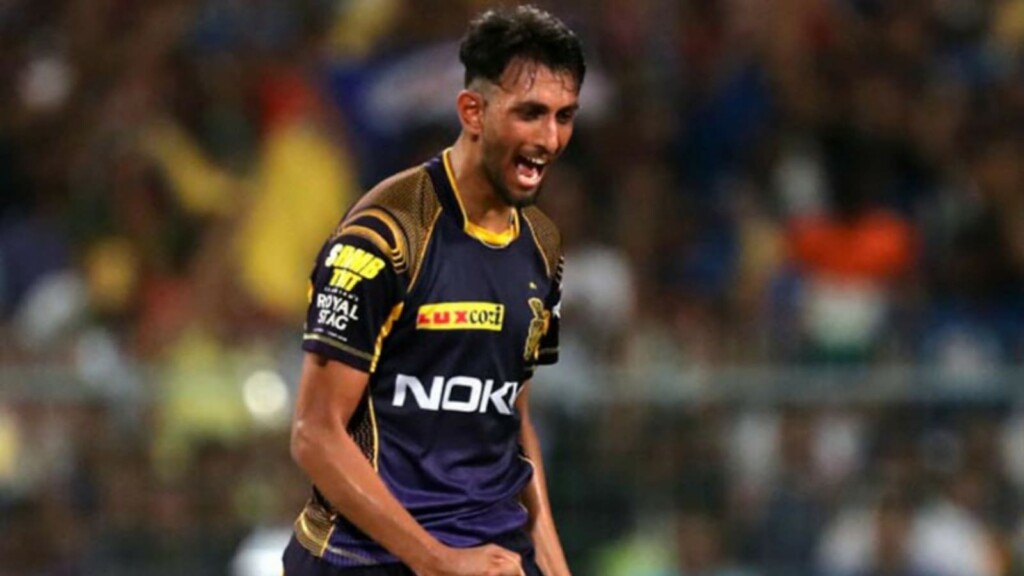 Recently Prasidh Krishna participated in an Interview ,"How well do you know your teammates?" by ESPNcricinfo, where the 25 year old took the quiz about his Kolkata Knight Riders Teammates. There were many unknown and interesting questions popped up by the interviewer during this Session and lets see what the speedster had scored out of the total 15.
Q1: I was man of the match in first ever T20 international.
Dinesh Karthik. Krishna made the right answer.
Q2:I am the only player to have won 2 man of the match award in Champions League T20 final.
He answered it to be Sunil Narine, but the right answer was Harbhajan Singh when he played for Mumbai Indians.
Q3: I am the only KKR player to have won a Man of the match award in IPL final.
Shakib Al Hasan. But the answer was Ben Cutting who played for Sunrisers Hyderabad in 2016 IPL finals.
Q4: I was bought by KKR for 60 lakhs, just 10 lakh above my base price in 2014.
Andre Russell.
Q5: I am the only player for KKR to have scored 300+ runs for KKR in each of the past three IPL seasons.
Shubman Gill or Dinesh Karthik. The right answer was Nitish Rana.
Q6: Apart from the KKR captain Eoin Morgan I am the only other KKR player to be among the top 20 T20I batsman.
Krishna was provided with a clue that he was from New Zealand and the pacer right away went for the answer: Tim Seifert.
Q7: I developed an app called "Machineroad" with my brother that allows fast bowlers to check their speeds, lengths and workload.
Before the question was to be completed, Krishna fired up with the answer "Lockie Ferguson".
Q8: I had the best strike rate of all KKR bowlers in the 2020 IPL season, taking a wicket every 17.3 balls.
Krishna made his guess to be Varun, but the answer was Shivam Mavi.
Q9: I am a big football fan and my favourite teams are Argentina and Barcelona.
He said he wasn't aware of any football fans then he guessed the right answer: Shakib Al Hasan.
Q10: I was signed by Mumbai Indians in 2012 at just 17 years of age and got Sachin Tendulkar out in the nets.
Kuldeep Yadav
Q11: I am missing the top of my right middle finger as my sister slammed the door on my hand when I was a child?
Pat Cummins
Q12: I am named after a famous Indian batsman as my father was a big fan of his.
Sunil Narine named after Sunil Gavaskar.
Q13: I have broke an Indian record which was previously held by Varun Aaron.
It is myself chuckled Prasidh Krishna as he is now the record holder of most wickets by an Indian fast bowler on debut.
Q14: I made my international debut in the year 2016 and scored 99, becoming the first player to be dismissed for 99 on international debut?
The game was against Bangladesh. Prasidh gave up and the answer was Eoin Morgan.
Q15: In the 2016 IPL auction, I became the most expensive uncapped player in IPL history going for Rs.8.5 crores to Delhi Daredevils.
"Pawan Negi" answered the fast bowler and finally Prasidh Krishna's scorecard read 9/15 and the 25 year old signed off.
Also read: IPL 2021: WATCH – Prasidh Krishna gives a mouthful to Chris Jordan after taking Englishman's wicket; Twitter reacts
Also read: Kolkata Knight Riders and India pacer Prasidh Krishna tests positive for COVID-19