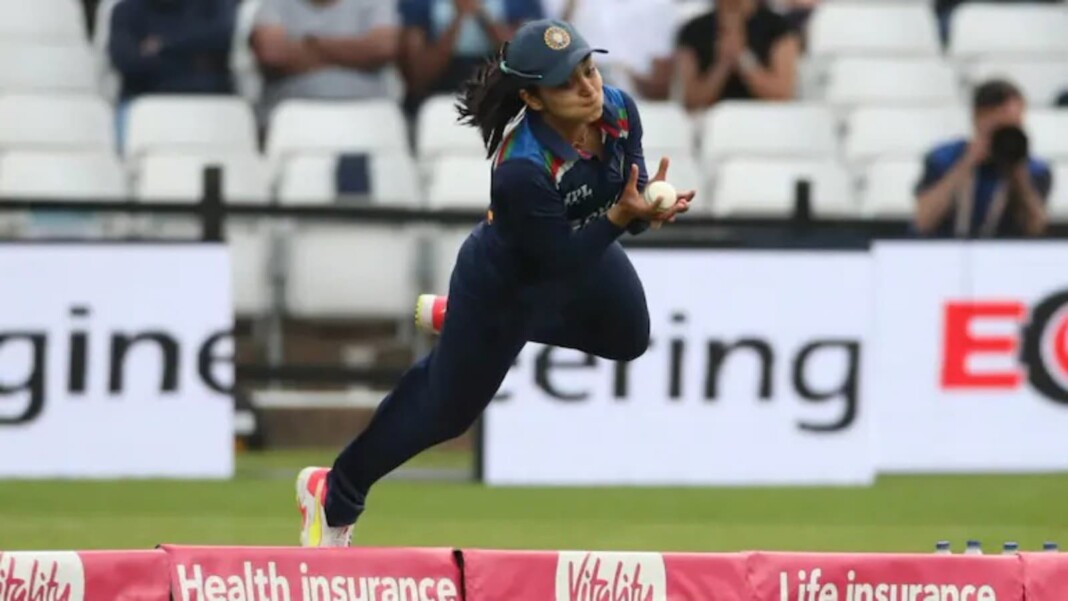 India's women cricketer Harleen Deol takes a stunning catch on boundary line to dismiss England's Amy Jones in the first T20I match in Northampton. Harleen was fielding at long-off position when England's batsman lofted one shot towards her in the 19th over, and the Indian then produced an acrobatic and a sensational catch. It could be the Catch Of the Year.
Amy Jones was batting on 43 off 26 balls, When she got out because of presence of mind of Harleen Deol and acrobatics which she showed on the boundary line. Bowler Shikha Pandey produce the chance of catch which Harleen Converted into a wicket by her sensational fielding. In an interview the bowler told; from now on we shall call this type of catch as "Harleen catch". Let's look at the video of the famous and jaw breaking catch.
Sachin Tendulkar and VVS Laxman were among several cricketers who took to Twitter to praise Harleen Deol for her 'brilliant' catch
From Sachin Tendulkar to VVS Laxman and Nasser Hussain, cricketing legends from around the world were in shock as Indian cricketer Harleen Deol, took a stunning catch in the opening match of the women's Twenty20 series against England. Although India lost the match, the video of the catch has gone viral. Let's look at some of the tweets of cricketing legends and celebrities praising Indian Cricket for her marvelous efforts on the field.
Tendulkar praised Deol's efforts as the "catch of the year" while Laxman called it "as good a catch one will ever see on a cricket field". While Politician Priyanka Gandhi said " Amazing, Women are just best"
Also Read: Dinesh Karthik and Indian Legend Sunil Gavaskar Enjoys Wimbledon 2021 Outing| Suresh Raina: "If MS Dhoni doesn't play the IPL next year, I will also not play"