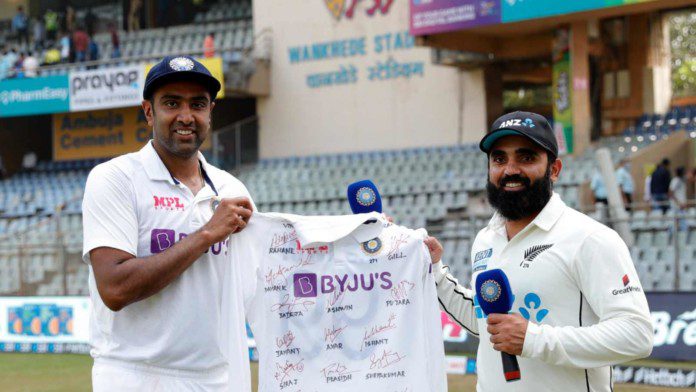 New Zealand spin bowler Ajaz Patel scripted an amazing record during the second Test match against India at the Wankhede Stadium, Mumbai. The 33-year-old became only the third bowler in the history of red-ball cricket to claim all ten wickets in an innings.
The left-arm slow orthodox bowler didn't stop here as claimed four more wickets in the game to register the all-time best figures against India. He ended the Mumbai Test with an outstanding spell of 14/225 on Sunday.
Meanwhile, ace India spinner Ravichandran Ashwin was quick to react and congratulate Patel on achieving this majestic record. The right-hander further went to the popular social media platform, Twitter, urging for the verification of Ajaz's official handle.
The Tamil Nadu cricketer wrote: "Dear @verified, a ten-wicket bag in an innings definitely deserves to be verified here! @AjazP."
Interestingly, the Twitter team took note of this and verified the NZ spinner's account on the same. R Ashwin event went on to thank the micro-blogging site as he replied to his tweet: "Thank you @verified".
"Special outing for me" – Patel told Ashwin
Soon after the game, Patel was caught in a fun interaction with Ashwin where he mentioned how the second Test match was a special outing at the Wankhede Stadium.
"It has been a special outing for me. It's my dream to come here and play at Wankhede and be able to do something like that (historic feat) is very special. Not only for me but also for my family back home.
"I will count myself as fortunate. I thank God to have (got) this opportunity but it was about putting the ball in good areas for a long period of time," Ajaz Patel said in a video uploaded by the BCCI.
Also Read | 'Indian batters put a lot of pressure on me': Ajaz Patel relives his 'special outing' at Wankhede