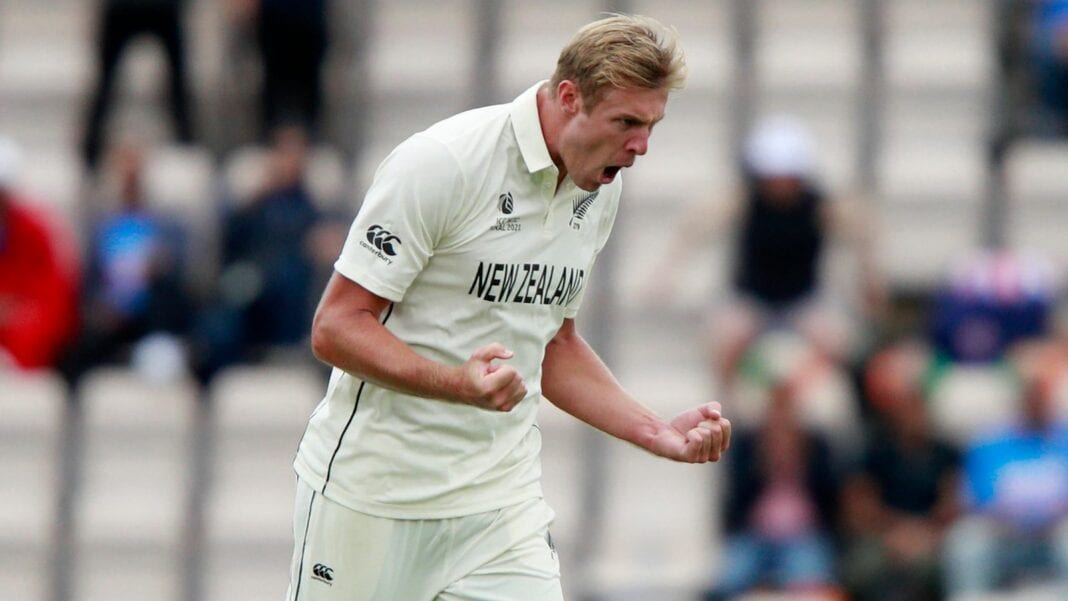 New Zealand all-rounder Kyle Jamieson has said that it was pleasing for him to dismiss India skipper Virat Kohli in the first innings of the ongoing World Test Championship (WTC) final at the Ageas Bowl.
"Well, not really. I think he's a world-class batter, and those guys don't tend to have too many chinks in their armour. Certainly pleasing to get him. Like I said before, he's obviously a massive part of their lineup, and to get him early certainly set things up nicely for us. Just was pleasing in terms of for myself being able to try to wobble the ball and try and keep him in check a little bit and to get that wicket was pleasing and just a great start for our game," said Jamieson while replying to an ANI query during a virtual press conference conducted at the end of the close of play on Day Three.
In the first innings, India suffered all out for 217 as Kyle Jamieson scalped five wickets. Ajinkya Rahane was the top scorer as he played a knock of 49 runs.
Further talking about Kohli's wicket, Jamieson said: "Oh, I guess, yeah, maybe there's some sort of pattern. I don't necessarily know if we talk about it a huge amount. I think the one that I was able to get with him today certainly seamed back a little bit, and those are pretty hard to control as a bowler and pretty hard to manage as a batter no matter who you are, so I don't think it's necessarily just for him."
"But yeah, obviously he's a massive part of their team and a pretty big wicket to get. To get him pretty early this morning I guess was nice and was pleasing and pretty crucial for how the day unfolded," he added.
Kyle Jamieson Scalped Five Wickets in the first innings of the WTC Final
Team India's batsmen were completely dominated by New Zealand fast bowler Kyle Jamieson, who took five wickets in the first innings of the final. Jamieson took 5 wickets in an innings for the fifth time in just his 8th Test match. With this, the speedster has become the first Kiwi bowler to achieve the big milestone in Test cricket.
With this, Jamieson has also become the highest wicket-taker for New Zealand in 8 Test matches. He has so far taken 44 Test wickets. Jamieson surpassed Jack Covey, who picked 41 wickets in 8 Test matches for New Zealand.
Also Read: Virat Kohli Flaunts his Dance Skills in WTC Final | BCCI Pledge to Contribute INR 10 Crore for Preparations of Indian Athletes Ahead of Tokyo Olympics | Bet on Cricket