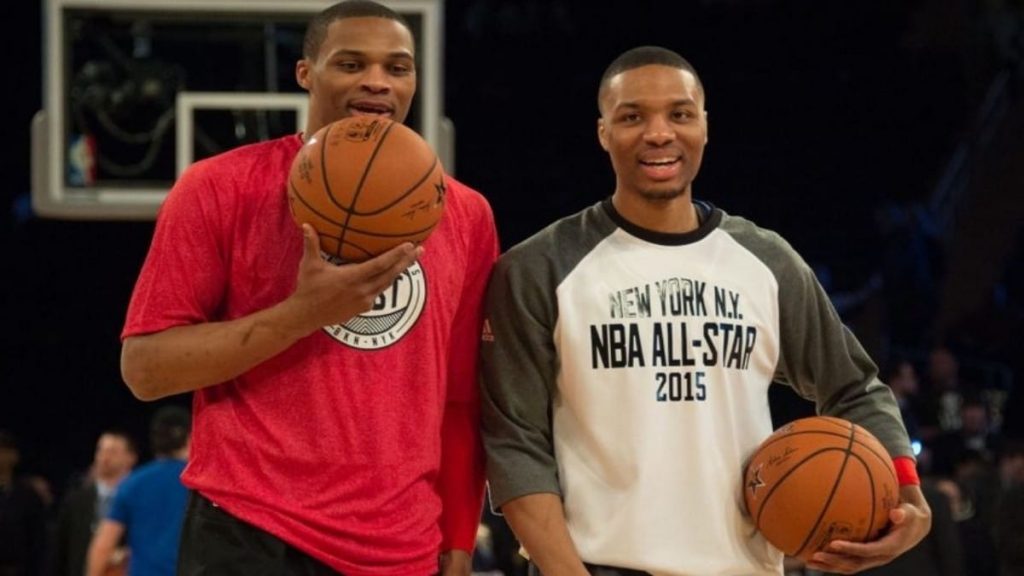 Damian Lillard is known for scoring effortlessly in the game. He is one player to watch out for. Lay-ups, shooting inside or outside the arc or buzzer beater, he is one maestro of the game. He has once again proved his worth against the Minnesota Timberwolves. He already made 26 points to his name in the first 2 quarters. He put up a show in the match altogether.
Trail Blazers got the better of Timberwolves winning 135-117 in the high scoring encounter. Lillard had 39 point with 7 assists and 7 rebounds. He put up a show scoring almost every 3 pointer he attempted. This took the Blazers equaling their record of 4-4 in the league. Blazers had a good team work and hope to continue the same form in the match, Lillard surpassed his counterpart Russell Westbrook scoring more than 26 points for the 51st time in his career.
Lillard moved past his rival, Westbrook to gain #5 spot on this list. Previously they were tied at 5th spot for the scoring 50 times each. The team still lacks consistency and it has been the reason for their slow start.
Damian Lillard surpasses Russell Westbrook
Dame has been a reliable player for the franchise. Although the 2020 bubble made him beast in scoring, they couldn't move past the Lakers previously in the playoffs. Blazer, who recently were plagued by the injuries seem to eye the championship this year. On the contrary average performance has pulled them a little towards the middle of the table.
The team has players like Lillard and CJ McCollum who are scoring machines. Their ability to keep the score board ticking is exceptional. Yet, considering the level of competition, it would be a tight run for the Blazers to make it to the playoffs. But as time unravels, let's see how Trail Blazers play in the coming months.
Also Read: Damian Lillard lead Trail Blazers to hand Minnesota Timberwolves with 6th…