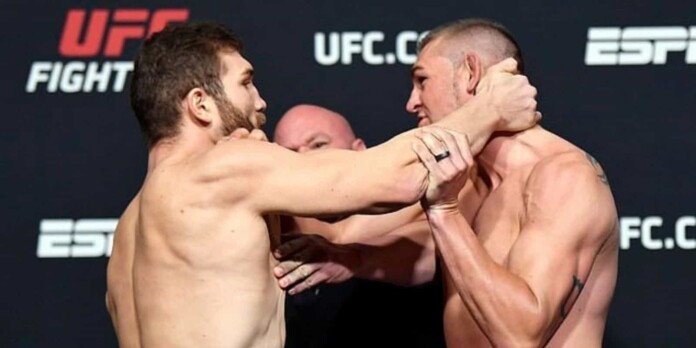 Recently Dana White blamed matchmaker Sean Shelby for not making sure Jeremy Stephens and Drakkar Klose didn't get into the scuffle. The bossman himself found himself in a situation which made him regret what he said last week about Shelby. In the presence of White, Ion Cutelaba and Dustin Jacoby got into a scuffle.
Jeremy Stephens and Drakkar Klose were scheduled to fight last weekend at the UFC Vegas 24 but the fight got called off as Drakkar suffered a concussion and whiplash as a result of Stephens shoving him during the weigh-in. Dana White told TSN in an interview that Sean Shelby should've been more attentive, while this week he got caught lacking in a similar position.
Yesterday at the weigh-ins, when it was time for Ion Cutelaba and Dustin Jacoby's face-off, Dana White could do nothing but watch them go at each other which could've led to another potential fight call off due to injury. Cutelaba reached out and grabbed his opponent Jacoby by the neck.
After the scuffle, Dana White seemed to have agreed he was to be blamed for letting this happen. "I was just ragging on Sean before I walked in here," White told reporters after the scuffle. Adding that he "should have stayed in the office." Ion Cutelaba also went on to tweet what happened without regretting his actions.
UFC Fighters react to the UFC Vegas 25 weigh-ins incident after Dana White comments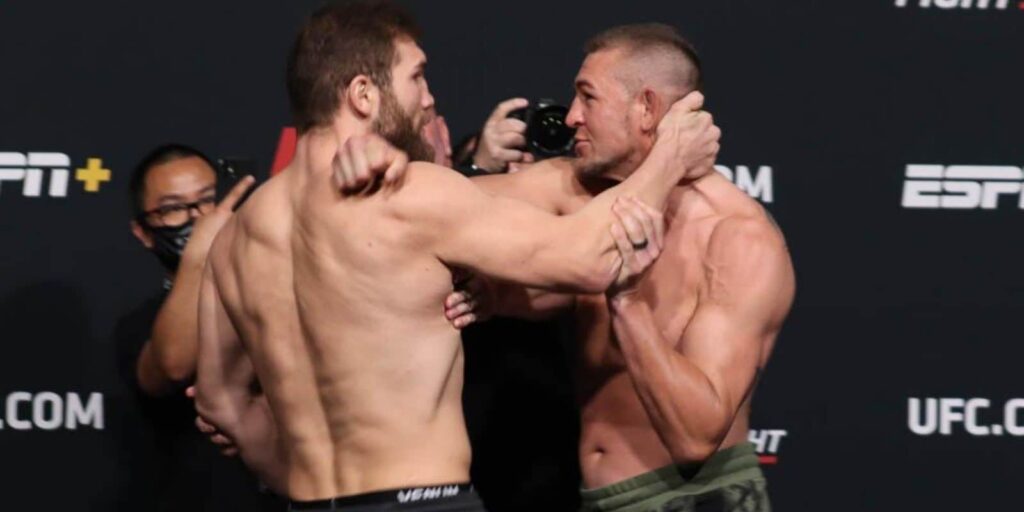 This is the second time for a drama like this to happen in a time of one week. It was only last week a fighter was injured because he was shoved out of nowhere. UFC Fighters and aces expect the company's bossman Dana White to react accordingly. UFC fighters Kelvin Gastelum and Megan Anderson reacted to this on Twitter.
UFC and ESPN reporter Ariel Helwani also was outraged by this incident and took to Twitter to talk about it. The reporter and UFC former two-division champion Daniel Cormier already spoke about such events and criticised it.
Also read: Islam Makhachev calls out Rafael Dos Anjos and Paul Felder for turning down his fight – Will the Dagestani get a ranked opponent for his next bout?
"I don't think I will fight again," says Chris Weidman talking about his injury at UFC 261