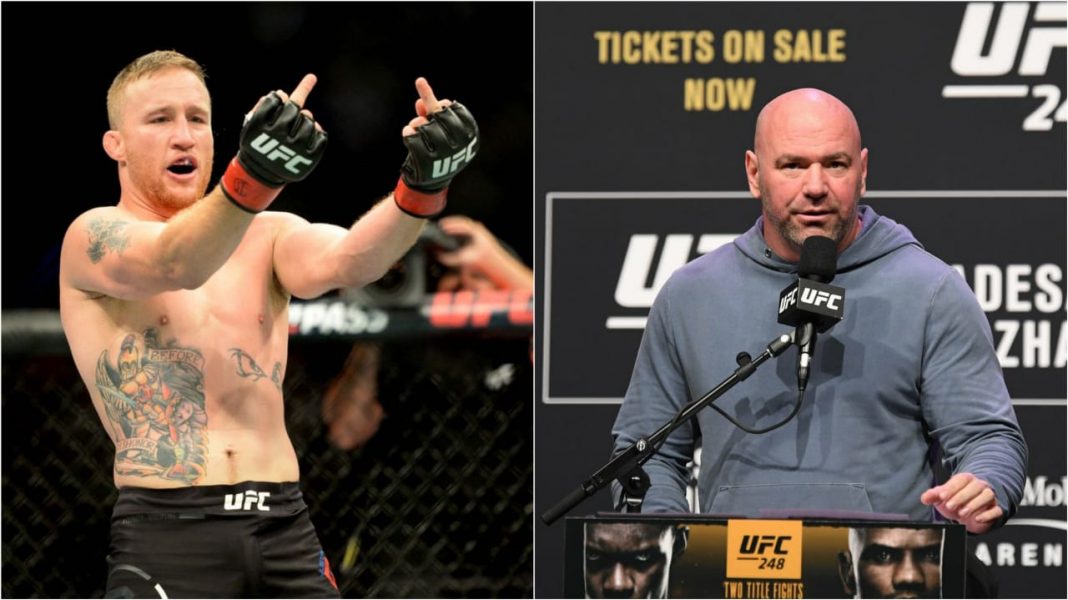 Continuously being overlooked despite being ranked number 2 in the lightweight rankings, has left Justin Gaethje annoyed. 'The Highlight' recently spoke in an interview with Full Reptile, expressing his displeasure in the UFC not booking him for a fight against a top-ranked lightweight.
Gaethje said, "Who knows, man. I can't talk about it a lot right now—I'm sure me talking about it [in the past] is the reason I'm here. Who knows? Maybe I pissed someone off. I don't know. All I know is since I was 12, 13 years old, I listened to Dana White do interviews and explain what he wanted in a fighter, and I'm that motherf*cker."
More recently, UFC President Dana White speaking at the UFC 260 pre-fight conference revealed that Justin Gaethje isn't out of the title picture and that he is very much in the frame.
'It depends on what happens with Dustin and Conor' – Dana White on Justin Gaethje's future
White was quoted as saying, "He fits very well in all this. After this plays out, he's probably next in line. It depends on what happens with Dustin and Conor."
He continued, "You know how that is. Timing is everything when these fights happen, how much damage did the guy who won take and what kind of personal sh*t does he have going on. You know all that stuff factors into when the next fight would be, but Justin Gaethje couldn't be in a better position."
Justin Gaethje last faced Khabib Nurmagomedov at UFC 254, wherein he fought for the lightweight title, only to be tapped out in the second round. The former interim champion might have to wait for Dustin vs Conor, as White says. But, don't you think either Michael Chandler or Charles Oliveira (Title bout at UFC 262) should have been replaced by Justin Gaethje, since he is much higher in the pecking order?
Also Read :  UFC 261 sells out in record time; leaves Dana White pleased
Also Read : BMW drop Israel Adesanya as their brand ambassador after 'I will rape you' comment