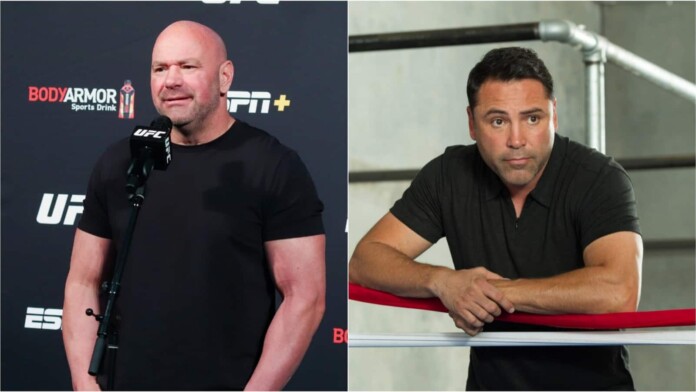 UFC President Dana White was having none of it. He was absolutely enraged at the UFC 262 post-fight presser when asked about Oscar de La Hoya's recent accusations that White had refused to allow UFC Legend Georges St-Pierre to fight de La Hoya in a boxing contest, under Triller Productions banner. De La Hoya blamed White for party-pooping GSP's biggest ever pay day.
Just the mention of De La Hoya's name was enough to get Dana White started at the post-fight press conference of UFC 262. He made it loud and clear that he doesn't 'give two sh*ts' about what De La Hoya and Triller Productions thought. The boss revealed that he receives texts and calls from them every day, but he would never attend them.
'Does anybody give a shit?' – Dana White
Dana White ripped through De La Hoya saying, "Does anybody give a shit? I don't give a shit what they think. You think I care what Triller thinks? I don't even take their calls."
He didn't spare Triller boss Ryan Kavanagh who had accused Dana of ducking his phone calls. White said:
"This idiot calls me every day. Texts me every day. Please answer my call. Please talk to me. Why won't you talk to me?' Because I don't give a f—k about you. Do your thing. Leave me alone. Go f—ng do whatever it is you're doing. Knock yourself out. I could care less."
He continued, "I have no interest in talking to any of those idiots…Stop talking about me. Why do you give a sh*t about what I am doing?"
Dana White and Oscar De La Hoya have been going at each other for years!
Dana White and De La Hoya have been feuding for a long, long time. White was particularly enraged once when De La Hoya, asked the world to not watch Floyd Mayweather vs Conor McGregor.
De La Hoya, then challenged Dana White to a fight, and White replied:
"See what we do this year. Wait till you see what happens with Oscar De La Hoya in the next three years. You guys know me, some of you have known me for a long time. You wanna battle? I'm your guy. I'm your guy. Let's do it."
Also Read : UFC 262 (Main event): Charles Oliveira is the new lightweight champion; knocks out Chandler in round-two
Also Read : UFC 262 (co-main event): Beneil Dariush dominates Tony Ferguson; wins via. unanimous decision