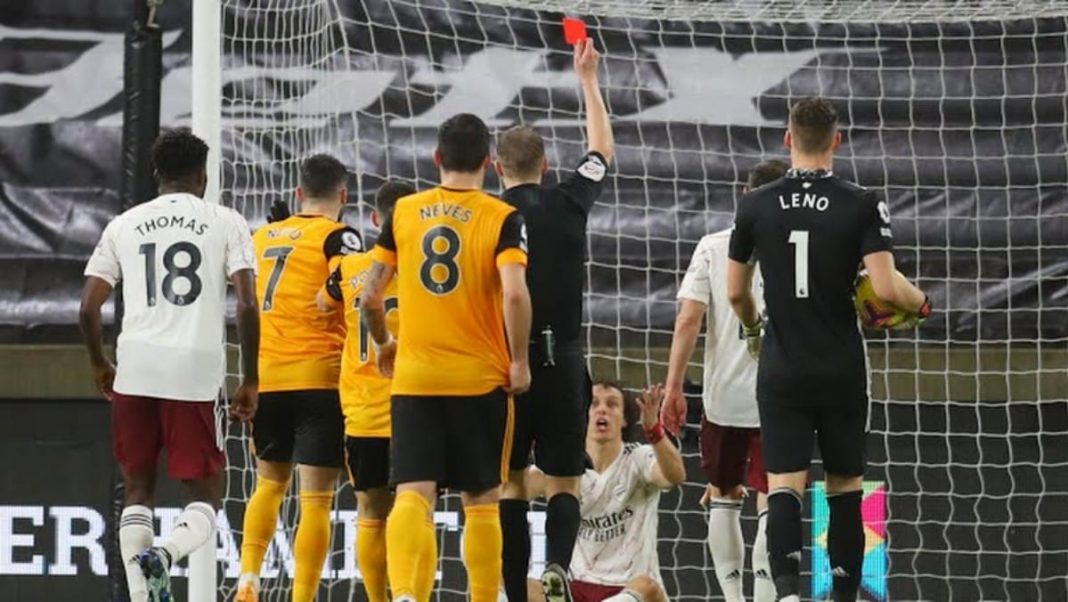 Arsenal lost 2-1 against Wolverhampton Wanderers in the Premier League. David Luiz was sent off in the first half while Leno saw a direct red in the second half.
Arsenal started the match brightly and looked the only team who could score. Arsenal led 1-0 through a superb Nicolas Pepe finish in the 32nd minute to assert their dominance on Wolves.
Arteta was not pleased with the refereeing decisions
Arsenal should have scored 2-3 goals in the first half itself as they missed a number of chances. Bukayo Saka had a goal ruled out due to an offside decision in the buildup to the goal.
David Luiz received a direct red card right on the cusp of half-time as he tripped Jose, who was through on goal. The penalty was obvious but because the contact was minimal and unintentional the red card was a harsh decision.
Arteta definitely felt the same way and blamed the referee for turning the fixture in Wolves' favour. "I've seen it 10 times in different angles and I cannot tell you where the contact is," said Arteta.
Ruben Neves scored the resulting penalty to equalize for the hosts. Joao Moutinho added a stunning second goal from 30 yards to give Wolves their first win in nine Premier League games.
Bernd Leno also saw a direct red when he handled the ball outside the penalty box. He rushed outside his box to clear a long ball from Wolves but failed to get his hands out of the way.
Arteta defended his No.1 keeper saying he did everything possible to avoid the incident. "I imagine he makes the decision in a split of a second. Naturally he tries to stop the ball. There's nothing he can do."
Arsenal are currently sitting 10th on the league with 31 points after the defeat at Molineux. They face Aston Villa next and Arteta will be without both Leno and David Luiz.
Also Read : Juventus take 2-1 lead into second leg of Coppa Italia semi-final against Inter