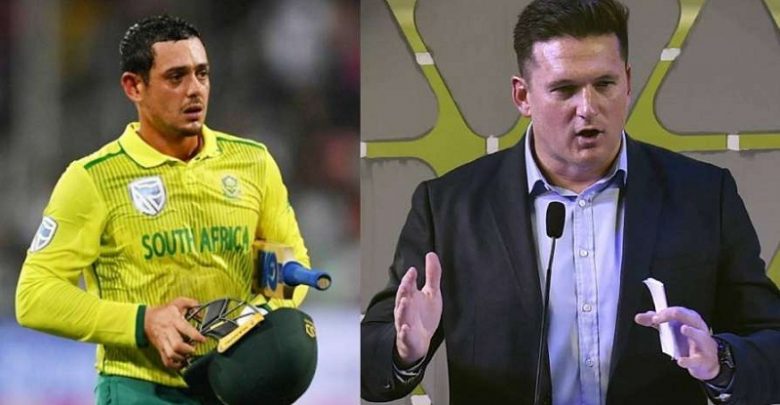 Former Skipper & Cricket Director of South Africa Graeme Smith on Friday said, that Wicket-keeper Batsman, Quinton De Kock will be leading the team in limited-overs and won't be the test captain, so that he can stay fresh.
South Africa potentially will be having a busy few months in store once the ongoing global health crisis comes to an end, and Smith feels that captaining across all the three formats could be especially be a much challenging task.
"The one thing I can confirm is that Quinton will be our white-ball captain and won't be the Test captain going forward," Smith said.
"We want to keep Quinton fresh and playing well. I've always believed, having been in the job myself, that captaining all three formats is challenging. We've seen a number of nations trying to figure out what's best and I think across three formats, it probably doesn't work", he added.
Taking about the workload of players, Smith said, "From a workload and mental capacity, we felt that to burden him with all three formats wouldn't be beneficial for us. And with the style of personality and player that he is, we want to keep him as expressive as possible."
Smith and his team are yet to settle in on a candidate to replace de Kock. "I can't tell you who it is going to be. We are in a debate over it," Smith said.
"There's no one person that you could pinpoint right now and say that's the guy. There's still a lot of players that are vying for selection and I think it is the challenge we sit with at the moment. There's a lot of players on a similar level, The challenge for when we do play some cricket is to see who escalates themselves into really consistent performances and who steps up," he further added.
Talking about the ideal person for the captain's role, Smith said, "We've got to understand the personalities, look at the people and maybe take a risk on someone potentially and back them, Coming from a person who a risk was taken on, it is something we would consider."