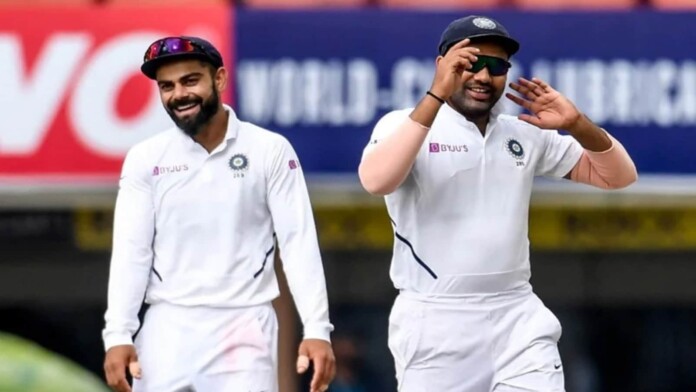 We are only a month away from the much anticipated World Test Championship (WTC) final. India and New Zealand are all set to lock horns in the summit clash set to kick off on June 18 in Southampton. India, the number one Test side in the annual updates of the ICC Test rankings, will be going into the final as favourites.
But their struggle against the swinging ball and the poor run of their top batter, Rohit Sharma and Virat Kohli, in the knockout stage of ICC tournaments, are a big concern for the Asian powerhouse. Both Rohit Sharma and Virat Kohli have struggled in almost all of India's knockout games and they will be keen on setting the record straight in the WTC final.
Former India international Deep Dasgupta admits that their numbers have been poor but feels that the top batsmen shouldn't let it put added pressure on them. "You can't deny the numbers. Ideally, speaking you want your best batsmen and best bowlers to perform in knockout games in the ICC. There's no obvious reason why they aren't. I also think it is something that they shouldn't be thinking about."
"At times, when these numbers come up, you tend to put pressure on yourself by trying to prove the numbers wrong. I hope they are not thinking about it. I hope they are aware of this. I am not too sure whether they are thinking about it, I haven't spoken to them about it. But yes, the fact remains they haven't scored a lot of runs in these knockout games," Dasgupta told Sports Today.
"I wouldn't call India or Rohit Sharma and Virat Kohli chokers," Deep Dasgupta
Ever since lifting the Champions Trophy 2013, India has not been able to win any of the ICC tournaments. While the men in blue have been dominant in every tournament they have featured, they have faltered in the knockouts. Their poor result in knockout games under Virat Kohli's leadership has led critics to label them as "chokers" but Deep Dasgupta differs.
Also Read: "I received death threats" – Faf du Plessis on the aftermath of South Africa's exit from the 2011 World Cup
"Think of the New Zealand game, I think India should have won that. 2017, the Champions Trophy game (final) against Pakistan, that no-ball, let's not get into that. We have spoken a lot about that no-ball."
"Then, in the West Indies Wankhede game (2016 T20 World Cup), the toss played a crucial role. 180 (192) was not a bad score, but the dew factor and all that played a role. There is a reason behind every game, we need to look into them individually. I wouldn't call India chokers," he concludes.
A change in formats might hold the key to breaking the ICC knockout jinx of the Indian team. But if they are to lift the WTC, both Rohit Sharma and Virat Kohli will have to give their best. Ever since being promoted to the opening slot, Rohit has been impressive. He will have to continue the good work if India has any hope of winning the final and setting the record straight against the Black Caps following the semifinal of the 2019 World Cup.
Also Read: Indian women to play a Test match during tour of Australia in September