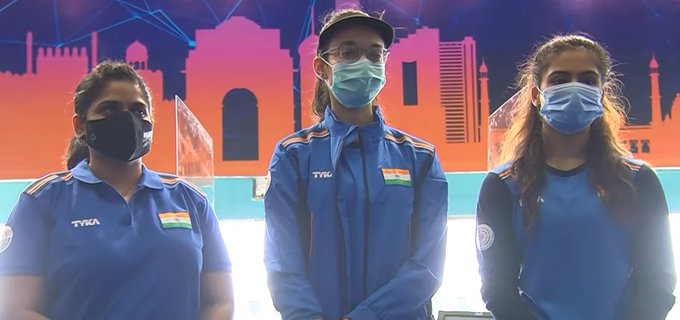 In another good day for hosts India, Chinki Yadav won gold in what was a podium sweep by Indian shooters in the Women's 25m Pistol event. Aishwary Pratap Singh Tomar, after a high score in 10m Air Rifle MQS, won gold in his pet 50m Rifle 3 Positions event.
However, no Indian could qualify for the Women's 50m Rifle 3P finals.
Women's 25m Pistol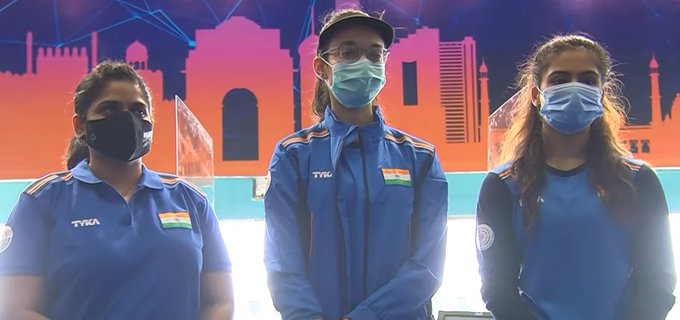 India were in the top 3 yesterday at the end of the precision stage of Women's 25m Pistol. The shooters ensured the standings would stay the same at the end of the finals today.
Chinki Yadav pipped Rahi Sarnobat to the gold in a tie-break shoot-off reading 4-3 in Chinki's favour after both were tied at 32. Manu Bhaker won bronze, her first major international medal in this event.
It must be remembered though that the field did not feature any of the top 10 shooters. The qualification scores were consequently on the lower side, with 571 being enough for 8th place. Rahi was 1st in qualification with 581, Chinki 2nd with 580 and Manu 4th with 576-18x. The highest score (586) was in fact by Abhidnya Ashok Patil in MQS.
What today's result might do however is end the Chinki vs Manu debate that was in focus after the trials.
Men's 50m Rifle 3 Positions
Aishwary Pratap Singh Tomar continued his impressive run in the Delhi World Cup. The youngster beat favourite Istvan Peni of Hungary to gold in the 50m Rifle 3P event.
Aishwary led after the kneeling series but was pushed to 2nd after prone. He then had a strong standing series where he outshot the Hungarian to win by 0.9 points. Aishwary's final score read 462.5. Steffen Olsen of Denmark who was in the lead after the prone round finished 3rd.
The other 2 Indians Sanjeev Rajput and Niraj Kumar finished 6th and 8th respectively. Qualifications for this event had taken place yesterday.
Women's 50m Rifle 3 Positions
Slovenia's Ziva Dvorsak (457.1) was the winner after a good prone and 1st standing series put her well into the lead. Even a slight tailing off in the final few standing shots ensured she was a good 2 points ahead of Swiss Nina Christen in the end. Aneta Stankiewicz of Poland won bronze.
Stankiewicz had topped qualifications with 1179. 8th place went to 1166-56x.
None of the Indians could qualify; Tejaswini Sawant was 12th with 1164-57x, Anjum Moudgil was 16th with 1162-54x and Sunidhi Chauhan 17th with 1161-55x.