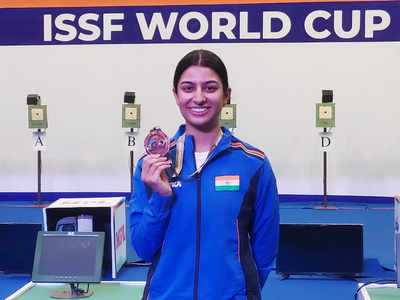 On the third competitive day of the Delhi ISSF World Cup, India predictably won the Air Pistol Team events that each featured a grand total of two teams.
What would be more heartening to the Indian contingent though is Ganemat Sekhon winning her maiden senior WC medal, a bronze, in Women's Skeet individual. This was also India's first-ever WC medal in the senior level of this event.
In Air Rifle Team, The Indian men had to settle for silver in a pulsating gold medal match against the USA. The Women's team however finished medal-less.
In Men's Skeet, Gurjoat Khangura made his first WC finals appearance but was the first to get eliminated.
Air Pistol Team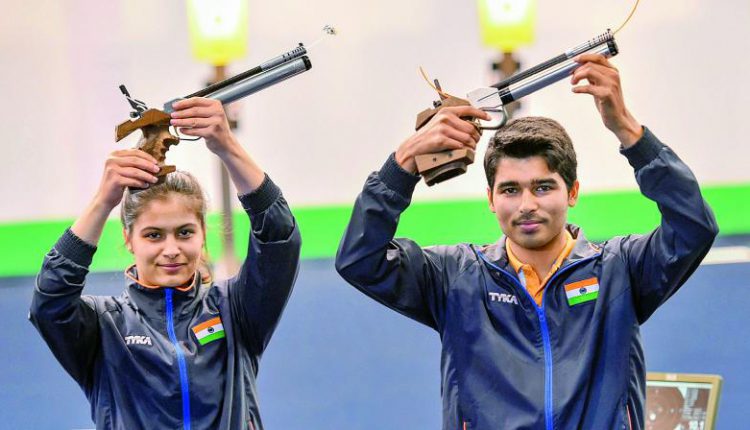 In a result that shouldn't come as a surprise, each of the Indian Air Pistol teams filled with star players won gold medals. All of yesterday's medalists took part in the competition. Only two countries took part in the pistol team events, India and Vietnam in Men's AP and India and Poland in the Women's competition. India also comfortably topped the two 'qualification' rounds.
In the Men's event, the Indian team of Saurabh Chaudhary, Abhishek Verma and Shahzar Rizvi beat Vietnam 17-11 in the finals.
The Women's team of Manu Bhaker, Yashaswini Singh Deswal and P Shri Nivetha won 16-8 against Poland.
Air Rifle Team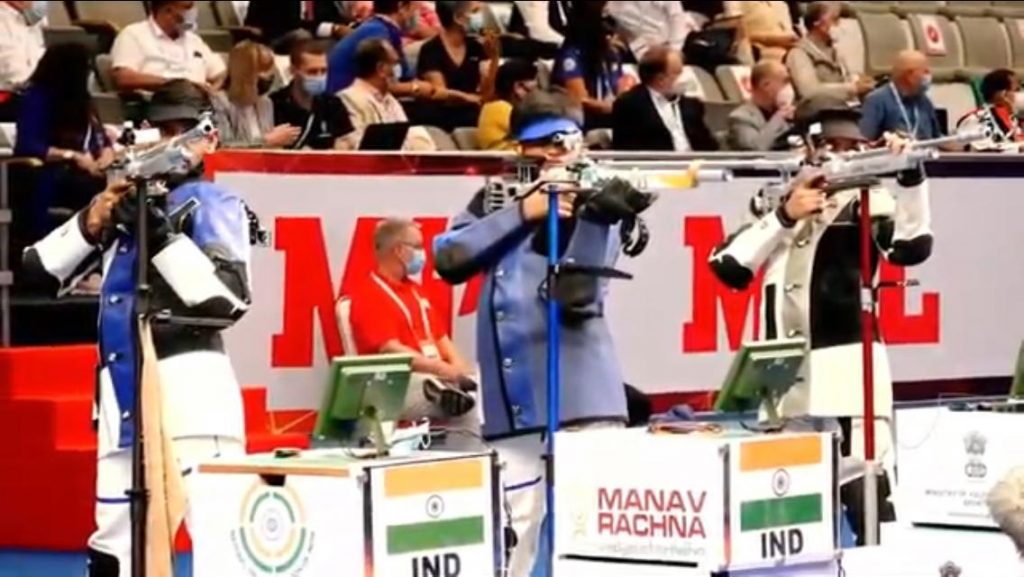 The AR Team did not have it quite so easy as their pistol counterparts. However unlike pistol, the rifle team did not feature first team shooters such as Divyansh Panwar, Elavenil Valarivan and Anjum Moudgil.
In Men's AR, team India comprised of Aishwary Pratap Singh Tomar, Deepak Kumar and Pankaj Kumar lost on the final shot to a determined team USA (Lucas Kozeniesky, William Shaner, Timothy Sherry). Both teams were tied 14-14 but USA got the last gasp winning shot to clinch the tie 16-14. For USA's Kozeniesky, it was a 2nd gold medal in 2 days having won in AR individual yesterday.
In the Bronze match, Korea beat Iran 17-15.
India topped the first qualification stage on the back of Aishwary's 632.4 scored in MQS. USA and India were the top 2 in the semis to qualify for the gold match. The other team besides the top 4 was Kenya.
Women's AR however was a massive disappointment for the Indian squad. The Indian team of Apurvi Chandela, Shriyanka Sadangi and Nisha Kanwar tamely lost 17-7 to Poland in the bronze match. India was 4th out of 8 teams in both qualification stages. The experienced Apurvi having a bad day was a major factor in India's failure to qualify for the gold medal match. This is a worrying sign in an Olympic year.
Gold was won by Denmark comprised of Rikke Ibsen, Stine Nielsen and Anna Nielson. They easily won 16-8 against the American team of Mary Tucker, Alison Weisz and Sagen Maddalena. Tucker and Weisz had won gold and silver in the individual event yesterday whereas Ibsen had finished 4th.
Women's Skeet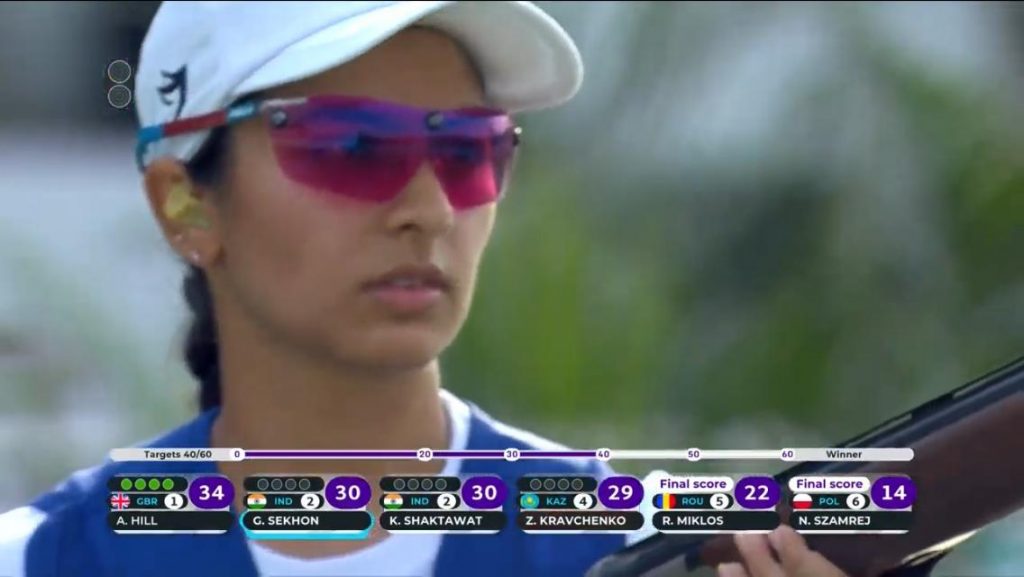 India's Ganemat Sekhon won her first ever senior WC medal. Ganemat, who was in 2nd place at one stage, had to settle for bronze and finished with 40 points. Nevertheless she did create history. The 20-year old has previously won a bronze in a Junior WC held in 2018.
Gold was won by GBR's Amber Hill, on of the best young skeet shooters in the world. Hill narrowly won 4-3 in a shoot-off against Kazakhstan's Zoya Kravchenko after both were tied at 51 points. Hill was also head-and shoulders above the rest in the qualification round- she scored 124 compared to 2nd placed Ganemat's 117+4. 113 was the cut-off.
Another Indian Karttiki Singh Shaktawat finished 4th in the finals. Parinaaz Dhaliwal did not qualify and finished 9th with a score of 108.
Men's Skeet
Former World Champion Jesper Hansen of Denmark put on a masterclass on the way to winning gold. Hansen, who had won silver in the shotgun WC at Cairo, missed only 2 targets for a score of 58/60. 2nd placed Saif Bin Futais of UAE in comparison scored 51. Nasser Al-Attiya of Qatar got the bronze. India's Gurjoat Khangura making his debut finals appearance had to be content with a 6th place finish.
In qualifications, Hansen and Gurjoat pipped Indian Mairaj Ahmad Khan and Cypriot Dimitris Konstantinou to the last two finals spots after a shoot-off. All four were tied at 121. Mairaj's fellow quota winner Angad Vir Singh Bajwa had an ordinary day, finishing 19th with a score of 117. Al-Attiya was 1st in qualifications with 123+2.