The former UFC flyweight champion Demetrious Johnson faced the first stoppage loss of his MMA career against Adriano Moraes on One at TNT. In March, Aljamain Sterling won the UFC title after Petr Yan hit him with an illegal knee and Johnson has been very vocal about it.
In his fight against Moraes, while he was grounded on his hands during the second round, Moraes hit him with a knee to the head and Demetrious Johnson faced the first knockout loss in the same fashion.
After this, the people erupted on social media that 'Might Mouse' supported this and now he lost in the same fashion. But in the post-fight interview Johnson said that he still supports this rule,
'Mighty Mouse' says, "I like these rules, like I said, it's a progression of a fight. I went down on my back, I was coming up for an underhook, Adriano had me posted and he blasted a knee, the fights over, it's done, I don't get anymore concussions, it's just done."
"And it was a different position than I've been in. Adriano did a good job of using his length. He fully extended me and landed the knee…"
"Yeah absolutely I still support the rule. Like I said, it ended the fight. I wasn't stalling one bit. I was trying to get up and fight and I got blasted with a knee. My very first fight in ONE Championship I did it to Yuya Wakamatsu and ended up getting the finish."
"The rule is meant to be there to keep the fight progressing and end the fight. If Adriano wasn't able to land that knee, yes I would have still been in that fight so he would have had to do something totally different. I'm totally content with what happened."
"I'm not like, 'That rule should be taken out!' That's what the rule is, Adriano used it to his advantage and I was on the other end of the stick."
Demetrious Johnson already moved on from his loss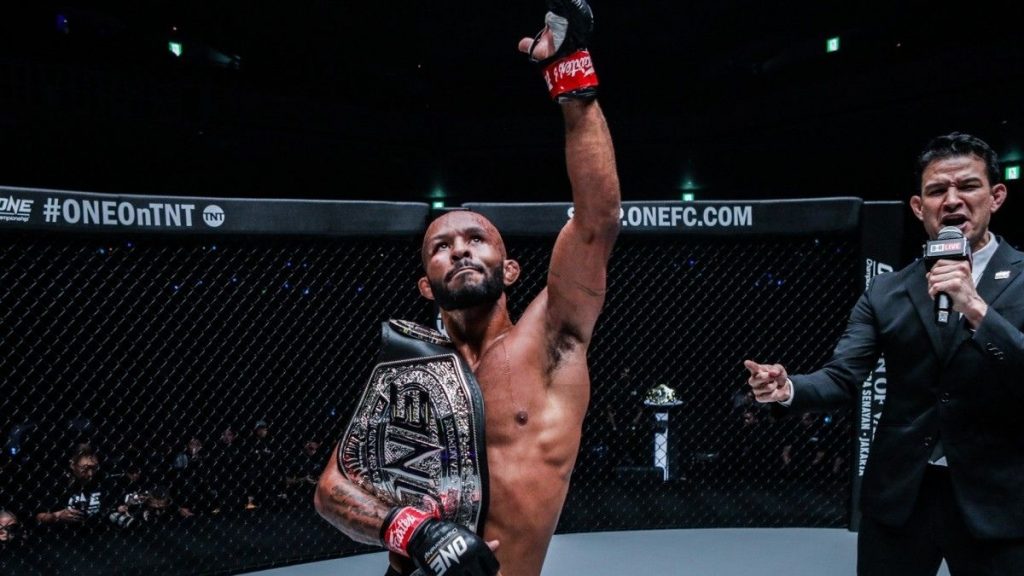 Many professional UFC fighters commented on Demetrious Johnson's performance after this fight but 'Mighty Mouse' already moved on from his first knockout loss.
He added, "Yeah it sucks but I'm very mature, I'm a very mature athlete. You can sit here and sulk and be mad at yourself but like I said, I've watched the fight five times already. It's not like I'm like, 'God, what happened?'"
"I know what happened and now it's just about going back home – like I said, I've lost before and I've won before and nothing ever changes. I'll go home, relax with the kids and the wife, spend time with them, get back in the gym, and get back on the horse. This is no different."
"At the end of the day, one of the reasons that I came to ONE Championship is that I have options, If I want to do a kickboxing match, I can do that. Obviously yes, I can go back into mixed martial arts and work my way back up to a title shot, but I'm just gonna go home and just chill and relax and figure out what I want to do next."
"Would you like to try your hand at kickboxing? Maybe I try kickboxing and I go out there and get the bricks blown off me but at the end of the day, it's about trying and exploring. You get one career."
"You get one career and I want to make the best of it and to be able to say I've done a professional kickboxing under ONE Championship would be dope. So I'm gonna go home, relax, let my body heal, and go from there."
Also Read: "I was for sure going to end up in handcuffs," Jorge Masvidal comments about doing TUF against Colby Covington.
ONE on TNT: Adriano Moraes knocks out Demetrious Johnson and retains his title