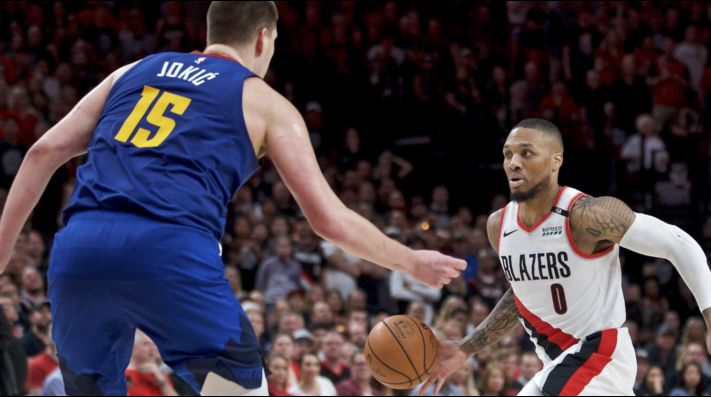 Nikola Jokic once again proved to be pivotal for Denver Nuggets in clutch situations as he drained 3 clutch free-throws to ensure his team gets past Portland Trail Blazers to register 4th straight win. Whereas with this loss Portland Trail Blazers lost their 3rd straight. Jokic scored game-high 25 points, 9 rebounds and 5 assists. While Michael Porter Jr had 17 points, all of which came in the opening quarter of the game.
The home team has struggled against the top Western Conference teams in this season, likewise they met the same fate against Denver Nuggets today. Damian Lillard led the Trail Blazers with 22 points, who returned after missing 3 games due to hamstring injury. Portland is 0-9 this season against the top four teams in the West.
Nikola Jokic leads Denver Nuggets charge against Portland Trail Blazers
Portland Trail Blazers led by as many as 10 points in the third quarter, but the Denver Nuggets cut the margin and took a 92-91 lead on PJ Dozier's 3-pointer with 7:42 left. Dozier's dunk extended the lead to 99-93.
CJ McCollum's jumper tied it at 99 with just under five minutes to go. Jusuf Nurkic and Jokic traded baskets before Dozier's layup put the Nuggets up 103-101.
Damian Lillard's pullup jumper tied it again with 1:37 left. Nikola Jokic made three free throws in the final 90 seconds to put the Denver Nuggets up 106-103 before Lillard's layup got the Portland Trail Blazers Blazers within one. Yet it was as close as they could get. After a jump ball, Norman Powell's floater at the buzzer was off.
"We didn't make the shots down the stretch that we needed to," Lillard said as per ESPN. "I know I had some looks that felt good coming off my hand that didn't go in. We just didn't make the shots." 
Also read: Toronto Raptors seize control in 3rd quarter to win against Brooklyn…