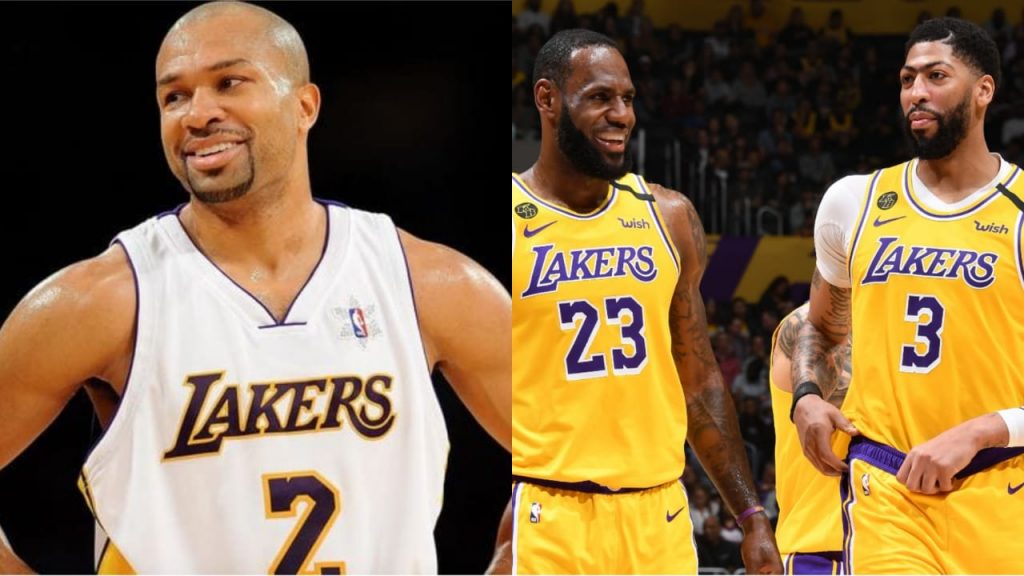 WNBA Coach Derek Fisher speaks highly of LeBron James for letting Anthony Davis lead the Los Angeles Lakers. LeBron James needs no introduction to the NBA or perhaps in the sporting world as well. The veteran has been a part of NBA for 19 years and is still running the show fine. He has emerged as a leader and groomed many players under him. Competing against LeBron is a nightmare to many players. This is one of the many reasons the LA Lakers have clinched the championship in the 2019-20 regular season. LeBron continues to create records every other game and take his legacy to a completely high level.
The Lakers signed Anthony Davis last season who has emerged as one of the best finishers on a post match up situation. Having LeBron in the team alongside Davis has turned out to be a lethal combination. AD has been in his prime form since he has joined the Lakers. He has proved his worth in the spot. Looking at where in his career, AD surely deserves the best player position for the Purple and Gold team.
Will LeBron James let Anthony Davis run the Lake-Show?
The Laker's roster has been filled with marvellous talents. Young players have emerged out and scored some crucial points. Former NBA champion Derek Fisher recently said, "I believe, and I don't know for sure, but last year, LeBron was very intentional about speaking to the fact that this team really needs to through Anthony Davis."
The Former 5 time NBA Champion recently appeared on Spectrum SportsNet, where revealed the importance of having Davis on the team.
"You saw a lot of that in the game tonight where offensively it was time for Davis to really establish identity of the attack on that end and then LeBron, he's playing chess," Fisher mentioned.
Anthony Davis has had an impactful start to the tournament. He has consistently scored buckets and has been dominating defensively. It is very visible that King James has been grooming to take over as an upfront Laker. Will Davis run the Lake-shoe with time to come?
Also Read: "He can make other people better": Tom Thibodeau compares Gordon Hayward…