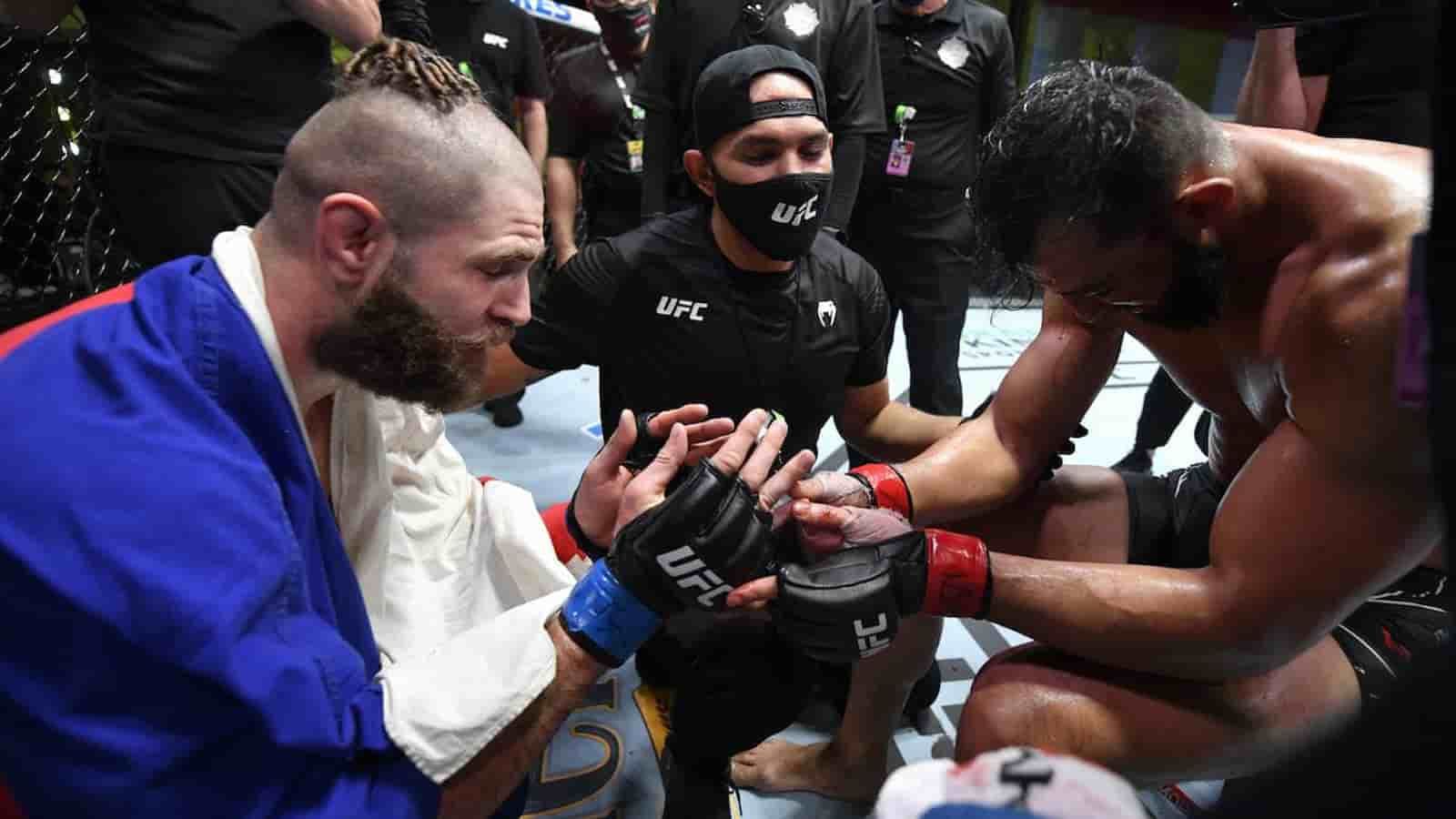 The former UFC Light Heavyweight title contender Dominick Reyes faced the third consecutive loss of his career in the main event of UFC Vegas 25 against Jiri Prochazka.
This is also Dominick Reyes's third straight loss of his MMA career. Before facing the former champion Jon Jones, Reyes holds a perfect record of 12-0. But after taking Jones in deep water he faced the first defeat of his MMA career by unanimous decision.
After this he faced Jan Blachowicz for the vacant UFC Light Heavyweight title and Blachowicz knocked him out and he lost the title even after being fans favorite in this fight.
But in his recent fight against Jiri Prochazka, he took the worst beating of them all. Reyes landed some heavy shots that caught wind of Prochazka sometime in the fight but in the end, he landed a spinning elbow that resulted in Reyes facing his third straight loss.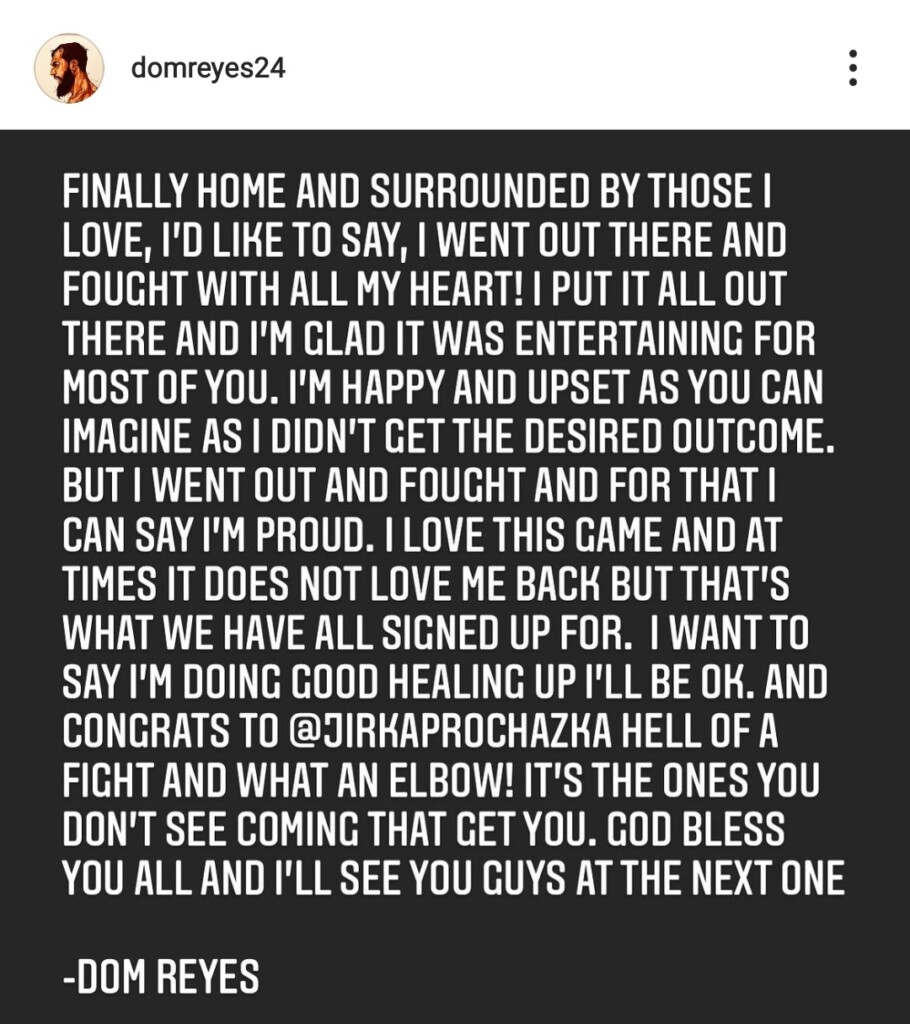 After this loss 'The Dominator' released a statement with his Instagram post which says, "Finally home and surrounded by those I love, I'd like to say, I went out there and fought with all my heart,"
"I put it all out there and I'm glad it was entertaining for most of you. I'm happy and upset as you can imagine as I didn't get the desired outcome. But I went out and fought and for that, I can say I'm proud."
Dominick Reyes wished luck to Jiri Prochazka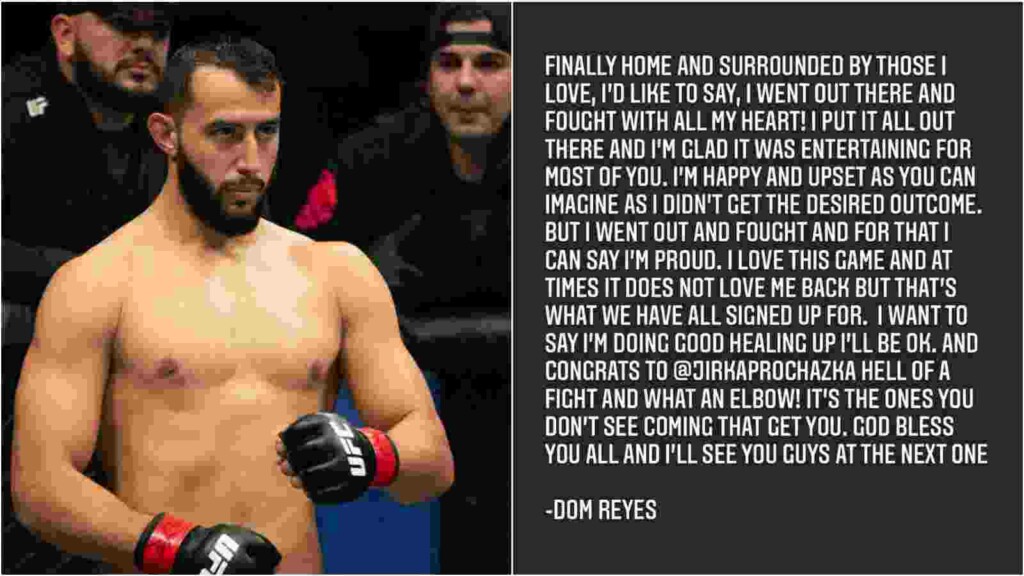 This time must be really hard for Dominick Reyes as after beginning his professional career with a dozen of victories, he faced three straight losses. But still, he wished Jiri Prochazka luck and congratulated him for the victory.
Reyes added, "I love this game and at times it does not love me back but that's what we have all signed up for. I want to say I'm doing good healing up I'll be OK. And congrats to [Prochazka] Hell of a fight and what an elbow! It's the ones you don't see coming that get you. God bless you all and I'll see you guys at the next one."
What are your views on this whom should Dominick Reyes face next?
Also Read: "I always wanted to fight Till, he's a very good standup, very tricky guy," Derek Brunson says Darren Till agreed to fight him next.
"You just got sparked by Dustin Soyier, so sit the fu*k down, Conman McGregor," Colby Covington shares advice to Conor McGregor.