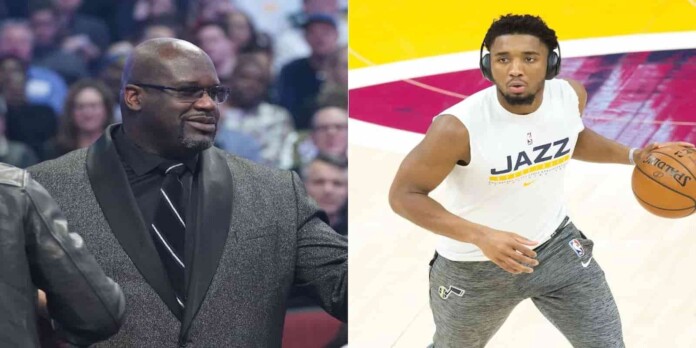 NBA analysts always target a particular player top encroach upon their ideas with respect to him. Similarly, former NBA player turned NBA analyst Shaquille O'Neal has shot his chances towards many players. The former Los Angeles Lakers legend has his own notion around the players of his choice. It may be admiration, praise of mockery, Shaquille O'Neal never misses a chance to make it public. Donovan Mitchell is one of the bright youngster in the whole league. Nicknamed as 'Spiderman' Donavan has unreal static jump with great shooting ability. Donovan Mitchell is one of the reasons Utah Jazz has confirmed their place in playoffs this season. While he is side lined due to injury, Shaquille O'Neal did not miss a chance taking a dig at him.
The Utah Jazz are holding the best record in the western conference as of now. All of these have come in handy from Donovan Mitchell and Rudy Gobert. Shaquille O'Neal has never missed his chances to be critical of the Utah Jazz. Whether it is Rudy Gobert or Donovan Mitchell, he isn't afraid to take his chances. Donovan Mitchell and Shaquille O'Neal started off with the controversy with Spida's post-game interview.
Shaquille O'Neal explains his statements regarding Donovan Mitchell
As the controversy grew, Donovan Mitchell did not take Shaq's comments in a positive way. So clarifying his stance, O'Neal justified the comments. He said, "Donovan and I'm sorry I hurt his feelings, but I was just testing his temperature. When I say 'hey man, I don't know if you got what it takes', I want him to be like 'okay, old man watch this.' But he's doing that and showing us now that. But of course with the internet, people take it far. What I was saying was that you can be good, but when it come playoff time, you gotta get to the next level. We all had to go through it."
Spiderman is averaging career high 26.4 points per game this season. While shooting some great three-pointers, he has made the defenders fall off with his lethal cross overs. As the post season nears, Donovan Mitchell will be looking to bounce back with the team. They will look to solidify their chances to win while Donovan Mitchell's leadership is being set as example.
Also Read: "Getting back to 100% is impossible": LeBron James reveals shocking facts missing game winner