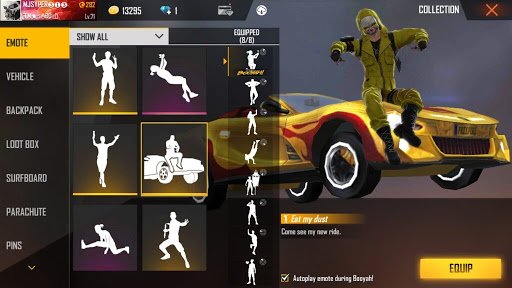 Free Fire is the only battle royale game in India where you can try multiple emotes in every in-game update. If you are a sports person and loves trying different cars in the game, this new emote is the thing you should try. Eat My Dust Emote in Free Fire is another interesting emote to try your hands on. The emote looks quite fascinating and you should take a minute to look into more details.
Eat My Dust Emote in Free Fire: All You Need to Know
Eat My Dust emote was first released in the top-up events of the year 2020. The emote is still accessible in Free Fire using top-up in-game purchases. All you have to do is purchase diamonds using any top-up event. However, the chances of getting the emote depend upon which diamonds pack you try and when.
The Eat My Dust emote is nothing but a special emote where a golden sports car is made available for you. With the car, you can also bounce on top of it. The animation of the emote looks interesting and exaggerated to try in the game.
The character was first launched in the Graffiti Top-Up event. The event was first released in the month of February, last year. The event was also giving away a 3x incubator voucher and 1000 graffiti blueprint.
Dragon Mob Thompson Faded Wheel Event has finally made it into the Free Fire game. The event will be live till April 27. Dragon Mob Thompson's skin is the focus of the event this time. The new skin is Thompson-friendly in the game. Fire rate and magazine capacity are expected to be improved with the skin this time. 
Also Read: 1,172,526 Free Fire Accounts Banned for using cheats and hacks in last two weeks