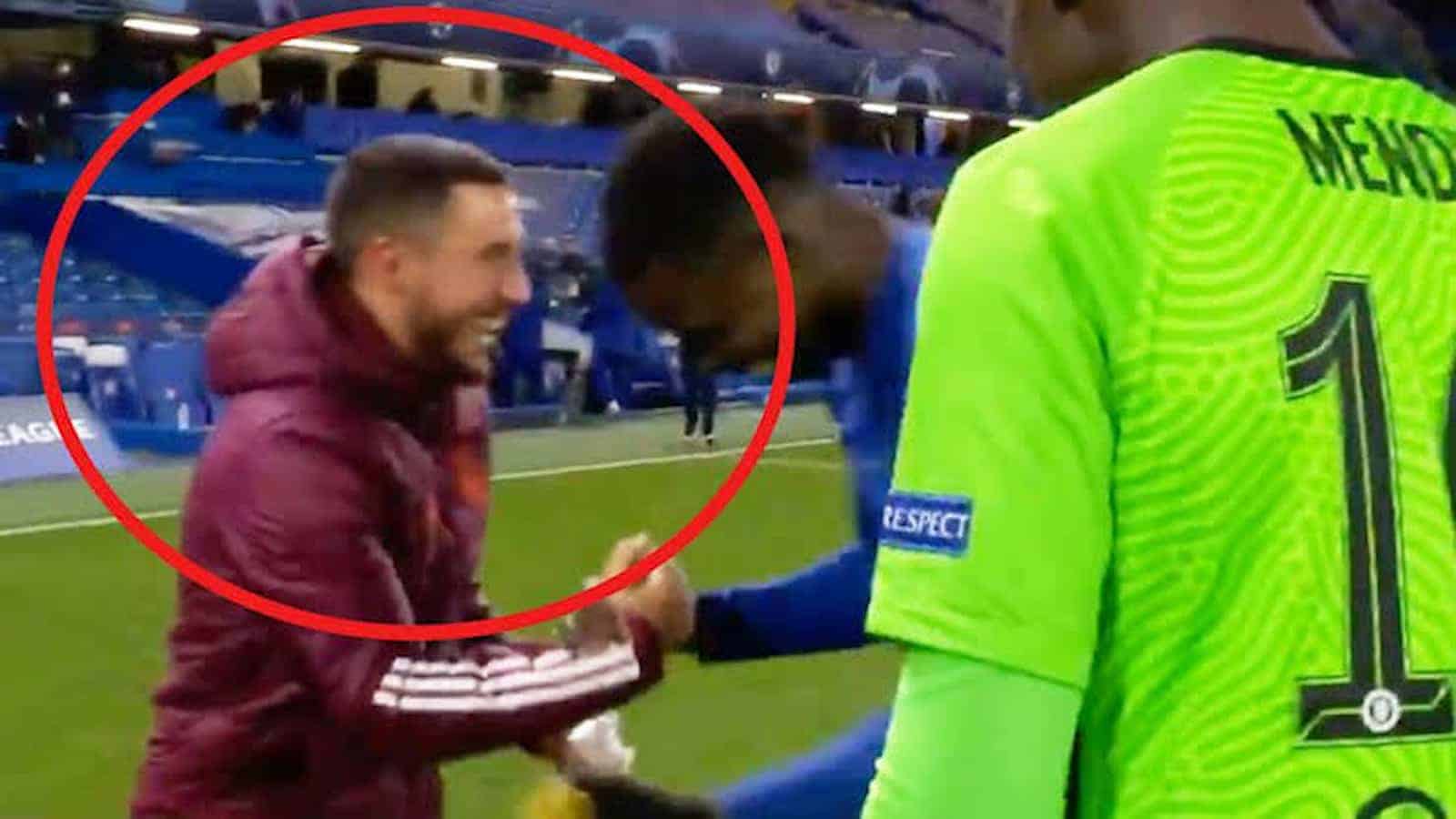 Real Madrid lost 2-0 in the second leg of the semi-finals of the Champions League. Chelsea were the dominant side and could have scored more goals over both the semi-final legs.
Eden Hazard returned to Stamford Bridge for the first time since his move from Chelsea to Spain. The Belgian failed to inspired his side which ultimately resulted in getting knocked out of the Champions League.
Eden Hazard was caught laughing with with former Chelsea teammates
After the final whistle, cameras followed Hazard onto the Stamford Bridge pitch and well, he didn't exactly look devastated about the result.
He was spotted hugging some of his former teammates, including Kurt Zouma – and shared a touching moment with Chelsea captain Cesar Azpilicueta as they both left the field.
On seeing this footage, Real Madrid fans lashed out at the player's attitude. Evidently hurt by the Champions league defeat other players left the field with heads hanging down whereas Hazard was seen joking around with his ex-teammates.
Josep Pedrerol, presenter of El Chiringuito, adopting the gallows-side manner of Albert Pierrepoint, backed by a piece of music that might underpin a state funeral, as he declares: "Hazard cannot continue for one second more in Madrid."
El Chiringuito, called out Hazard for his "two years taking the p*ss, two years overweight" and, worse, being "the new [Gareth] Bale".
Leading Spanish newspaper MARCA, gave him zero marks for his performance and on Thursday morning said: 'The images of him laughing with the Chelsea players are what really hurt Real Madrid supporters, above all because he had shown so little signs of life on the pitch during the game.'
Some of the fan tweets –
Eden Hazard would not have to face the wrath of Real Madrid fans in the stadium because of the pandemic. And the Belgian will look to improve his performances in the remaining games of the season to make a mark on the Los Blancos fans.
Also Read : Ole Gunnar Solskjaer calls for "civilized" fan protests from Manchester United fans