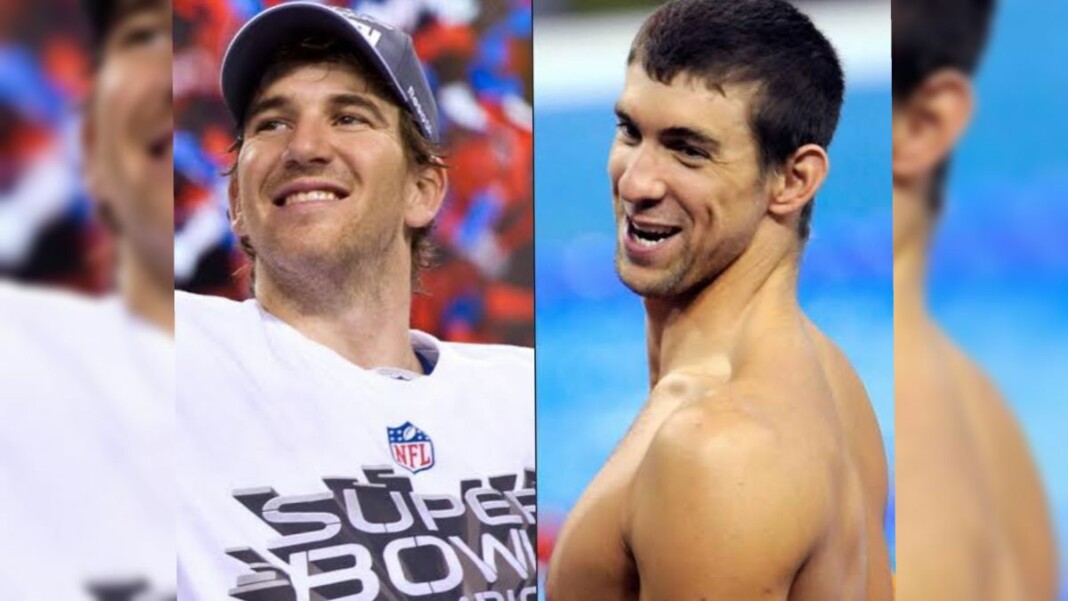 Former NFL quarterback Eli Manning jokes about people comparing him to Olympic swimmer Micheal Phelps. Manning states that fans have occasionally mistaken him for Phelps.
The quarterback took to Twitter to react about this wondering whether if fans also get confused to recognize Phelps as himself. "I wonder if Michael Phelps gets mistaken for me as much as I get mistaken for him? I just had number 5," tweeted Eli Manning.
It is rare for people to get confused between two sports personalities but here Eli Manning appears to be frequently mistaken with Michael Phelps. On that note, let's take a closer look at both the sporting superstars.
Eli Manning's career as a top American quarterback
Eli Manning is a retired American football quarterback who spent 16 years with the New York Giants in the National Football League (NFL). He was the youngest of three sons of NFL quarterback Archie Manning. He featured in collegiate football at the University of Mississippi, where he threw for 10,119 yards and 81 touchdowns in four seasons, following in his dad's legacy. He placed third in Heisman Trophy voting as a senior, earned the Maxwell Award for the finest all-round player in the nation, and was voted Southeastern Conference (SEC) Player of the Year.
In 2008 and 2012, he led the New York Giants to two Super Bowl victories, receiving the tournament's Most Valuable Player (MVP) award on each occasion.
Micheal Phelps- The most decorated Olympic player ever
Michael Phelps is undoubtedly the finest Olympian of all time, and given the fact that he competes in a sport where very talented athletes may win gold medals over a variety of distances and styles, his achievements still dwarf those of any other Olympian.
With 28 Olympic medals, including 23 gold medals and 13 individual golds, Phelps holds the milestone for most Olympic medals earned by any Olympian. He set a record as the oldest individual gold medalist in Olympic swimming history at the age of 28 and was the first American male swimmer to win a position on five Olympic teams.
ALSO READ| Tom Brady Makes Herculean Claim On His Future After Eagles Clash