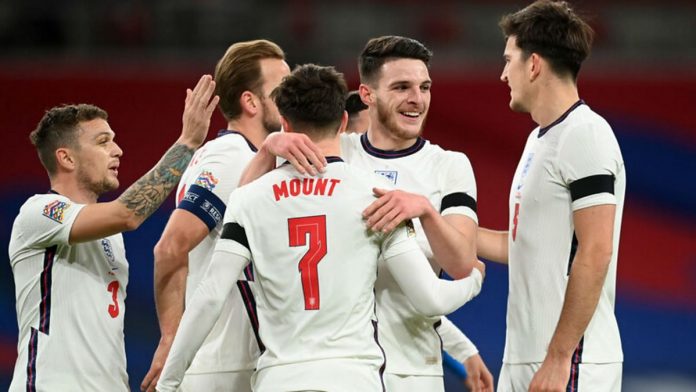 England once had a golden generation of footballers as players like Steven Gerrard, Frank Lampard, Paul Scholes, David Bechkam, John Terry, Michael Owen, Andy Cole, Dwight Yorke, Sol Campbell and Joe Hart were all part of the same squad. Yet this team managed to win nothing together as player egos and fragile relationships came in middle of a team that could have had the world at its feet. The current generation of English footballers are starting to show what they are capable of and if they could get a manager who could guide them properly, this England team could simply be unstoppable.
The firepower of this young English team is staggering beyond belief
Harry Kane, Danny Ings, Tammy Abraham, Mason Mount, Jack Grealish, Phil Foden, Raheem Sterling and Mason Greenwood are all very good attackers and consistently score goals for their clubs. They are more than capable of carrying the same form towards country too and can win trophies for England. However the question is, is Gareth Southgate the man to manage this young and exciting team? A manager is required who has a no-nonsense attitude and is able to soothe all these player egos and is also capable of making these youngsters play for one cause.
Managers like Jurgen Klopp and Pep Guardiola have done the same with Liverpool and Manchester City as they have gone around and made challenging teams with big name players. Youngsters Phil Foden, Jadon Sancho, Bukayo Saka, Emile Smith Rowe, Curtis Jones, Joe Gomez, John Stones, Reece James, Taariq Lamptey and Mason Mount are the future of England and need to be nurtured properly and carefully. Phil Foden showed his class and talent when Manchester City played against Liverpool and has proved that England has the talent to match the world's biggest teams.
Gareth Southgate will have to get his tactics together and make sure that each of these youngsters are utilized properly as England depends on these people only. The golden generation of English football passed by without making any noticeable impact. This team has what it takes to win trophies and the potential has to be harnessed by an intelligent manager.
Also read: 4 fun facts from the Liverpool v Manchester City match played on 7th February 2021