Dust 2 is one of the most iconic and highly competitive maps in CS: GO. The map was a part of the original version of Counter-Strike. In the original Counter-Strike, people simply knew the map as Dust. However, the map underwent a complete overhaul and significant improvements to its design, resulting in the highly successful and polished map known as Dust 2.
The enduring popularity of Dust 2 can be attributed to its well-balanced design, where neither team has any inherent advantages, and only skill and experience are necessary to secure a victory. Despite its age, the map has remained virtually unchanged in CS: GO. While Dust 2 has always maintained a consistent aesthetic style, each new iteration of the map has introduced unique features and gameplay mechanics that help to keep it fresh and engaging. As a result, players continue to flock to this classic map, drawn by its timeless appeal and challenging gameplay.
Related: Best AK-47 skins in CS: GO in 2023
All CS: GO callouts on Dust 2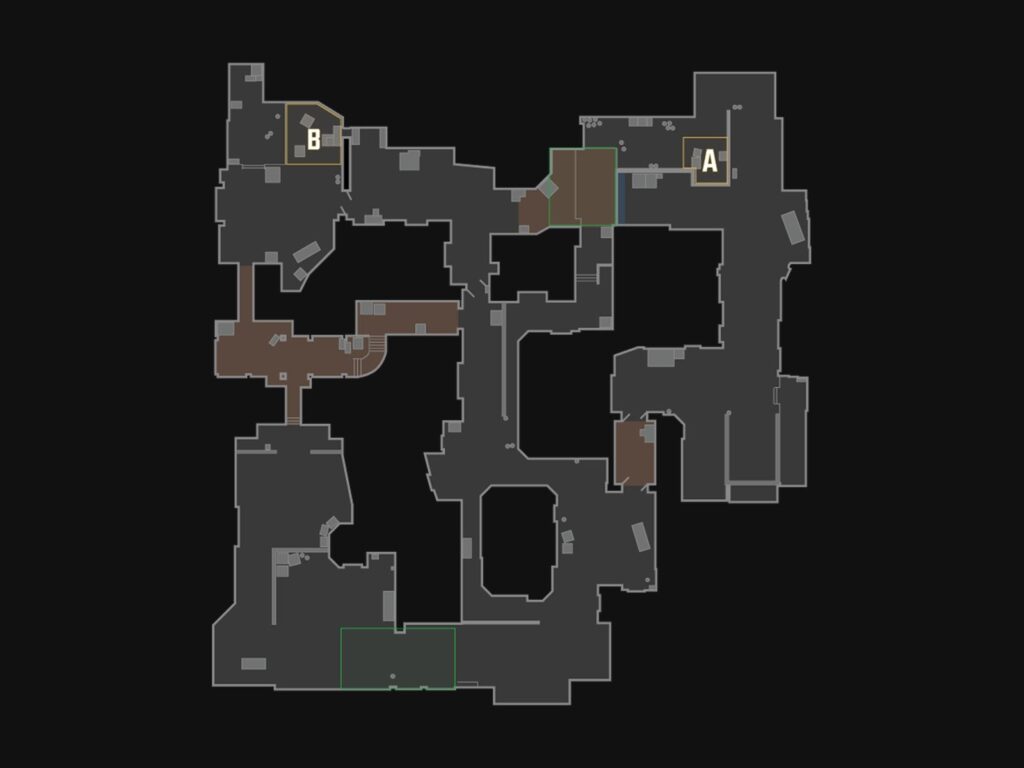 Over the years, players have developed various callouts for Dust 2 in CS: GO. These callouts correspond to certain locations and aspects of a match. The following is a detailed list of all the Dust 2 callouts that CS: GO players can use:
A Short: A location close to the counter-terrorist spawn. It signifies the shortest way for both teams to reach A Site.
T Spawn: The starting point for terrorists at the beginning of each round.
T Plat: This signifies a platform that is near T Spawn that overlooks T Ramp.
Outside Tunnels: A large area and entrance to B tunnels. The terrorists pass this on their way to B Site.
Upper B Tunnels: A left turn from the tunnels leading to B Site. The turn to the right leads to Mid.
Lower B Tunnels: An entrance to Mid for terrorists using the tunnels.
Close: A corner on B Site. It is located on the left side for terrorists entering from Upper Tunnels. The counter-terrorists can use the Upper Tunnels to ambush their opponents.
B Closet: A hiding spot for both teams on B Site. It is located on the right side for terrorists entering from Upper Tunnels.
B Car: A car on B Closet that players can use as cover.
Fence: A wall on B Site that counter-terrorists can use to hide from terrorists that are entering from the tunnels.
B Plat: A platform near the planting area on B Site. It offers a view of the entrance from the Upper Tunnels.
Back Plat: An area behind the planting area on B Site. It provides good hiding spots for both teams.
Big Box: A large box on B Site. This is similar to Xbox on Mid.
Double Stack: Two boxes on B Plant. These boxes are stacked one over the other.
B Default Plant: The designated area for planting the bomb on B Site.
B Window: A window on B Site leading to CT Mid. This has boxes nearby that players can use to reach it.
B Back Site: An area behind B Default Plant when viewed from the tunnels.
B Doors: An entrance to B Site from CT Mid.
B Boxes: Boxes outside B Doors. Players can wait here for opponents moving from B Site to CT Mid.
Scaffolding: Building materials on CT Mid, opposite B Window. It provides a good spot for players to wait for attackers or defenders of B Site.
CT Mid: An open area between CT Spawn and B Site, which terrorists enter from Mid.
Mid Doors: Large doors between Mid and CT Mid. Terrorists can shoot through this from their spawn area.
Xbox: A large box that terrorists face while moving from Lower Tunnels to Mid. Players can jump on this to reach A Short.
Mid: A big corridor-like area that serves as a direct path between T Spawn and CT Mid.
Palm: A former palm tree that has been replaced with a telephone mast in an update. It is located at the beginning of Mid from the side of Catwalk.
Top Mid: An area that connects Mid with Suicide and Outside Mid.
Suicide: A short and dangerous way for terrorists to reach Mid from T Spawn. This can be observed by CT snipers from Mid Doors.
Outside Long: An area that terrorists pass through while moving to Long Doors or Top Mid.
Long Doors: An entrance to the zone usually protected by counter-terrorists. It consists of two double doors with a small room between them.
Blue: A big crate opposite Long Doors while moving to A Long.
Side Pit: A hidden area to the right of Long Doors for terrorists. Counter-terrorists can wait here to ambush them.
Pit: A slope hidden from view of terrorists entering A Long from Long Doors. A brick wall separates this from Side Pit.
Pit Plat: A platform near Pit. Snipers can use this platform to see A Site.
A Long: A long corridor-like area. It is on the way of terrorists towards A Site.
A Car: Terrorists moving through A Long should inspect the car on their right. It provides good cover for counter-terrorists to shoot attackers.
A Cross: A highly visible area that can be seen from multiple angles.
A Ramp: A sloping path that leads from A Site to A Long.
A Default Plant: Designated spot on A Site for planting the bomb. A large letter A marks this location.
Barrels: Positioned behind A Site.
Goose: A closed-off area featuring a spray-painted goose.
Elevator: A corner of A Site located closest to CT Spawn. Counter-terrorists commonly use this to access the platform when retaking A Site.
A Platform: A large elevated area where A Site is situated.
A Ninja: A concealed spot on A Platform where counter-terrorists often lie in wait for unsuspecting enemies. It is also a prime location for a ninja-defuse.
Stairs: Located on the path leading from Catwalk to A Short.
Catwalk: An area that terrorists traverse when moving from Top Mid to A Short and A Site.
CT Spawn: Area where counter-terrorists begin each round and it is situated very close to A Short and A Site.
Communication is one of the most important aspects while playing CS: GO. Using these callouts in Dust 2 allows players to communicate in a more efficient manner. This greatly increases the chance of winning matches. Using them makes the gameplay much more well-coordinated in CS: GO.
In case you missed it: