Counter-Strike 2 limited Beta test is out, and the Counter-Strike community is already finding bugs and glitches for Valve to fix. Valve addressing the situation released the game's latest patch notes on March 30. With Valve only limiting the beta test to a select few they deem worthy to play the game early, the hype is already through the roof for the official game to release this summer.
After some recent development in CS 2 limited beta test, which showcased that the game had a massive problem already. Players could trigger wall hacks by using the Console Command "cl_physics_highlight_active 5." Valve with the release of the new updated patch seem to have nullified all console commands including this one for the development phase.
Related: How to rank up in CS:GO ?
Everything new in the March 30 updated patchwork for CS 2 limited beta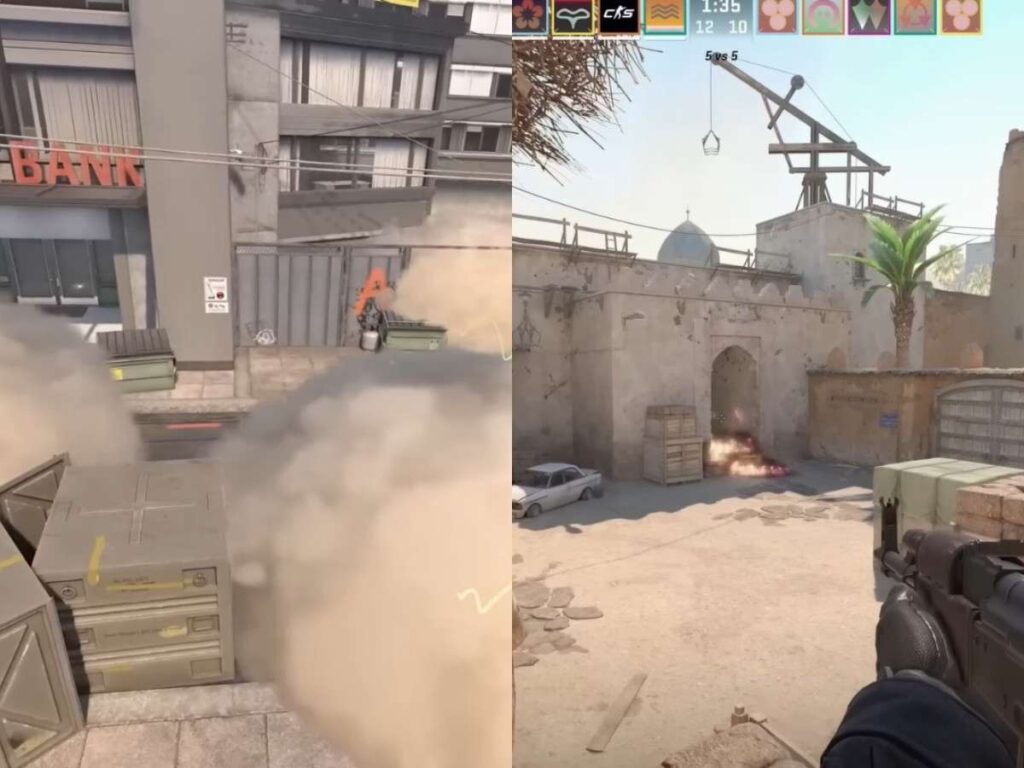 The new CS 2 limited Beta test is only a week old, and the community already identified few problems in the game. Valve CS:GO and CS 2 developers took notice and have fixed them, starting with Collisions between the ragdolls. They also implemented changes to the HE grenade, which will no longer affect the Smoke through the walls anymore. Let's take a look at all the changes Valve made:
Networking
– Multiple network traffic optimizations.
– Shooting random seeds are now correctly desynchronized between server and client code.
Visuals
– Fixed positions of overhead labels and ping elements at different resolutions.
– Fixed halo around enemies to not give away their locations.
– Bomb code will now correctly clear when aborting the bomb plant.
– Fixed rare inspect animations to be rare and not every anim.
– Inspect then reload ("f", "r", "f", "r") more closely matches CS:GO behavior.
– Disabled all development console commands (including "cl_physics_highlight_active 5").
Gameplay
– HE grenades no longer affect smokes through walls.
– Disabled collisions between ragdolls.
– Players will no longer drop weapons when getting a bonus weapon in Deathmatch.
– Trajectory preview for decoy grenades is now correct.
– Improved behavior of picking up weapons with the use key.
INPUT SYSTEM
– Buy menu and scoreboard now allow movement while they have focus.
– Team intro allows voice chat.
– Keys will no longer get stuck when opening the steam overlay.
– Fixed many cases where user input would get confused.
– Multiple actions cannot be bound to one key.
SOUND
– Adjustments to smoke grenade sound timing at a distance.
– Fixed a bug where flashbang or grenade sound effect would remain if player died while having that sound effect active.
– Added dedicated player-only sound when a grenade is correctly jump-thrown.
– Fixed chat wheel lines to be restricted to legitimate chat wheel lines that can be configured in game options.
Changes to map Dust 2
– Fixed a hole in the wall.
Streamer discovers Wallhack in CS 2 Limited beta
Famous CS: GO streamer and professional player @flom accidentally came across the wall hacks in CS 2 limited beta. While streaming he noticed the console command "cl_physics_highlight_active 5." working and he could use wall hacks. This sparked the debate of will CS 2 be free of the age-old problem of hacking in its Matchmaking system.
This was later confirmed by another popular CS: GO now CS 2 streamer @ohnePixel
CS: Go since its release has had a hacker problem, time and time again they have bypassed the anti-cheat in order to sabotage gameplay. The community has high hopes for CS 2 as Valve will probably use the same Anti- cheat system as Riot games. With its announcement the player count surged again. So many returned in and started idling on the server to get access to CS 2 limited Beta test. But Valve put out a statement that this won't help as they have carefully laid out a guideline on who will get access.
Valve looks set to replace CS: GO with CS 2 and revamping the Major's structure indicated likewise. The Paris Major in April will host the last ever CS: GO major and the only one of this year. From 2024 The Major will incorporate CS 2 and we will probably see the end of CS: GO.
In case you missed it: