Kaitlyn "Amouranth" Siragusa is no stranger to controversy, having been banned by Twitch six times. She is known for her hot tub IRL streams on the platform. While the reason for her recent ban is shrouded in mystery, her antics over the years seem to displease Twitch from time to time. From having a wardrobe malfunction to accidentally leaking NSFW content on stream, the list is quite diverse.
Besides Amouranth, not a day goes by that Twitch doesn't dish out a ban on one of its popular streamers. Not too long ago, the streamer of the award winner, Kai Cenat, got banned. If you roll the clock back, streamers like Pokimane, xQc, and Dr. Disrespect have all received bans over the years. However, Twitch quickly reinstated them due to the views these streamers generate on a daily basis.
Similarly, Twitch unbanned Amouranth just a day after they blocked her channel. However, don't get your hopes too high, as Twitch has removed almost all of her videos. If you browse through her Twitch profile, you will notice that only a few short videos remain.
Related: Amouranth gets banned on Twitch for the first time since 2021
How many times has Amouranth been banned by Twitch?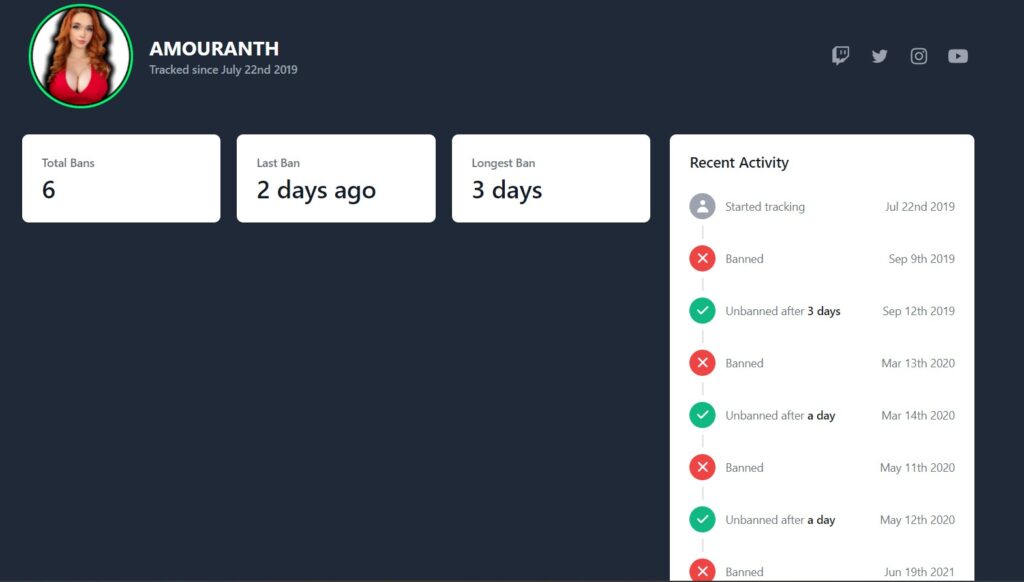 Source StreamBans/twitter
With a whole host streamer receiving bans almost every day it's no surprise that one of the platform's top earners might also feel the brunt of the ToS. While she has been acquitted of her recent ban on Twitch let's take a look at the previous ones:
Amouranth, a controversial Twitch streamer, has been banned from the platform six times for various reasons. Her first ban in September 2019 was caused by a wardrobe malfunction, where she accidentally exposed herself to viewers during a stream. This resulted in a ban from Twitch, but ironically, it also led to a surge in her follower count.
Her second ban occurred in March 2020, and Twitch cited "inappropriate behavior" as the reason. The lack of further explanation led to speculation that the ban was related to a gym stream where Amouranth may have filmed others without their consent or her gym clothes being too suggestive. As a result of the ban, Amouranth lost thousands of followers.
Two months later, Amouranth's third ban happened after she briefly showed an NSFW profile picture of a user in her chat. Twitch swiftly picked up on the image and banned her for a few days.
Her fourth ban in June 2021 stemmed from a controversial ASMR stream where she licked her microphone suggestively, a type of content that many other streamers engage in as well.
Amouranth's fifth ban came in October 2021. She claimed to not know the reason for the ban but remained positive, joking about the impact of the three-day ban on her income. Despite the bans, Amouranth's popularity on Twitch remains high, with as many viewers as ever.
Her final ban came on May 5, even though the reasons are still unclear. However, her feud with Adriana Chechik could possibly be the reason behind the recent ban. Not too long ago, Chechik also called Amouranth, " a fucking c*nt" and wanted to duke it out in the ring. She was probably referred to Creator Clash which started back in May 2022 as a charity boxing event.
Although, Amouranth's ban lasted only a day there's no surety when she will be back streaming again. So far fans can only access a few clipped videos on her Twitch channel or catch a glimpse of her on YouTube.
In case you missed it: