Battlegrounds Mobile India (BGMI) has made a triumphant return to the Indian gaming scene after a 10-month ban. As players gear up for the game's comeback, one crucial aspect they seek to optimize is their in-game sensitivity settings. To aid in this process, BGMI allows players to copy the sensitivity settings of other players. Players can do this by using sensitivity codes. This article will guide you through the steps of using BGMI sensitivity codes. This will allow you to replicate the best in-game sensitivity settings and enhance your gameplay experience.
In BGMI, sensitivity settings play a vital role in determining the responsiveness and accuracy of your controls. By customizing sensitivity and camera settings, players can fine-tune their aim, improve their reflexes, and gain a competitive edge in the game. Adjusting these options can greatly enhance your overall gaming experience. Copying sensitivity settings from skilled players, or popular YouTubers has long been a strategy employed by gaming enthusiasts. This is done to improve their performance. However, manually configuring these settings can be tedious and time-consuming. This is where the new feature in BGMI comes in handy. This news feature offers players the ability to effortlessly copy and apply the settings of their preferred players using sensitivity codes.
Related: BGMI M21 Royale Pass is here: All weapon and vehicle finishes, Outfits, and more
Steps to use BGMI sensitivity codes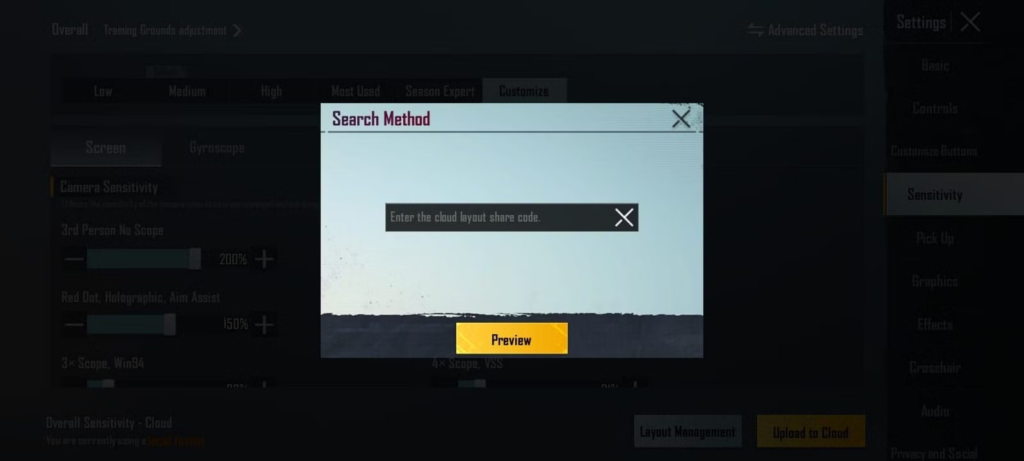 To copy and utilize the best in-game sensitivity settings using sensitivity codes in BGMI, follow these steps:
Launch the BGMI app and access the Main Menu.
From the Main Menu, navigate to the Settings option and select it.
Within the Settings menu, locate and tap on Sensitivity Settings.
In the Sensitivity Settings, find the option for Layout Management and select it.
Look for the Search Method option and input the 19-digit sensitivity code of the desired player whose settings you want to copy.
Double-check that you have entered the sensitivity code accurately.
Once you enter the code correctly, the game will display a preview of the new settings.
To save and apply the new settings, click on the Upload to Cloud button.
Optimizing your in-game sensitivity settings is a crucial step toward enhancing your gameplay experience in BGMI. With the introduction of sensitivity codes, players can easily replicate the best settings of skilled players and improve their own performance. By following the steps outlined in this article, you can confidently navigate the BGMI sensitivity settings menu, copy the desired sensitivity codes, and elevate your gaming skills. Keep in mind the considerations mentioned to stay up to date with the latest codes and maintain control over your settings.
Best BGMI sensitivity codes to use
When it comes to finding the best BGMI sensitivity codes to use, there are several popular options that have gained recognition among players. These sensitivity codes are often shared by skilled gamers, esports athletes, or influential content creators, making them highly sought after by the community. Some of the most recommended sensitivity codes include:
7238-4196-5100-4203-274
7238-4221-1686-4885-010
7008-3808-9247-2149-869
In case you missed it: