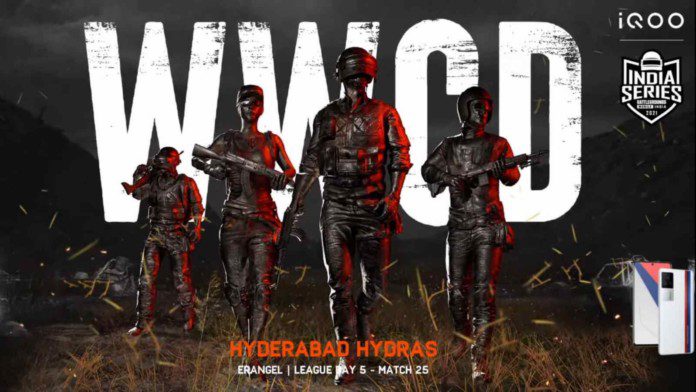 The second week of BGMI Grind Scrims has commenced as the fifth day of league stage came to an end today. As the in game qualifiers of BGMI India Series 2021 have also concluded, things are heating up at the Grind Scrims which are providing the best chance to the thirty two invited teams for brushing up their skills before the beginning of the major event.
Hyderabad Hydras once again climbed up to the top position at the fifth day of league stage taking three chicken dinners and accumulating 170 points and 91 finishes. Orangutan Gaming continued their top notch performance with 3 chicken dinners as well. After scoring 143 points, they are currently placed at the second position. Following them at the third place is OR Esports with 136 points and 70 frags.
BGMI Grind Scrims Day 5 Results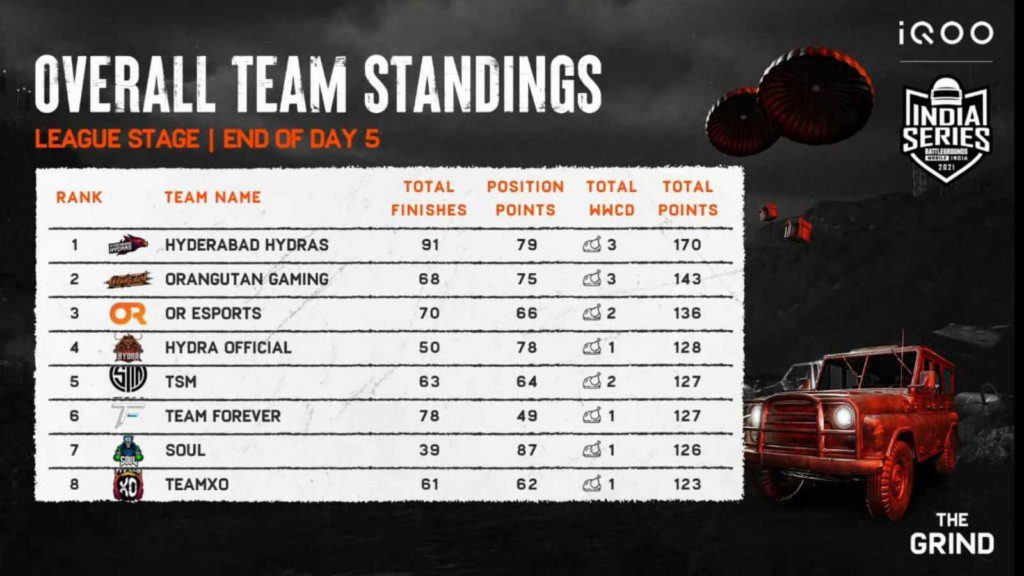 The first match of the fifth day began with some nerve wrecking action at Erangel. Team Mayhem were the winners of this match after they successfully eliminated True Rippers and Viru, the sole survivor from Team Soul. Hyderabad Hydras featuring the roster of Team Tamilas also played well at this match. Mayhem took 9 frags in total out of which Lebron became the star player with 5 frags.
Read More: How to get permanent Arcane weapon skins in BGMI for free?
The second match of BGMI Grind Scrims saw the rise of two new teams, Reckoning Esports and Team Incognito. The latter team's last player was stuck in a 1 vs 4 situation, even after knocking out a player of Reckoning, the playzone did not favour Team Incognito and the chicken dinner fell into the hands of Reckoning Esports who took 10 frags in total. TSM took the highest number of finishes in this match but were eliminated early.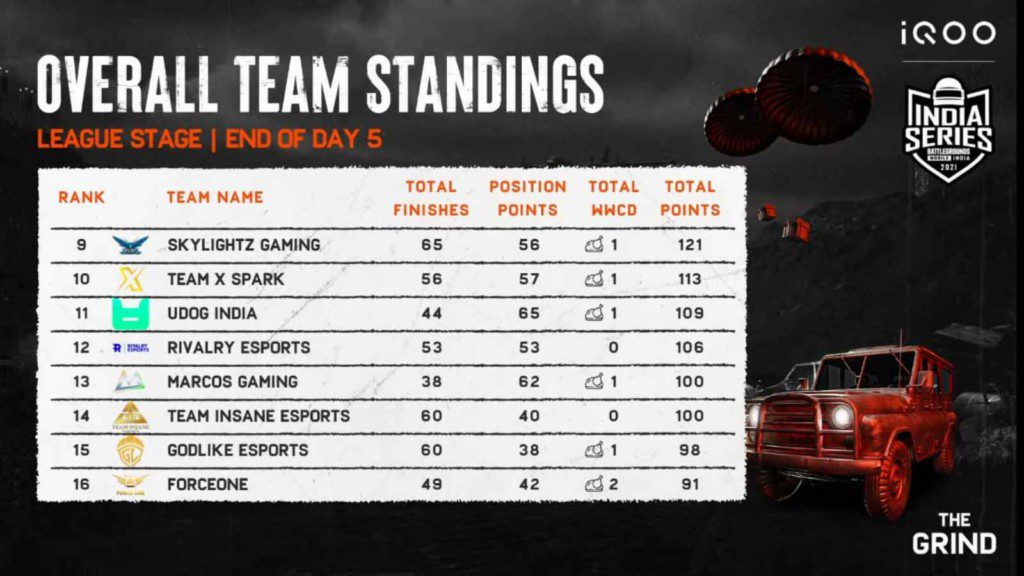 The third match at Sanhok was won by ForceOne, registering their first chicken dinner of the tournament with an astonishing 30 points. The team had been staying at the bottom positions lately but this match helped them significantly. True Rippers and Team SouL continued with their decent performance by accumulating 21 and 19 points respectively.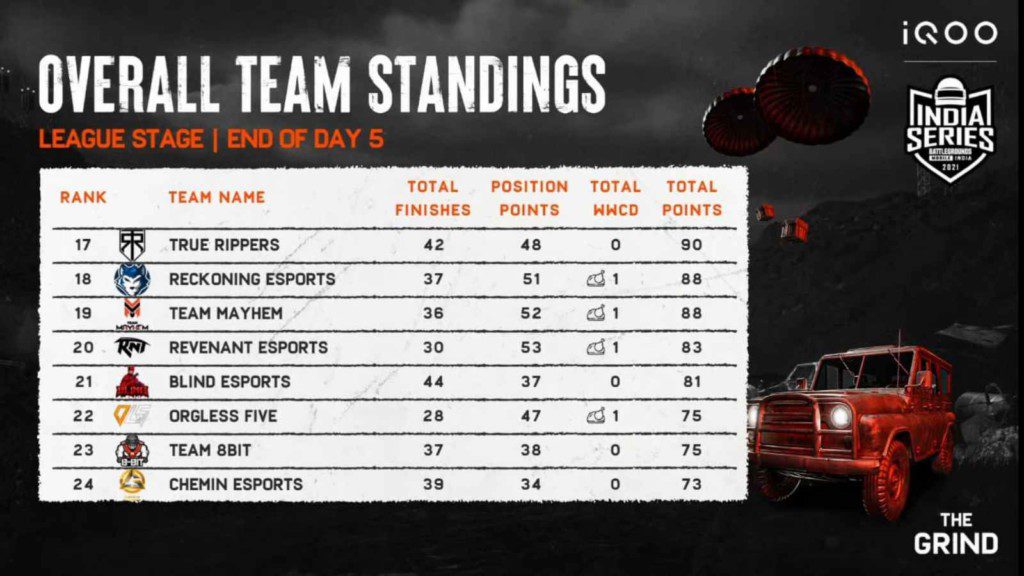 The fourth match of BGMI Grind Scrims was played at sniper favourite match, Miramar. Team XO won their first chicken dinner of the tournament at this match defeating Delta PG of Rivalry Esports who took 6 frags alone for his team. Team iNSANE's performance was also remarkable at this match as they took 15 finishes.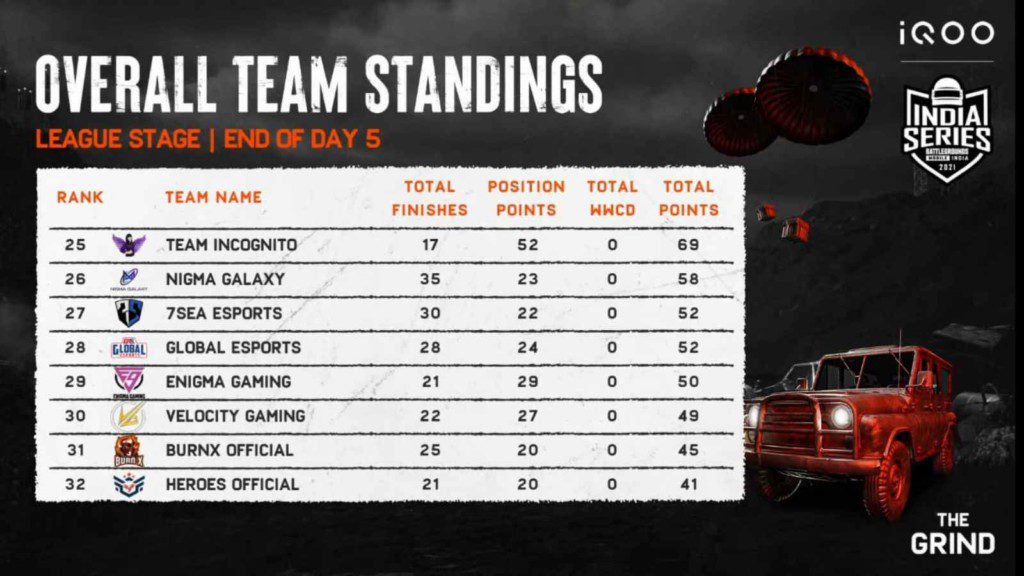 Hyderabad Hydras once again proved that why they are the most intimidating team at BGMI Grind Scrims currently. The team took 17 finishes to grab the chicken dinner at the fifth and last match adding 32 points in the scoreboard. Soul also kept their hopes alive for league finals scoring 17 points in the last match.
Also Read: BGMI RPM6 Leaks: Release date and Rank 1 to 50 elite RP rewards revealed