The league for Call of Duty Modern Warfare 2 will be starting on 2 December 2022, just 35 days after MW2's launch. Every time a new Call of Duty title is launched, a new set of unofficial rules are made by the pros of the game. The Call of Duty Competetive Matches have a set of official rules which are sometimes not complete and players take it upon themselves to add a few more rules to make the competitive plays more balanced and justified. As Call of Duty Modern Warfare 2 has just dropped, a new GA list has been released which is getting lots of criticism.
Before every competetive season, the GA list is released and this time it has some unexpected additions which the player do not like and has caused an community wide debate regarding the Gentleman's Agreement (GA). This Gentleman's Agreement v2.0 states that the use of Sniper Rifles and Smoke Grenades has been fully restricted along with some other attachments.
The GA is agreed upon by all the 12 teams playing the League.
READ MORE: Call of Duty Shoot House map set to come to Call of Duty Warzone Mobile as a pre-registration bonus
Details about the latest Gentlemen's Agreement in Call of Duty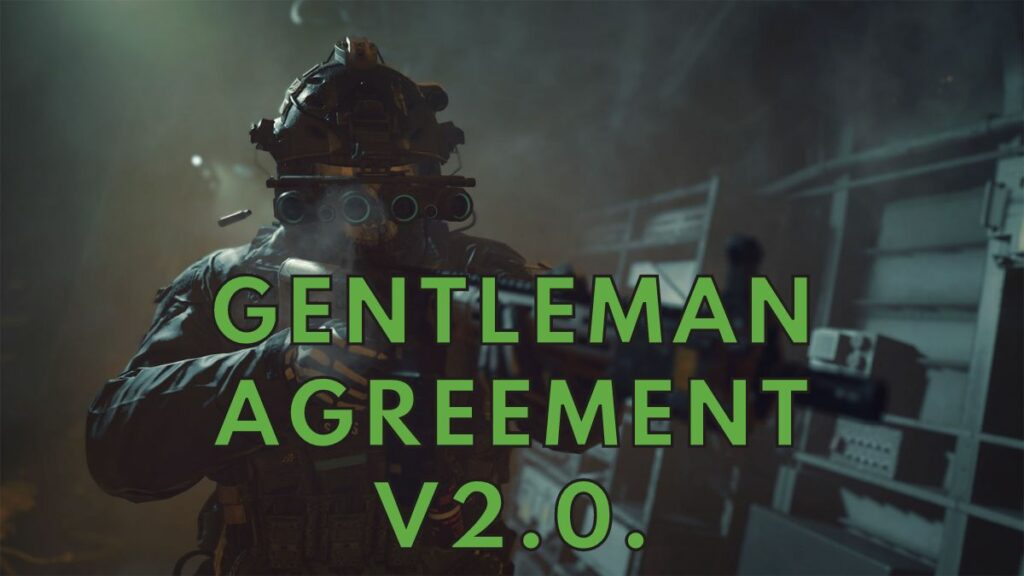 Here is what the Gentleman's Agreement v2.0 for Call of Duty Modern Warfare 2 looks like:
WEAPONS
Assault Rifles: Kastov-74u and STB 556
Submachine Gun: Fennec 45
Sniper Rifle: Restricted in Control and Hardpoint, only ONE allowed per team in Search and Destroy.
ATTACHMENTS
M4 underbarrel: only "FSS Sharkfin 99" and "Edge-47 Grip" are allowed.
M4 barrel: only the "Hightower 20″ Barrel" is allowed. You must equip this barrel, using no barrel is not allowed.
Weapon Tuning is not allowed.
Attachments that increase hip fire accuracy are restricted on ALL WEAPONS.
Trigger Action attachments (Pistols) are restricted.
EQUIPMENT
Flash Grenade: restricted in all modes.
Smoke Grenade: restricted in all modes.
Trophy System: a maximum of two are allowed per team in all game modes.
STREAKS
SAE: restricted in all modes.
CHALLENGERS ONLY
Pistols: Only the X12 pistol can be used (likely in pro play too)
All the things mentioned above will be banned from the competitive plays. Pro players like Nadeshot and Blackbeard and many others are not accepting the Sniper rifle ban.
READ MORE: "I really don't care": Dr. DisRespect reveals on getting banned from Call of Duty Warzone 2 for a week
Several Call of Duty pro players and other COD streamers have been expressing their views on the recent additions to the Gentlemen's Agreement for the 2023 Call of Duty League.
After the whole community backlashed, the pro finally added Sniper rifles back to the competitive Call of Duty. The whole debate finally ended with the community winning this over the pros and will see Snipers in the competitive Call of Duty.
Here is the Official Call of Duty League Ruleset V1.1.
MAPS AND MODES:
HARDPOINT
Al Bagra Fortress
Breenbergh Hotel
Embassy
Mercado Las Almas
Zarqwa Hydroelectric
CONTROL
Al Bagra Fortress
Breenbergh Hotel
El Asilo
SEARCH AND DESTROY
Al Bagra Fortress
Breenbergh Hotel
El Asilo
Embassy
Mercado Las Almas
RESTRICTED ITEMS
WEAPONS
Battle Rifles: All
Shotguns: All
Light Machine Guns: All
Marksman Rifles: All
Melee: Riot Shield
Launchers: All
ATTACHMENTS
Silencers: All
Lasers: All
Armor Piercing: All
TACTICALS
Shock Stick
Decoy Grenade
Spotter Scope
Stim
Heartbeat Sensor
Snapshot Grenade
Tear Gas

LETHALS
Proximity Mine
Drill Charge
Molotov Cocktail
C4
Claymore
Thermite
Throwing Knife
PERKS
Scavenger
Overkill
Tracker
Strong Arm
Extra Tactical
Resupply
Spotter
Note: All ultimate perks are also restricted
FIELD UPGRADES
Tactical Camera
Inflatable Decoy
DDOS
Deployable Cover
Munitions Box
Loadout Drop
Portable Radar
Tactical Insertion
Battle Rage
Recon Drone
Smoke Airdrop
Suppression Mine
Anti-Armor Rounds
STREAKS
UAV
Bomb Drone
Counter UAV
Care Package
Cluster Mine
Mortar Strike
Sentry Gun
VTOL
Overwatch Helo
Wheelson-HS
Stealth Bomber
Chopper Gunner
Emergency Airdrop
Gunship
Advanced UAV
Juggernaut
These are all the agreed upon terms of the GA v.2.0 of Call of Duty Modern Warfare 2 following public backlash.
READ MORE: Best loadout for TAQ-56 in Call of Duty Warzone 2 and Modern Warfare 2