Grand Theft Auto Online offers players several things to purchase. There are vehicles, clothing, real estate, and even a candy bar. This somewhat real-life experience has kept GTA Online alive for almost a decade. Many players spend a lot of money on Shark Cards in order to get all the products they want.
Property in GTA Online is divided into 3 categories, safe houses, garages, and businesses. You can buy garages and safe houses from Dynasty 8 website. As for businesses go, you need to visit Maze bank Foreclosures, Dynasty 8 Executive, The open road, Arenawar, Diamond Casino & Resort, and Docktease. Buying a Hanger, office, MC clubhouse, bunker, etc. is very important to make in GTA Online. But in the initial days, players buy cheaper properties that might not be in the optimal location. They need to travel too much for completing business missions. So it's advisable to buy a property later in a more favorable location. But what's with the property you bought? You can and cannot sell these. It's quite tricky.
So let's unravel how you can sell properties you no longer need in GTA Online.
Related –How to set up Counterfeit Cash Factory in GTA Online?
Sell your property in GTA Online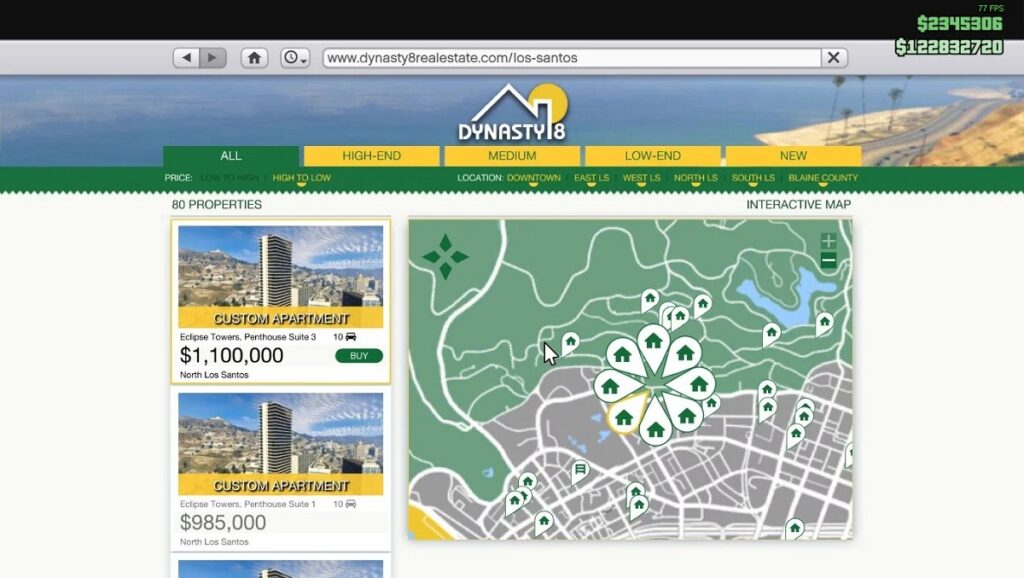 You cannot directly sell your property in GTA Online. But, you can trade your owned property with the new one you're going to buy. Suppose you own an apartment worth $200,000 and you want to buy another better apartment for $800,000. Then, while buying you can trade your apartment and it will cost you only $600,000 for the new property.
There's also a trick to get some portion of your money back in the bank. You can follow these steps:
Open your iFruit mobile phone and open the internet browser.
Then search the 'Dynasty 8' website and open it.
After opening the website, click on 'Property Listings'.
Filter the price from 'low to high'.
You will see Unit 124 Popular Street for $25,000. If you already own this then go for the next cheapest property.
Now click on the 'Buy' option and then click on 'Purchase Property'.
You will see a list of all your properties on the left top side of your screen. You can select the property you don't want and purchase the property.
The extra money will deposit into your 'Maze bank' account.
Players have always asked Rockstar Games to add a proper option to sell the property in GTA Online as you don't get the exact amount of money through this method.
One more thing players must know is that you cannot own more than one property for the same business, For example, you cannot own 2 nightclubs or MC clubs. So if you have business property far away from the city, you can exchange it for the new one in a better location. For doing this, you can follow these steps:
Open your iFruit mobile phone and open the internet browser.
This time you need to go to the 'Maze Bank Foreclosure' website.
Look out for the business you want to purchase and press buy.
You can add different features like a vehicle workshop, gun locker, etc. on your business property.
After picking all these upgrades, the game will show the final price for the property after all add-ons. Simply click on it.
You will be forced to exchange your previous property as mentioned earlier, you can not own more than one property of the same business.
Now, the worth of your current own business will be deducted from the new property's price.
In case you missed it