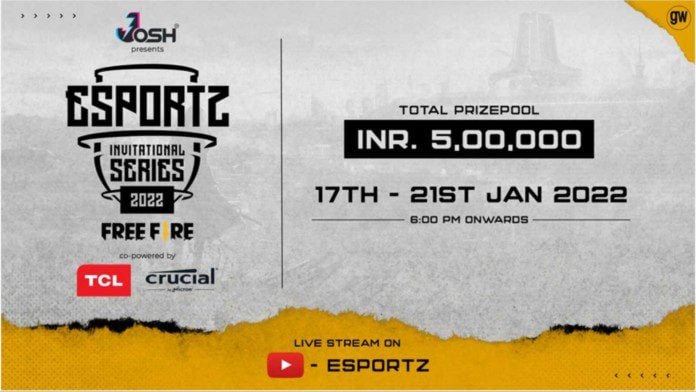 The fresh start of a new year calls for the beginning of where it all started, announcing 'Esportz Invitational Series Free Fire 2022.' Esportz Invitational Series Free Fire 2022 will feature a dedicated prize pool of INR 5,00,000 and will display the finest 18 Indian Free Fire teams competing for a share of the prize pool and glory over five days from 17th to 21st of January.
Esportz, the gaming wing of GIG Work Pvt Ltd. tapped the esports sector from scratch to engage with an audience viewership of 250k in a week-long affair at Esportz Invitational Series Free Fire in 2020. In 2021, Esportz held an open-to-all Esportz Premier Series yearlong tournament which also featured Free Fire, with the event garnering a total of 14.1M+ impressions and 1.9M+ viewers throughout over 250+ days of streaming.
Read More: Ajjubhai Free Fire ID, Stats, K/D Ratio, YouTube Channel, Monthly Income And More For January 2022
Esportz Invitational Series Free Fire 2022: Invited teams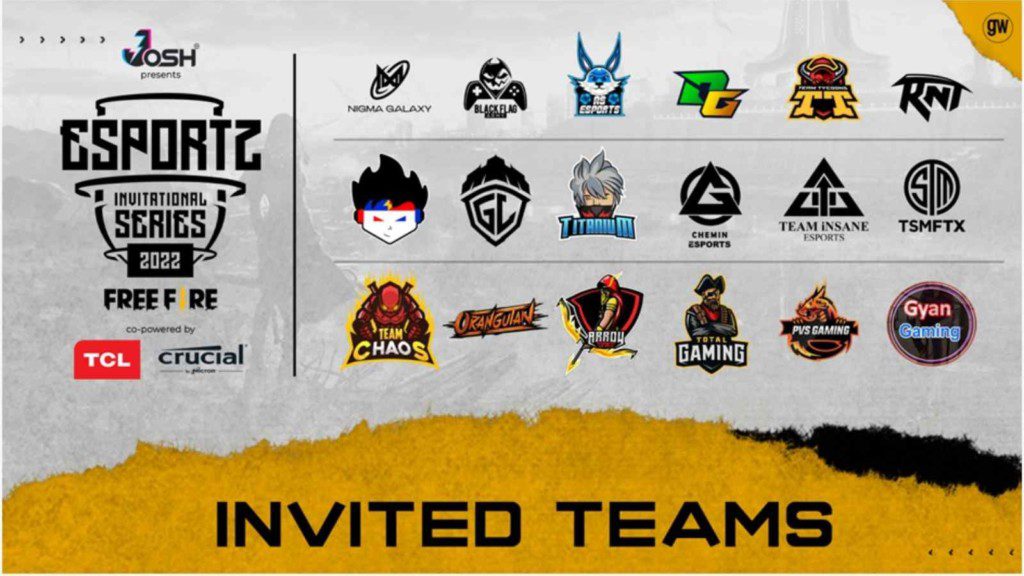 Group A:
Total Gaming Esports
Godlike
TSG Army
Team Chaos
Arrow Esports
Gyan Gaming
Chemin Esports
Desi Gamers
Team Insane Esports
PVS Gaming
TSM FTX
Titanium Esports
Group C:
Orangutan Esports
Nigma Galaxy
A_S Esports
Black Flag Army
TG Tycoons
Revenant Esports
---
Format and Schedule
A total of 18 Teams will be divided in 3 groups (Group A, B, and C). A single round-robin format will be conducted in between all 3 groups in Esportz Invitational Series Free Fire 2022.
17th Jan – Group A vs Group B (Best of 6) – 6:05 pm
18th Jan – Group B vs Group C (Best of 6) – 6:05 pm
19th Jan – Group C vs Group A (Best of 6) – 6:05 pm
Top 12 teams will qualify for Finals from overall scoring
20th & 21st Jan – FINALS (Top 12 teams – Best of 6 each day) – 6:05 pm
---
Prize pool distribution and where to watch
Total – INR 5,00,000
1st Place – INR 1,85,000/-
2nd Place – INR 1,00,000/-
3rd Place – INR 85,000/-
4th Place – INR 50,000/-
5th Place – INR 35,000/-
6th Place – INR 25,000/-
MVP – INR 20,000/-
All the matches of Esportz Invitational Series Free Fire 2022 will be live-streamed on the youtube channel of Esportz. Players can also follow the official website to keep track of all of the updates.
About esportz.in – esportz.in is a fan engagement and a gaming experience platform dedicated to esports and the gaming community. esportz.in provides the latest gaming news to hard-core gamers as well as casual gamers. It's a one-stop hub for all gaming needs where gamers can get the latest updates about gaming and also participate in competitive community tournaments.
---
Also Read: Jonty Gaming vs SK Sabir Boss: Who Is Best In Free Fire Stats Comparison For January 2022?