Valorant has swept through the gaming industry with its unique game mechanics and in-game cosmetics. Also, the game's eSports industry has gained a lot of traction in the past two years. It has garnered quite a huge viewership, making the eSports Majors a massive success. As of the moment, the Valorant Champions Tour, or VCT, is going on in full bloom. Teams are ready to fly off to Japan for the VCT Masters Tokyo 2023. And to advertise the event, VCT has released a manga series called 'Rank Up: A VCT Manga.'
VCT, or Valorant Champions Tour, is a global esports tournament for the tactical shooter game Valorant. Riot Games organizes it, and it stands as the premier competitive circuit for Valorant. The VCT features a number of different tournaments, including regional leagues, Masters events, and the Champions event. The VCT is one of the most popular esports tournaments in the world. It also features some of the best Valorant players in the world. It's the backbone of Valorant's eSports industry.
VCT Masters Tokyo is all set to commence on the 11th of June. All the 12 teams which have qualified after grueling matches in their regions are on their way to Tokyo. The scale of the third VCT is quite huge, and all the arrangements done till now have been spectacular. And Riot Games aren't shying away from doing everything to increase the hype further.
Recently, VCT released a Manga called 'RANK UP: A VCT Manga.' Fans' jaws dropped because no one expected VCT to do something so innovative. Graphic novels based on games and released during their launch are pretty common. But this is the first time a major tournament has released a manga to further advertised their upcoming event.
Related: VCT Masters Tokyo 2023: Teams, Format, Schedule and more
RANK UP: A VCT Manga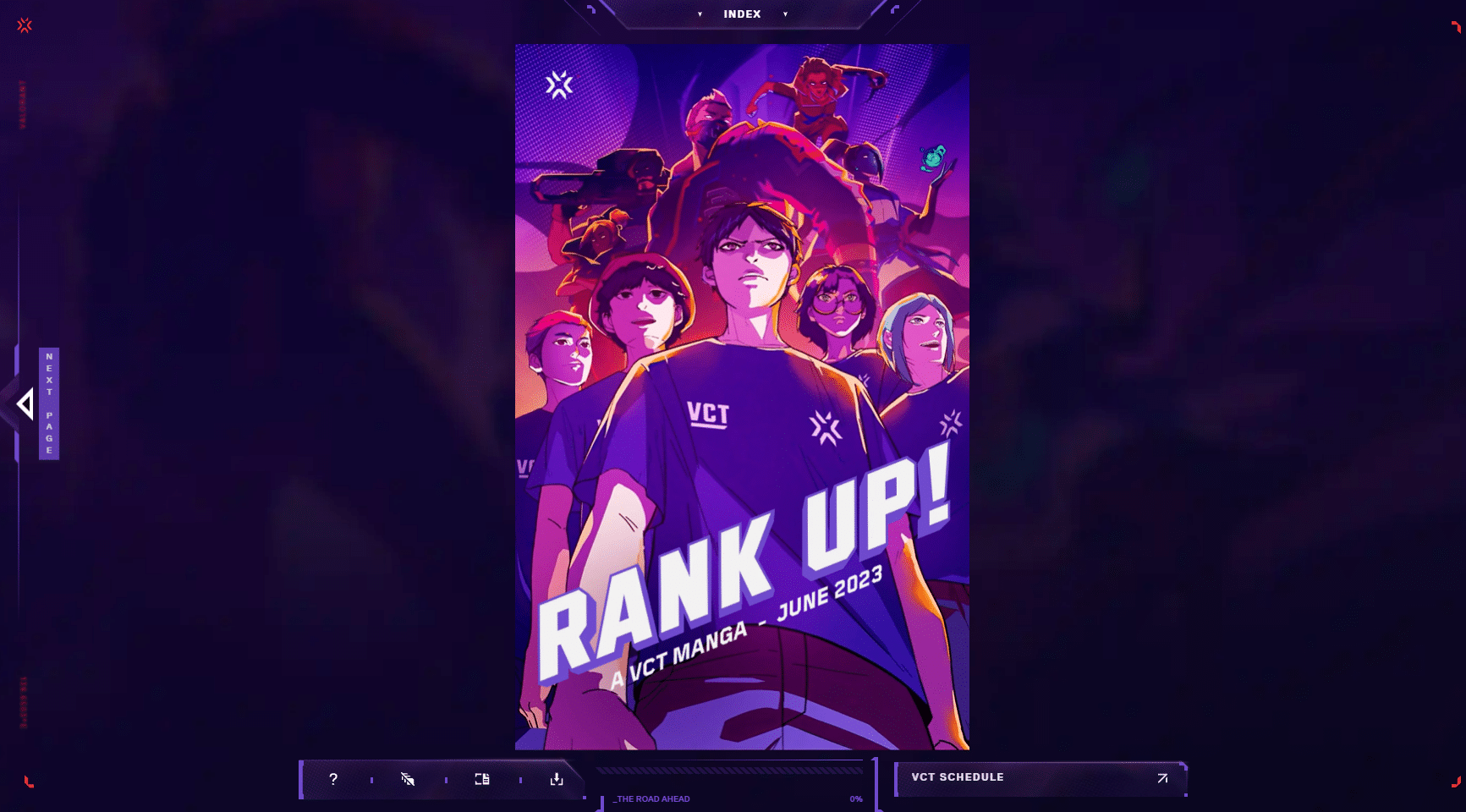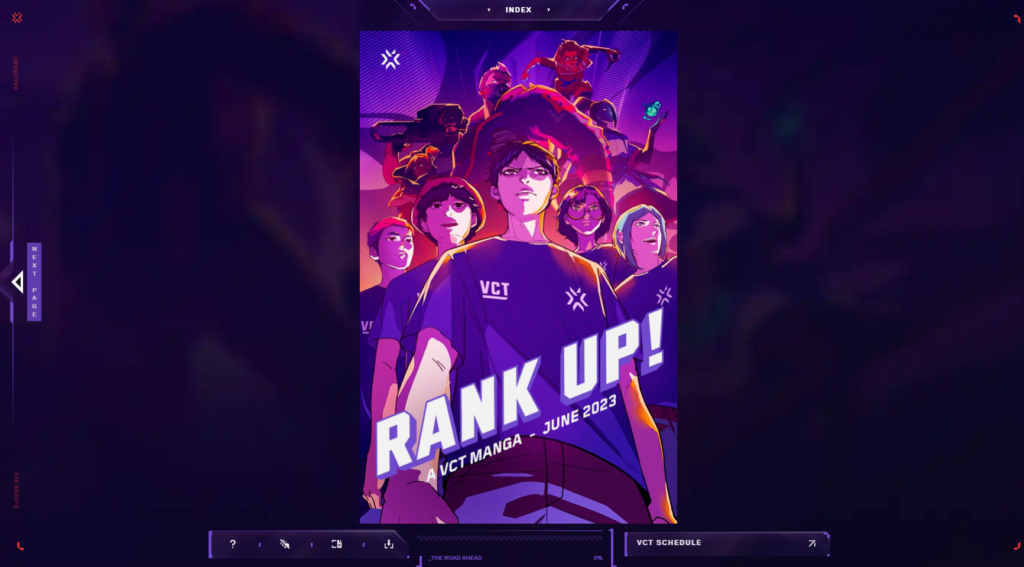 The new manga series released by VCT is titled "RANK UP: A VCT Manga." This is a new and innovative way to do some PR for the upcoming major tournament. Not only does this manga series has a pretty nice story, but also has a 'schedule tab' at the bottom of the screen. This would give readers a schedule for the upcoming Masters Tokyo so they can tune in and watch the major. This Manga series incorporates really beautiful GIFs into it with an enriching plot, too.
Fans have quite a cheerful reaction to this:
i just know this is going to be fire 🔥🔥

— Karpa (@karpavlr) June 6, 2023
XYZ RANKKKKKKK-UUUUUUUP MAGICCCCCCCC CARDOOOOOOOO pic.twitter.com/uKr6z4ZlxS

— ShowDicker #Photic (@K7llerCroc) June 6, 2023
The Gifs in it are pretty cool could we get it somehow as a wallpaper?

— StanniC (@YTStanniC) June 6, 2023
Wait what! Manga! 🤯

— GosuGamers India (@gosugamersindia) June 6, 2023
Big props to whoever worked on this

— Bade (@BadeFPS) June 6, 2023
Omgg👀

— sunraesler (@lesler22) June 6, 2023
Fans can read the manga here. This is the first time a video game company is releasing a manga series to promote a major tournament. And fans can see the efforts they have put into the tournament arrangements just from this manga. VCT Master Tokyo is about to commence soon, so fans should be ready for some good action-packed gameplay.
In case you missed it: