FIFA 22 Player of the Month is a regularly releasing event in the game that features the best player from a particular league for the month. Here is how to complete the Giacomo Raspadori FIFA 22 Serie A POTM SBC.
POTM or better known as Player of the Month is a monthly event that releases after the month's matches. These real life matches are taken into account and one POTM player is selected every month from each league. Each of the major league gets a separate player like Serie A, Ligue 1, LaLiga, Bundesliga and Premier League. This one is for the Serie A division and feature a striker.
Here is how to complete the Giacomo Raspadori FIFA 22 Serie A POTM SBC.
Giacomo Raspadori FIFA 22 POTM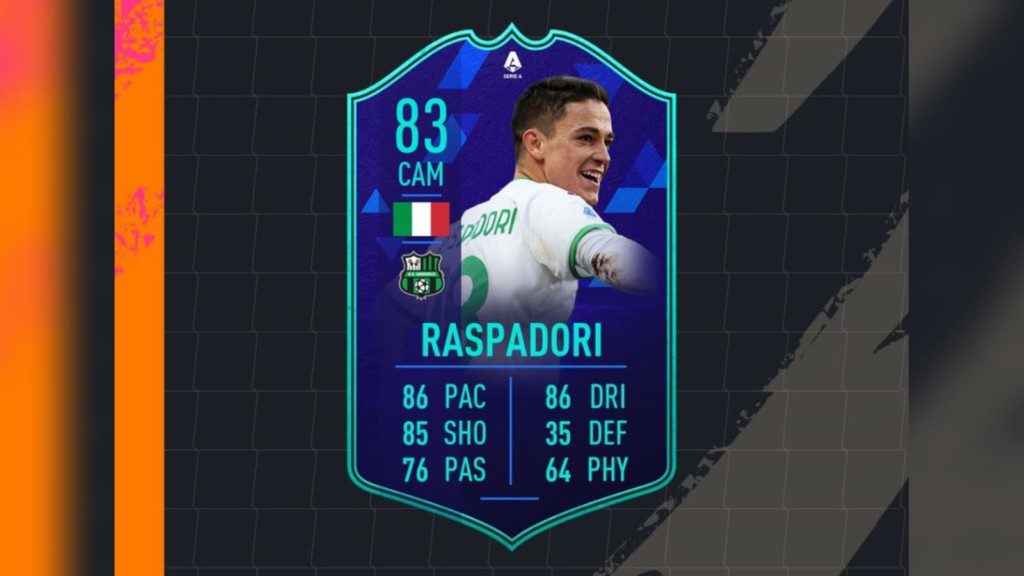 This is a great card for the Italian striker and features a great OVR rating of 83. He also has great stats in Pace, Shooting and Dribbling.
Related: How to obtain the OM eSports Kit in FIFA 22 from SBCs?
The complete stats for the card are as follows:
Pace: 86
Dribbling: 86
Shooting: 85
Defense: 35
Passing: 76
Physical: 64
SBCs to complete
Players need to complete only 1 Squad Building Challenge in order to unlock this card in the game today. Players need not rush, because the event will be up in the game for almost 30 days, so there is ample amount of time to complete it.
The following requirements are needed for the event:
Players from Serie A : Minimum 1
Players from Team of the Week: Minimum 1
Team Overall Rating: Minimum 81
Team Chemistry: Minimum 60
11 players in the squad
The approximate cost of completing this particular SBC will be around 17000 FUT coins. However, the price can further be reduced using fodder from player inventory.
This is a non-repeatable SBC that can only be completed once to get the Giacomo Raspadori FIFA 22 POTM player item.
Follow our Instagram page for more updates on gaming and esports!
Also read: How to get the Olivier Giroud FIFA 22 Player Moments card?