For the first time in the new game, promo items are available from SBC in FIFA 23. Ultimate Team players are trying to get the Ones to Watch Di Maria. EA Sports shocked the FIFA community when they decided to radically change Ultimate Team's chemistry system. Chemistry between players is a thing of the past.
This change makes SBCs in FIFA 23 look very different. Ones to Watch is FIFA 23's first promotional event, with the full scheduled for global release on September 30th, but starting September 27th, you'll have a chance to pick up the OTW Di Maria card. Have a look below to find out how to complete this SBC.
Also read: Best Budget FIFA 23 Ultimate Team Starter Squads for Each of the Top 5 Leagues
How to Complete Ones to Watch SBC of Angel Di Maria in FIFA 23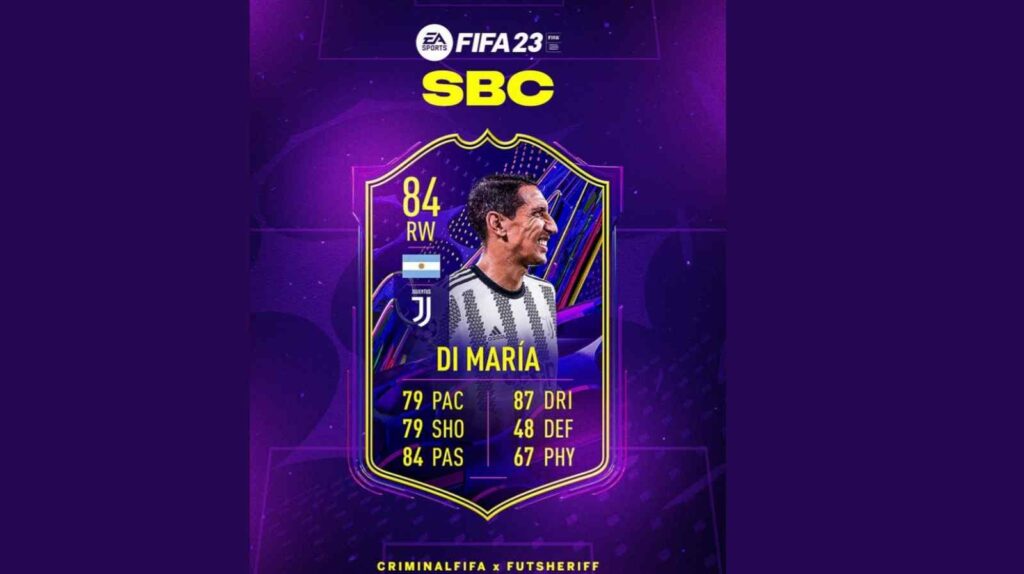 The first SBC of the campaign for FIFA 23 has arrived. As expected, it includes a Ones to Watch (OTW) card in the shape of Juventus superstar Angel Di Maria. Other SBCs have been available on the web app before, but this is the first time players can get footballer cards directly.
The Ones to Watch (OTW) card is a special version for footballers who have completed a major transfer this summer. Although the promotion hasn't been released yet, Di Maria received a special card to celebrate his move from PSG to Italian giants Juventus as a free agent.
Also read: FIFA 23: Alexia Putellas Tops Messi and Ronaldo to Become the Highest-Rated Player in the Game
How to complete Angel Di Maria OTW SBC:
Tactical Emulation
Minimum Number of players from Juventus: 1
Minimum Squad Rating: 83
Number of players in the Squad: 11
Serie A
Minimum Number of players from Serie A TIM: 1
Minimum Squad Rating: 84
Number of players in the Squad: 11
Di Maria's OTW stats now mirror his gold card stats. You might think this is maybe an unremarkable SBC to kick off FIFA 23 with, but the OTW cards are all about future investments. OTW cards in FIFA 23 are special live items that receive upgrades when a player meets certain criteria. There are more opportunities for upgrades than ever this year.
That means Di Maria is likely to improve from this base rating. That being said, it's a good starter card to start your Ultimate Team journey. His pace is quite unimpressive, but he makes up for it with top-notch dribbling, good passing, and five-star skill moves. This SBC certainly proves to be a good opportunity so make sure to complete it before it expires.
Also read: Cyberpunk 2077 Becomes Best-Selling Game on Steam, Overtakes FIFA 23 and Modern Warfare 2