The new Future Stars promotion from EA Sports features an intriguing and enjoyable method of including SBC players in FIFA 23 Ultimate Team, with Rodrigo Riquelme receiving a unique card in-game. Not only has the Spanish teenager's rating and stats overall been greatly improved, but the FUT community also played a significant part in the development of this brand-new item.
A vote that EA Sports held on their Twitter account, where they alerted the community about an impending SBC with stat enhancements based on the community's choice, had an impact on the SBC. Rodrigo Riquelme has received an excellent unique edition of the concept with upgrades based on the Twitter votes, which has been suitably named Talent Scout.
Related: FIFA 23 TOTW 15 predictions: Messi, Hakimi, Jordi Alba and other stars look set to feature following stellar performances
The Future Stars Talent Scout Winner Riquelme SBC has arrived in FIFA 23 as a result of community voting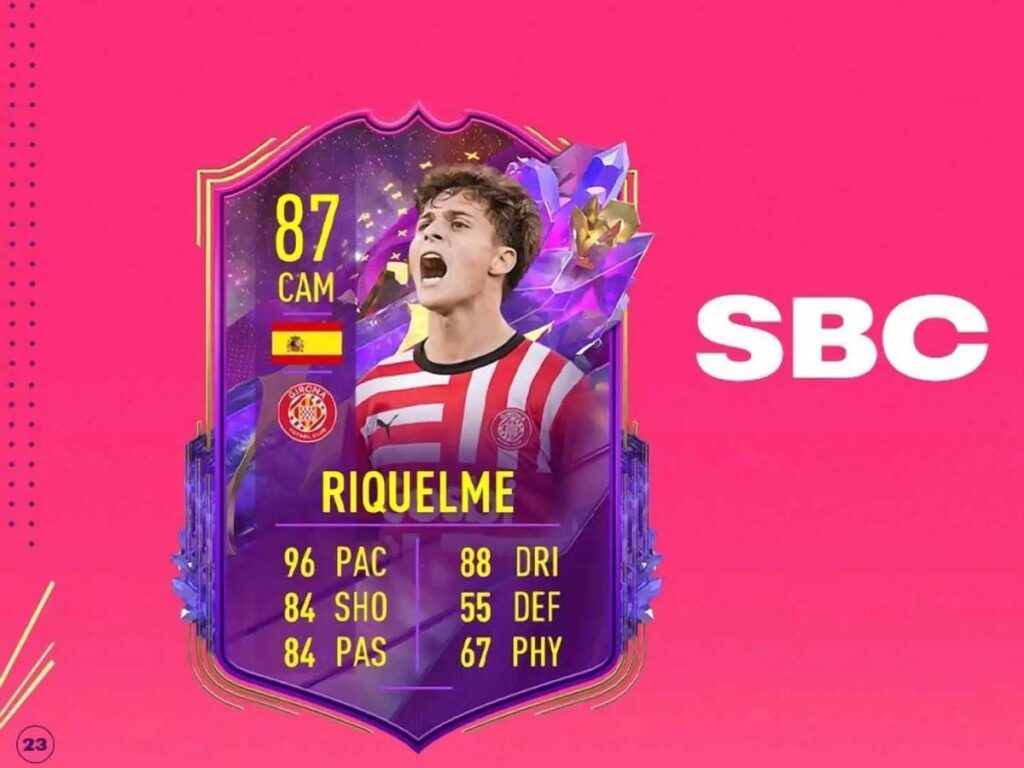 Spanish winger Rodrigo Riquelme, 22, plays for Girona in La Liga. He has been impressive for his club this season, attracting the interest of mainstream audiences despite his relative inexperience at the elite level of European football.
With a current Future Stars variation rating of 87 and a base overall rating of 69 in FIFA 23, Riquelme is even more outstanding. Based on community voting, his pace and skill moves have received a significant buff. He also has the following important in-game stats:
Pace: 96
Dribbling: 88
Shooting: 84
Defending: 55
Passing: 84
Physicality: 67
Fans will be excited to get their hands on this new card since his stats along with his recently gained five-star skills make him a powerful player to contend with in the current meta of the game. The SBC is divided into two sections, each with its own requirements and pack rewards.
Requirements to complete the Future Stars Talent Scout Winner Riquelme SBC:
Spain
Players from Spain: Minimum one in your starting eleven
Team of the Week players: Minimum one in your starting eleven
Team overall rating: Minimum 83
La Liga
Players from La Liga Santander: Minimum one in your starting eleven
Team of the Week players: Minimum one in your starting eleven
Team overall rating: Minimum 84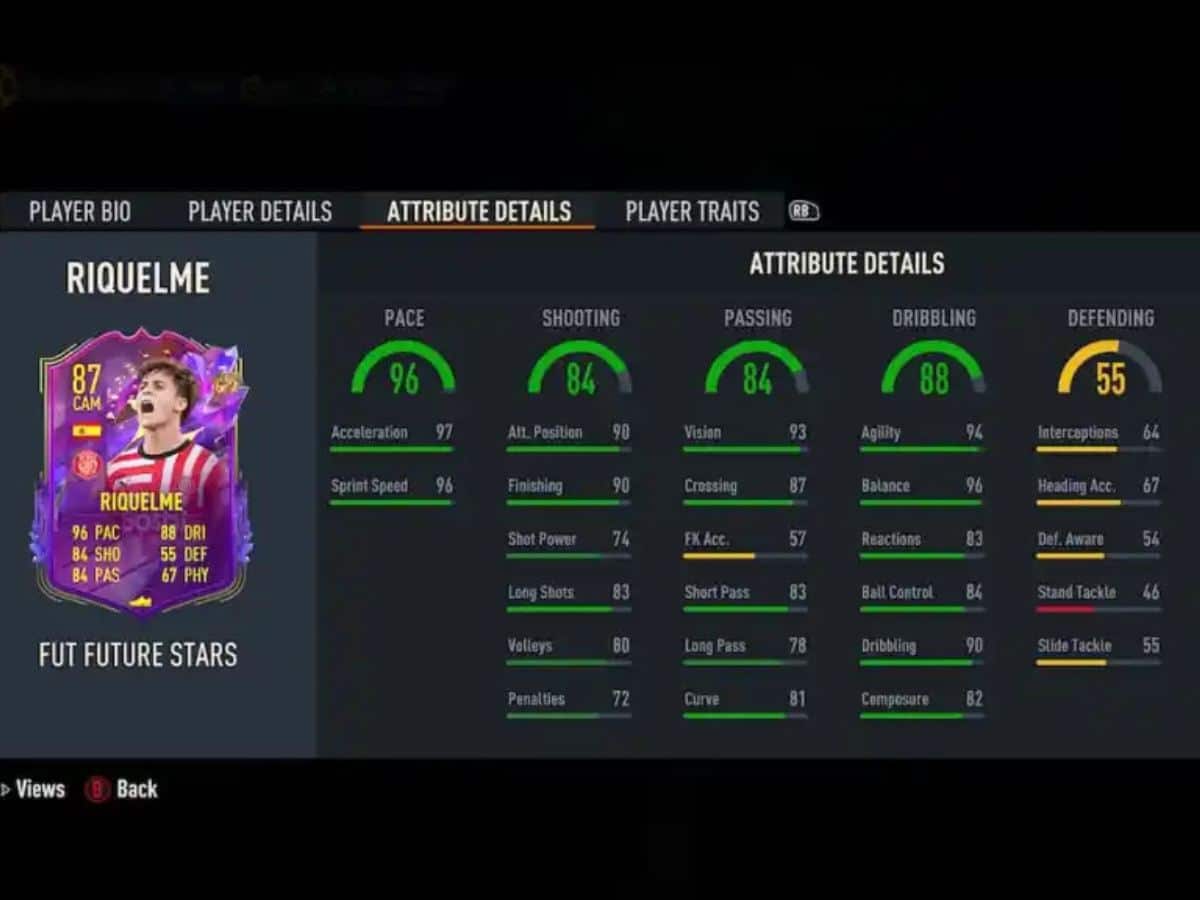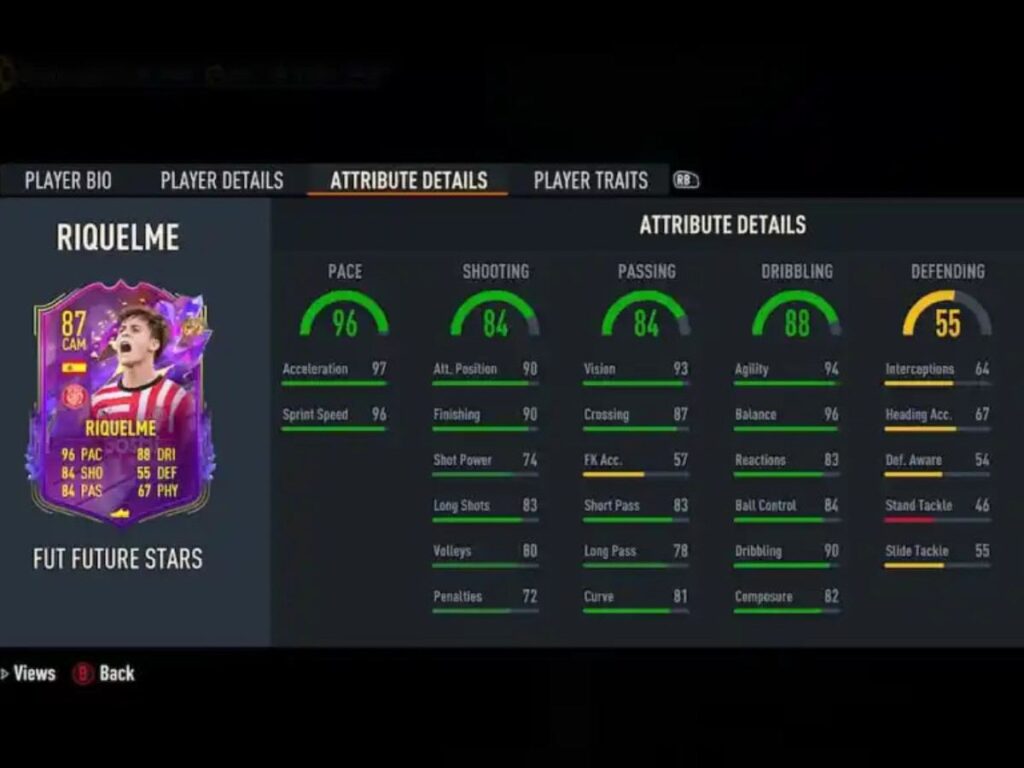 The price of Team of the Week cards is the main factor determining the SBC's entire projected cost, which is roughly 80,000 FUT coins. Due to the most recent upgrade pack SBCs, 83 and 84-rated cards are not overly pricey, but in-form items demand a high price on the FUT transfer market.
Even for the quality of the card being offered, the SBC is not overly pricey in and of itself. Riquelme has all the stats required to be a fantastic attacker in FIFA 23, and since players like Sergio Ramos, Xabi Alonso, and others are regulars in FUT squads, it will also be simple to integrate him into a team that is operating at peak efficiency.
In case you missed it!