The FIFA 23 RTTF (Road to the Final) Team 1 is currently playable in Ultimate Team, and it comes with some amazing-looking cards. The RTTF promo, a recurring promotion in FUT in recent years, is now present in FIFA 23.
In the Champions League, Europa League, and Europa Conference League, the promotion gives players active player items that they can boost depending on how their club performs in the final rounds. Gareth Bale of Real Madrid was given a rating boost to 95 overall in FIFA 22 after winning the Champions League, demonstrating exactly how excellent these players could develop. EA Sports has introduced Team 1 from the promo.
Related: FIFA 23: How to complete the Julian Brandt Bundesliga POTM SBC
The RTTF Team 1 in FIFA 23 has some powerful players with great potential for upgrades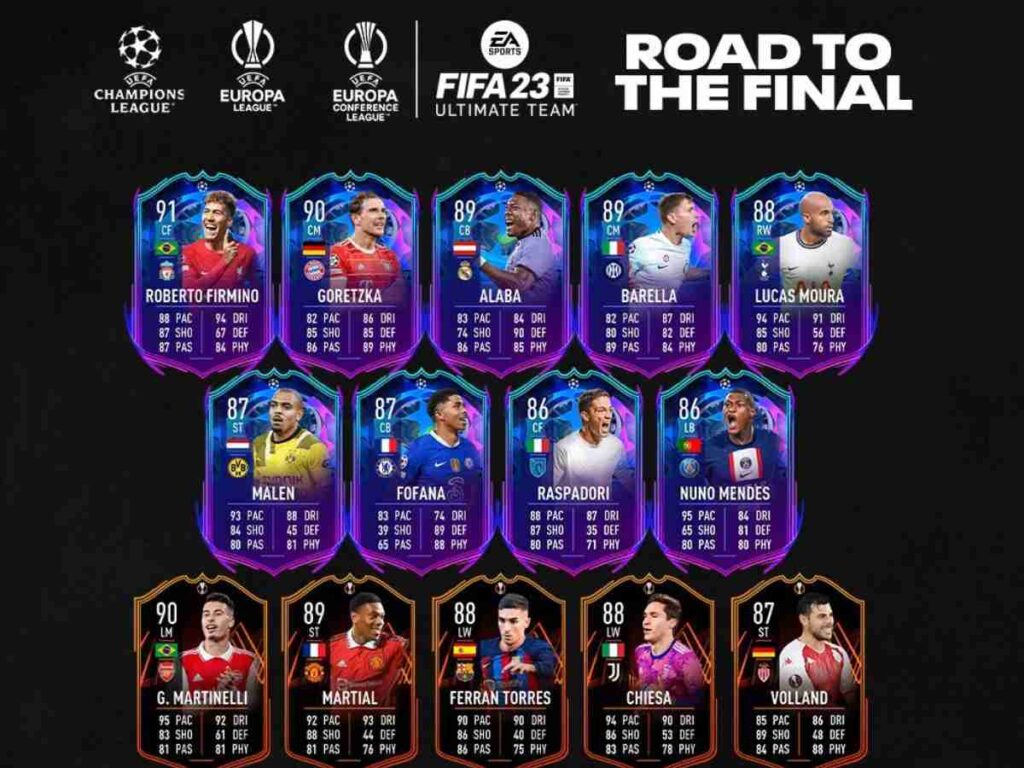 The FIFA 23 RTTF Team 1 lineup is currently available in Ultimate Team packs and will remain so till Friday, February 25, at 5:59 p.m. GMT/12:59 p.m. ET/9 a.m. PT.
RTTF Team 1:
CF: Roberto Firmino (Liverpool) – 91 OVR
CM: Leon Goretzka (Bayern Munich) – 90 OVR
CB: David Alaba (Real Madrid) – 89 OVR
CM: Nicolo Barella (Inter Milan) – 89 OVR
RW: Lucas Moura (Tottenham) – 88 OVR
ST: Donyell Malen (Borussia Dortmund) – 87 OVR
CB: Wesley Fofana (Chelsea) – 87 OVR
CF: Giacomo Raspadori (Napoli) – 86 OVR
LB: Nuno Mendes (Paris Saint-Germain) – 86 OVR
LM: Gabriel Martinelli (Arsenal) – 90 OVR
ST: Anthony Martial (Manchester United) – 89 OVR
LW: Ferran Torres (Barcelona) – 88 OVR
LW: Federico Chiesa (Juventus) – 88 OVR
ST: Kevin Volland (AS Monaco) – 87 OVR
RW: Erik Lamela (Sevilla) – 86 OVR
LB: Juan Miranda (Real Betis) – 86 OVR
RB: Youcef Atal (Nice) – 87 OVR
Similar to the 2022 World Cup Path to Glory upgrade system that was previously in FIFA 23, EA Sports has added a new upgrade system for RTTF in FIFA 23 that includes skill movements and weak foot enhancements. The same upgrading rules apply to all three tournaments.
When a player is eliminated from the tournament, they are no longer eligible to get upgrades because upgrades are given based on how well their team does. The upgrade can be obtained by any player, regardless of whether they participate in the game.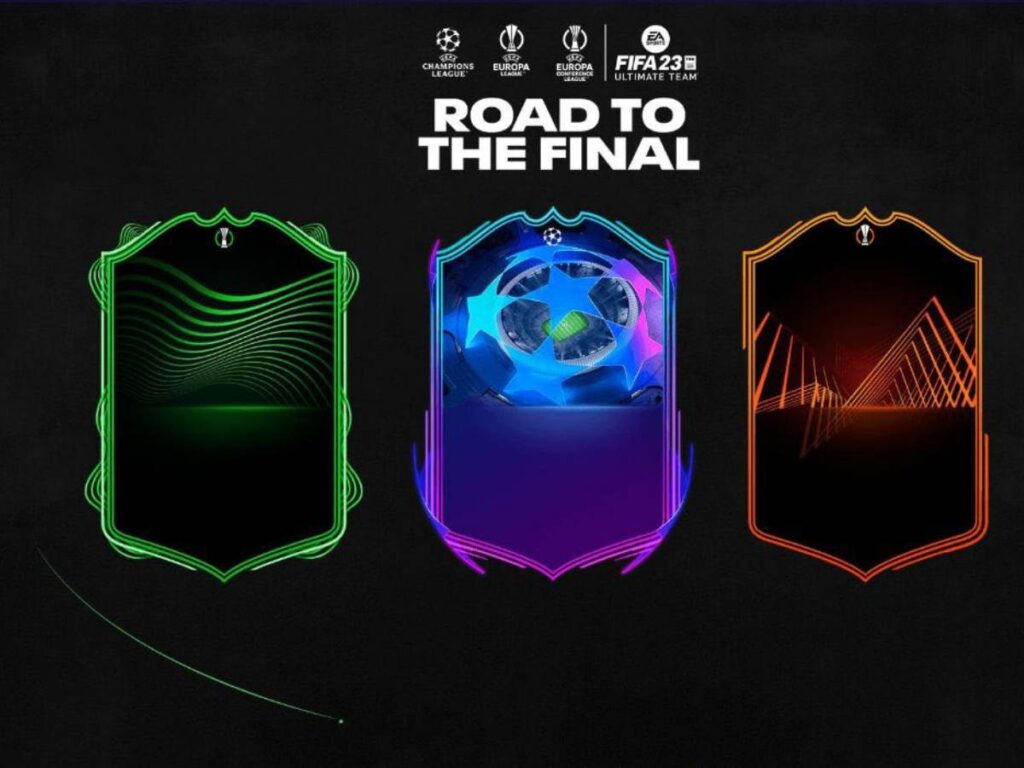 New upgrade system:
Win 1st knockout game after campaign launch – +1 in-form upgrade
Quality for Quarter-Finals – +1 in-form upgrade
Qualify for Semi-Finals – +1 in-form upgrade and three new traits
Qualify for Final – 5-star weak foot upgrade
Win Final – +1 in-form upgrade and 5-star skill moves upgrade
At the conclusion of each week's tournament stage, an RTTF upgrade will take place in FIFA 23.
In case you missed: