Fortnite Ffrosty back bling is one of the charming back blings in the item store that many players crave for. Finally, this back bling can also be obtained for free by doing some simple challenges in Fortnite Chapter 3 Season 1 in Winterfest 2021. Players can unlock not only this but also several other rewards once they have completed a fixed number of challenges.
The article talks about the Fortnite Ffrosty back bling in Chapter 3 Season 1 and how players can get this reward for free in Winterfest 2021 easily.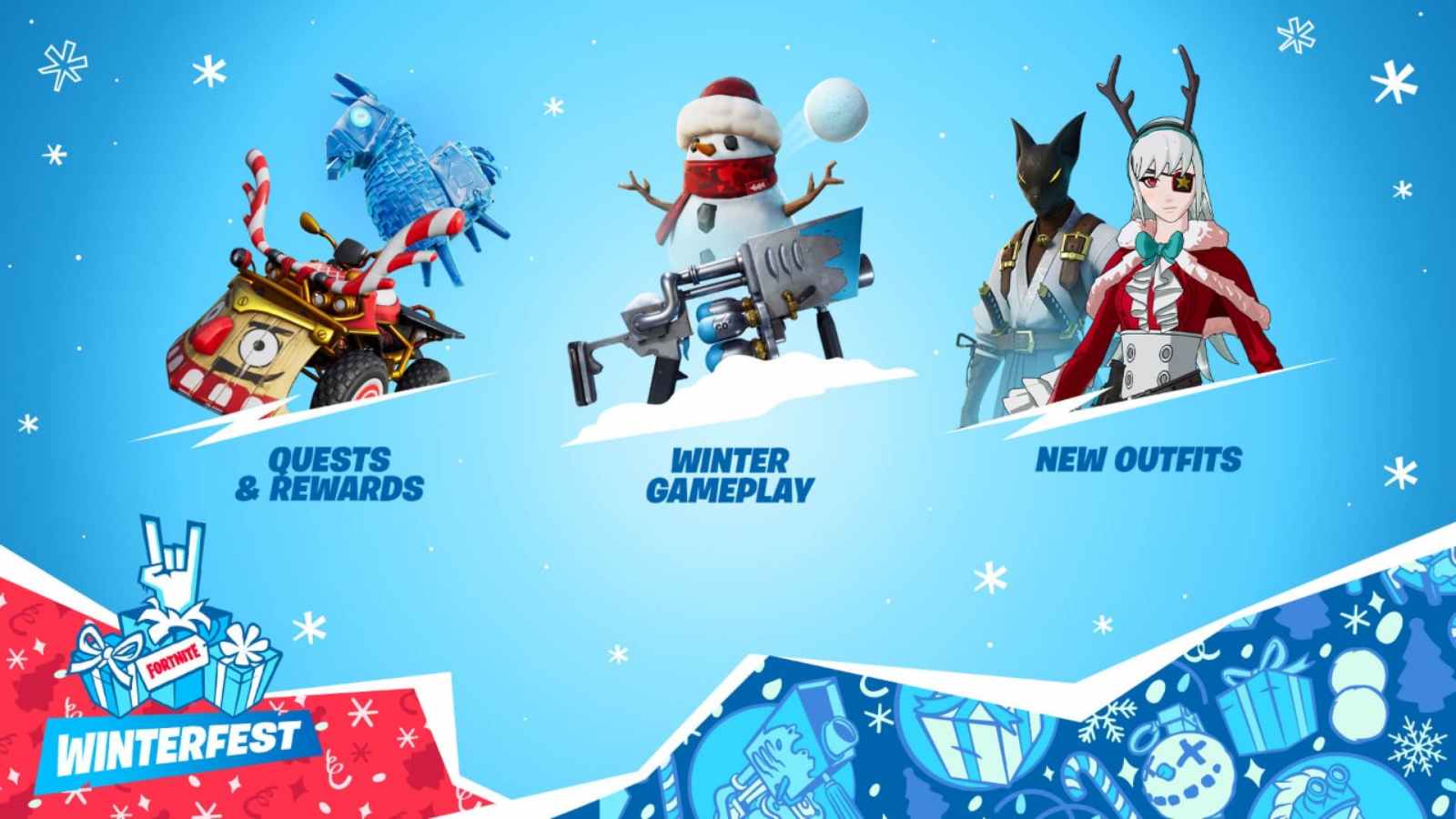 Related – Fortnite Safe Locations: How to find and open Safes in Fortnite Season 6?
Fortnite Ffrosty back bling for free
Ffrosty is a Frozen Series Back Bling in Fortnite: Battle Royale that can be obtained by completing 10 Winterfest 2021 Quests. It was first introduced in Chapter 3: Season 1. This can be owned by players in Fortnite as long as they complete some challenges in the game's going event, Winterfest 2021.
Fortnite Winterfest is an event to cheer up its audience with plenty of new arrivals like skins, costumes, events, and much more all through the small celebration with some challenges as well. These give players a chance to complete some limited-time quests and earn loads of free rewards, including two new skins.
A game that has taken the world by storm, powering streamers to new heights and giving regular gamers some acute hits, it's something that has managed to stay fresh no matter how many hours have been put in. These give away free rewards to players in exchange for quests completion.
Challenges are always a good addition to the game for more XP. These Challenges are proving to be a bit difficult for some players, but there's a catch. Players can only complete the easiest and any of the 10 challenges for Winterfest and win this free reward.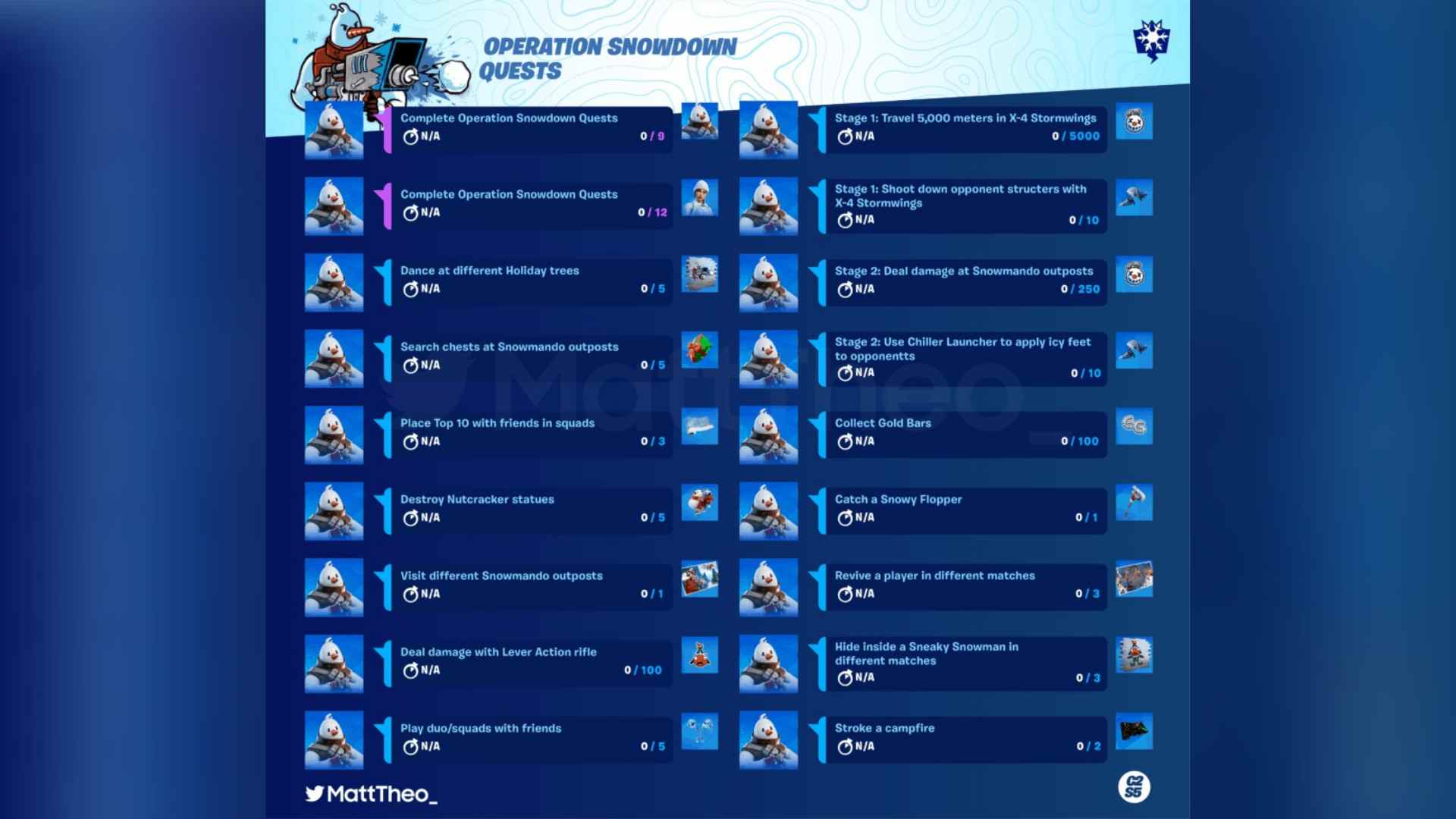 Here are all of the Fortnite Winterfest 2021 quests players, out of which players will need to complete only 10 to receive the back bling:
Warm yourself at the Yule Log in the Cozy Lodge (1)
Deal damage to opponents with Snowball Launcher (50)
Collect Toy Biplanes at Condo Canyon, Greasy Grove, or Sleepy Sound (3)
Travel while having icy feet (200)
Fly with a chicken (200)
Dance for three seconds at Crackshot's Cabin and Sgt. Winter's Workshop (2)
Ram a snowman with a vehicle (1)
Use a Holiday Presents! Item (1)
Search a treasure chest under a holiday tree (1)
Eat food in a single match (5)
Hide for 10 seconds as a Sneaky Snowman within 25m of an opponent (10)
Light a campfire while having icy feet (1)
Travel 1,000 meters on a Crackshot Quadcrasher (1000)
Destroy holiday decorations (10)
Give an opponent icy feet with a Chiller Grenade (1)
The reward is simply a decorative item and does not provide any changes for gameplay. Players should start grinding for the same and get hold of a free item.
---
Also Read: Red vs Blue, Creative Challenges and Crossover Events: Fortnite