Free Fire is a battle royale game with an avid player base and the developers like ot give out sales from time to time. Here is how to get the Free Fire Theme Gun Flash Sale at 50% off for 7th December.
Cosmetics are a huge part of the game and the game features many of them. These may include the much popular costume bundles, weapon skins and emotes or other lesser ones like car skins and back pack skins. These are hard to come by in the game as most of them are priced highly and require diamonds to unlock. Diamonds in turn are only obtainable through spending real money.
But the developers at Garena have released a new sale only for today so that players can get their favourite gun skins from the store. Here is all about the Free Fire Theme Gun Flash Sale event for today!
Free Fire Theme Gun Flash Sale 50% off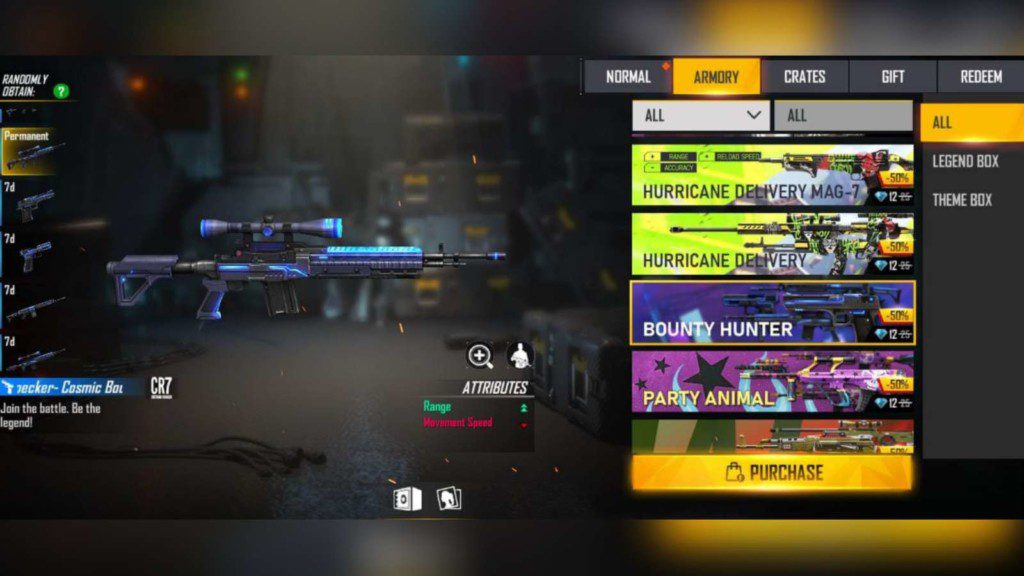 This Sale is only live today, i.e., 7th December 2021 and will be over after 24 hours only. Therefore, players only have a limited time to get the items!
Related: How to obtain the Cha Ching Loot Box in Free Fire?
This event gives a 50% discount on the Theme Gun cosmetics that are showcased in the in-game store of Free Fire. The event features all the crates for sale at half the original price. Earlier the crates cost about 25 but now it costs only 12 diamonds.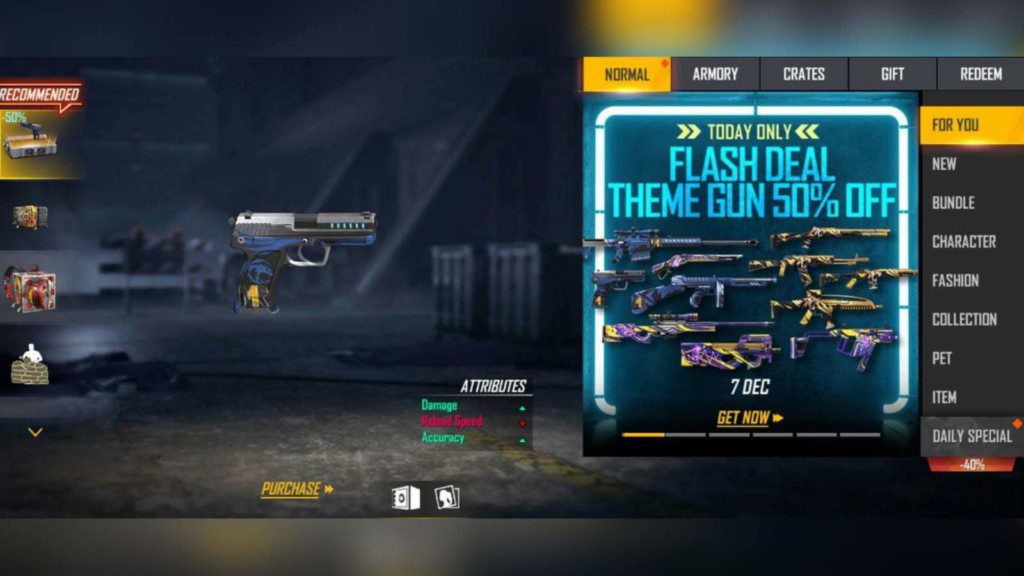 The players can select between any of these:
The Falconer
Xtreme Adventure
Superstar
Hurricane Delivery MAG-7
Hurricane Delivery
Bounty Hunter
Party Animal
Master of Minds Gun
Justice Fighter
Victory Wings
Private Eye
Game Streamer
Urban Rager
Kpop Stardom
Graffiti
Biker
Demolitionist
Engineer
Deadly Bat
Playboy
A.I.
Pink Devil
Monster
Booyah
Death's Eye
Ice Blue
Shark Attack
Red Samurai
Imperial Rome
Digital Invasion
Winterlands
Flaming Wolf
Violet Terror
Cheetah
Pharaoh
Titanium
Pink Paradise
Skyline
Bumblebee
How to access the event?
Step 1: Open the Free fire app on your mobile devices.
Step 2: Click on the Store section on the left side of the home screen.
Step 3: After this open the "Armory" section of the game and the theme gun crates will open.
Step 4: Buy any of them using the "Purchase" option and paying using diamonds.
Follow our Instagram page for more updates on gaming and esports!
Also read: Skyesports Streamers Showdown Season 2: Invited Free Fire creators, schedule, prize pool and more